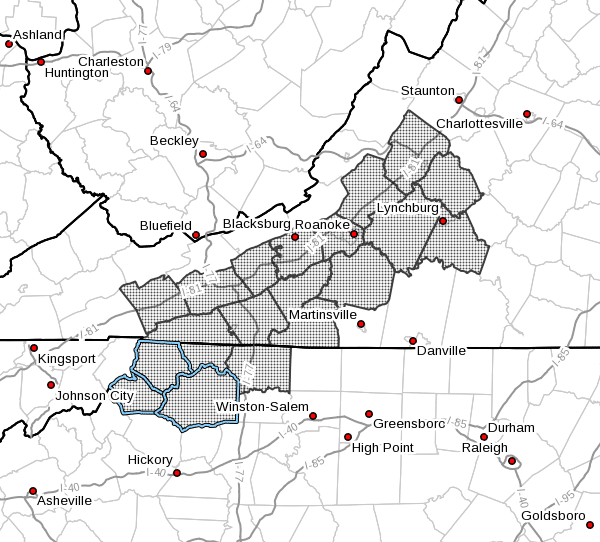 Last Updated on May 23, 2022 7:25 pm
Abundant amounts of moisture will be lifting over a front in the Carolinas and intersecting with the central and southern Appalachians. This is a favorable weather pattern for excessive rainfall.
NCZ001>003-018-019-VAZ009-012>017-022>024-032>035-045-240730-
/O.NEW.KRNK.FA.A.0001.220524T0000Z-220524T1200Z/
/00000.0.ER.000000T0000Z.000000T0000Z.000000T0000Z.OO/
Ashe-Alleghany NC-Surry-Watauga-Wilkes-Smyth-Wythe-Pulaski-
Montgomery-Grayson-Carroll-Floyd-Roanoke-Botetourt-Rockbridge-
Patrick-Franklin-Bedford-Amherst-Campbell-
Including the cities of Roanoke, Wilkesboro, Sparta, Pulaski,
Independence, Fincastle, Buena Vista, Floyd, Lynchburg, Wytheville,
Whitetop, Bedford, Volney, Blacksburg, Lexington, West Jefferson,
Radford, Boone, Stuart, Dobson, Rocky Mount, Galax, Salem, Marion,
Amherst, and Troutdale
717 PM EDT Mon May 23 2022
…FLOOD WATCH IN EFFECT THROUGH TUESDAY MORNING…
WHAT…Flooding caused by excessive rainfall is possible.
WHERE…Portions of North Carolina and Virginia, including the
following areas, in North Carolina, Alleghany NC, Ashe, Surry,
Watauga and Wilkes. In Virginia, Amherst, Bedford, Botetourt,
Campbell, Carroll, Floyd, Franklin, Grayson, Montgomery, Patrick,
Pulaski, Roanoke, Rockbridge, Smyth and Wythe.
WHEN…Through Tuesday morning.
IMPACTS…Excessive runoff may result in flooding of rivers,
creeks, streams, and other low-lying and flood-prone locations.
Roads may become covered with water and impassable.
ADDITIONAL DETAILS…
Widespread rainfall will continue through Tuesday morning.
Rainfall rates will be moderate to heavy at times and could
exceed 2 inches per hour. The soil is saturated from showers
and thunderstorms on Saturday and Sunday. The additional
heavy rain may produce flash flooding.
http://www.weather.gov/safety/flood
PRECAUTIONARY/PREPAREDNESS ACTIONS…
You should monitor later forecasts and be alert for possible Flood
Warnings. Those living in areas prone to flooding should be prepared
to take action should flooding develop.