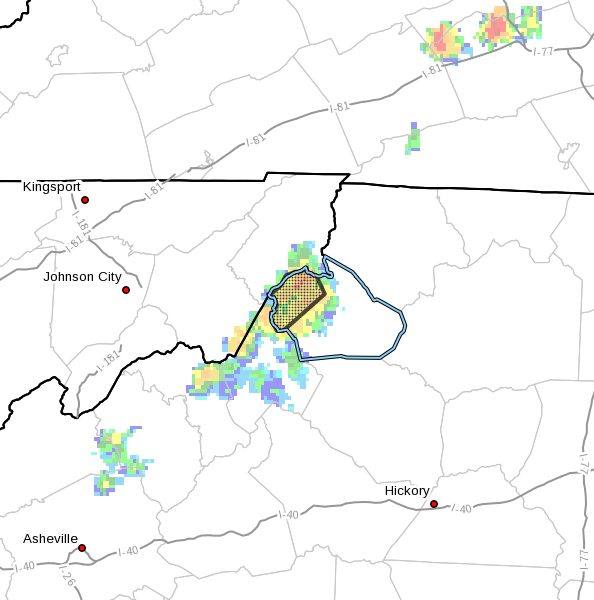 Last Updated on August 24, 2021 7:36 pm
Flood Advisory for Western Watauga County North Carolina.
NCC189-250230-
/O.COR.KRNK.FA.Y.0129.210824T2331Z-210825T0230Z/
/00000.N.ER.000000T0000Z.000000T0000Z.000000T0000Z.OO/
Watauga NC-
733 PM EDT Tue Aug 24 2021
The National Weather Service in Blacksburg has issued a
Flood Advisory for Rapid River Rises for…
Northwestern Watauga County in northwestern North Carolina…
Until 1030 PM EDT.
At 731 PM EDT, Doppler radar indicated a persistent cluster of
thunderstorms had developed near and along the Tennessee/North
Carolina line from Beech Mountain to Bethel and Sugar Grove. Some
locations in this region have already received 1.5 to 2.0 inches
of rain in this region. The steep mountainous terrain in this
region will result in rapid runoff into small creeks and streams
which could experience rapid rises. Gravel and dirt roads could
be washed out in lower-lying flood prone areas. In addition, poor
drainage, low-lying, and flood prone areas could experience
flooding. This heavy rainfall could impact roads in and out of
Beech Mountain, NC Highway 194, NC Highway 184, NC Highway 105,
and U.S. Highway 321.
Some locations that will experience flooding include…
Beech Mountain… Sugar Grove…
Peoria… Rominger…
Reese… Silverstone…
Bethel…
This includes the following streams and drainages…
Laurel Branch, Pond Creek, Brushy Fork, Kirby Branch, Rube Creek,
South Fork Ellison Branch, Grassy Gap Creek, George Gap Branch,
Little Beaverdam Creek, Beaverdam Creek, Cove Creek, Beech Creek
and Laurel Creek.
Additional rainfall amounts of 1 to 2 inches are expected over the
area. This additional rain will result in minor flooding.
PRECAUTIONARY/PREPAREDNESS ACTIONS…
In hilly terrain there are hundreds of low water crossings which are
potentially dangerous in heavy rain. Do not attempt to cross flooded
roads. Find an alternate route.
When it is safe to do so, please send your reports of flooding,
including mudslides or flooded roads, to the National Weather
Service by calling toll free at 1…8 6 6…2 1 5…4 3 2 4. Reports
and pictures can also be shared on the National Weather Service
Blacksburg Facebook page and on Twitter.