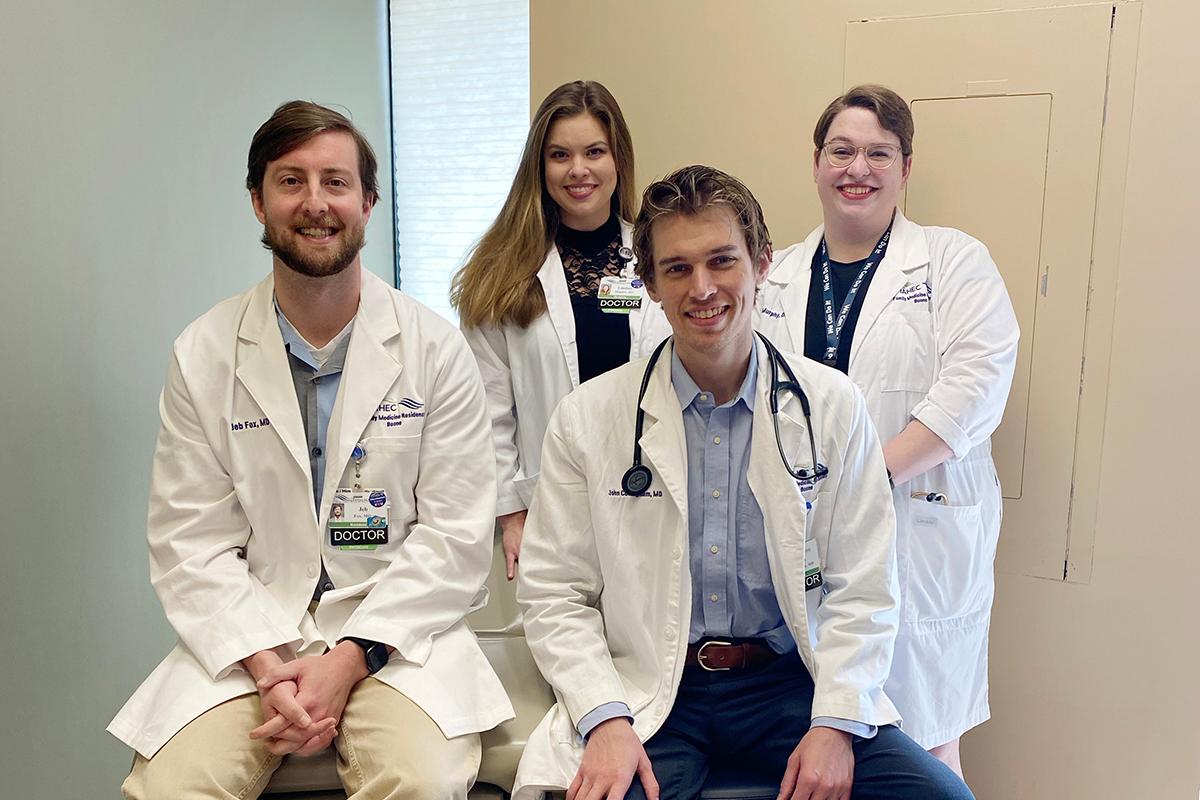 Last Updated on July 11, 2023 9:23 am
Boone, N.C., July 10, 2023 – March 2020, the Mountain Area Health Education Center (MAHEC) Boone Rural Family Medicine Residency Program was matched with their first four residents. For the past three years, these doctors have worked at Watauga Medical Center, AppFamily Medicine, AppOrtho, Harmony, Watauga Surgical Group and at other local practices. On Friday, June 23, Dr. John Cuningham, Dr. Jeb Fox, Dr. Lindsey Shapiro and Dr. Erinn Murphy completed their three-year residencies with a graduation ceremony at Springhouse Farms.
"Each year has been really different since we've started. Our graduates interviewed even before COVID began. They started in the middle of the COVID pandemic. Graduation felt like a time where we've built a lot of comradery. This is a really special program with a lot of community," said Dr. Molly Benedum, Director of the MAHEC Boone Rural Family Medicine Program.
Though the residency program has dedicated faculty, which primarily works out of AppFamily Medicine, Benedum says a rewarding part of building the program, is that many local practices have become involved in advancing the residents' medical knowledge.
During graduation, the residents voted to recognize two faculty from all of the professionals who teach them. They chose Dr. Charles Baker and Dr. Beverly Womack to receive teaching awards.
"Some of our most dedicated teachers are not even part of our system and reliably take residents throughout the year," she says. "The nurse midwives (at Harmony) have been amazing with teaching the residents women's health and low risk labor management. They have been a stable teaching force. Even people who have really busy clinical practices have been willing to pitch in and provide a really good educational experience.
"It's nice to see people who are not faculty helping with this program. They show a lot of dedication in educating the residents because they know they are going to stay around here and they want them to have great training and be good family doctors."
Out of this first graduating class of four, three have made plans to stay in the High Country.
Dr. Benedum says Dr. Cuningham has joined Appalachian Regional Healthcare System as a hospitalist. Dr. Fox is staying in Boone to complete a Sports Medicine Fellowship with AppOrtho and plans to join an independent practice in Boone when the fellowship is complete. Dr. Murphy has joined a Primary Care practice in Hamilton, Massachusetts, and Dr. Shapiro has joined a practice in West Jefferson.
"Having three out of four staying in rural Western North Carolina is a huge win for our community," Benedum says. "It's nice to finally have gotten to see the cyclical nature of residency training."
And as the first four residents set out to officially begin their medical careers, a new group of six residents will take their place, beginning their three-year residency this week.
MAHEC Boone welcomes Dr. Mitchell Brown, Dr. Evelyn Frederick, Dr. Katie Justo, Dr. Zack Lindsey, Dr. Savannah Puckett and Dr. Rachel Reed. 
Dr. Jeb Fox, Dr. Lindsey Shapiro, Dr. John Cuningham and Dr. Erinn Murphy recently completed their three-year residency with MAHEC Boone Rural Family Medicine Residency Program. Three of the four doctors plan to stay in the High Country to practice medicine.