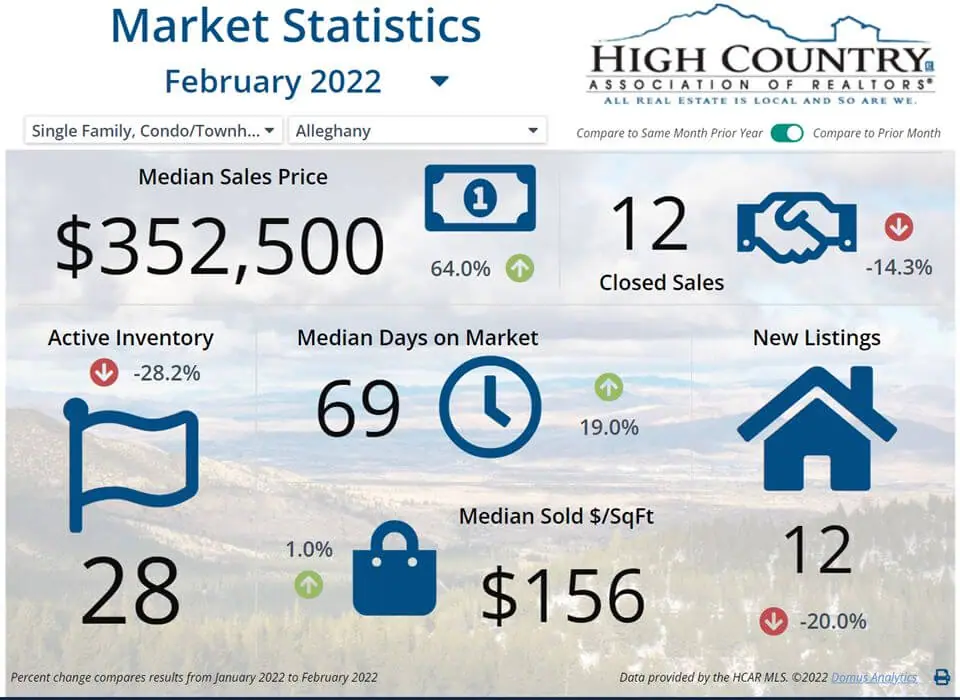 Last Updated on March 18, 2022 12:51 pm
BOONE – The High Country is preparing for Springtime and all the changes it brings for our area. However, there is at least one thing that endures… the High Country is still bustling with real estate buyers and our Realtors  are eager to help them find what they're looking for.
INVENTORY: With a 13% decrease in inventory over last month, February residential listings leapt off the market as home buyers quickly embraced the listings. The beginning of February saw 254 active residential listings in the High Country compared to early January's 289 listings. As for current inventory, we are seeing around 244 properties as of early March. When compared to February of 2021 our MLS inventory shows a decrease of nearly 40 %. The recently conducted High Country Housing Needs Assessment confirmed much of what home buyers and Realtors  in the area already knew, as far as High Country residential properties are concerned. Bowen Research noted the lack of inventory and predicts a "housing gap of 5,177 rental housing units and 6,349 for-sale housing units in the region over the next five years" if changes aren't made to support the rapidly growing housing needs residents are facing.

Residential and property values in the area remain consistent with the inflation seen nationwide. Our MLS data reports that out of the 182 homes that sold in February, the median sold price was $381,613. When comparing that number to February of 2021's median sold price, which was recorded at $329,400 we see an increase of over 15%.

LAND: Our MLS recorded a few more properties sold compared to January, which contributed to the 38% increase in sales volume. In Alleghany, Ashe, Avery, and Watauga there were 111 tracts of land that sold for a combined total of over $20 million in February.

There were 50 tracts in Watauga County, that sold for $16.7 million. Avery County recorded 31 tracts that brought in over $5 million. Ashe County recorded 25 tracts selling for over $2 million and Alleghany recorded 5 tracts that sold for a little over $654 thousand.

COMMERCIAL: The High Country recorded 4 commercial properties sold in February with a combined total of over $2 million. According to our MLS, 2 were in Avery County, accounting for $1.7 million, and then one each in Watauga and Ashe counties. Alleghany had no recorded land sales in February. The property in Watauga County sold for $345 thousand. The property in Ashe County totaled $195 thousand.

ALLEGHANY COUNTY: February saw 12 homes sold in Alleghany County for $4.2 million. The median sold price for those properties was $352,500.

ASHE COUNTY: Ashe County REALTORS  sold 26 residential properties totaling $8.2 million. The median sold price was $227,500.

AVERY COUNTY: There were 42homes in Avery County that brought in a total of $25.5 million. $373,000 was the median selling price for those properties.

WATAUGA COUNTY: Watauga County Realtors recorded 83 residential properties selling for over $48 million. The median sold price was $465,000.

INTEREST RATES: Interest rates on 30-year mortgages have jumped quite a bit this year already. Referencing Freddie Mac, the average interest rate for February is 3.85% as of March 9, 2022. The mortgage giant predicts that "over the long-term, expect rates to continue to rise as inflation broadens and shortages increasingly impact many segments of the economy. However, uncertainty about the war in Ukraine is driving rate volatility that likely will continue in the short-term."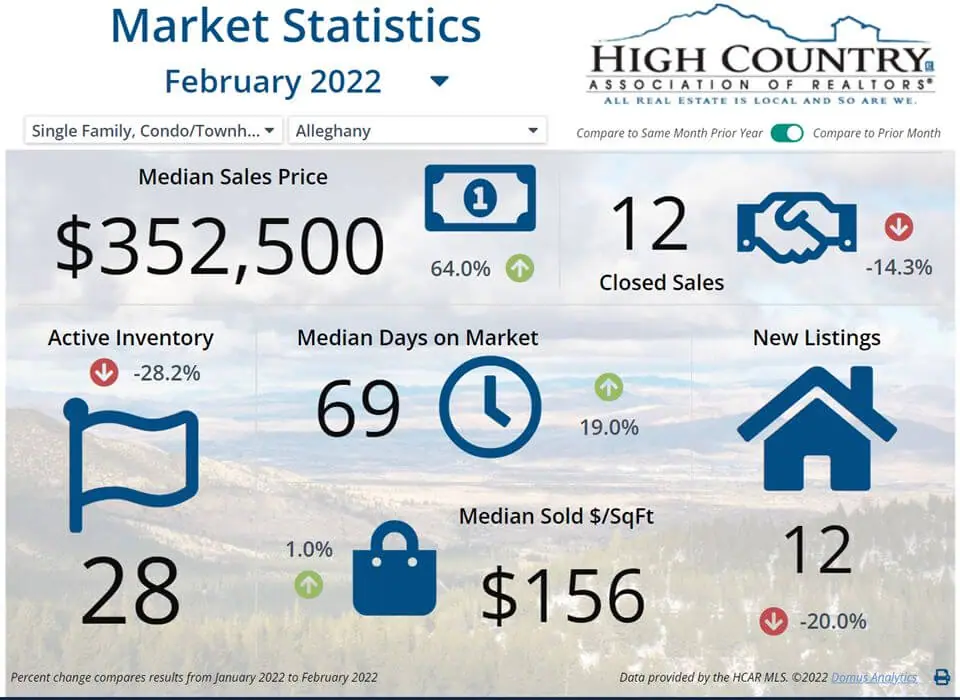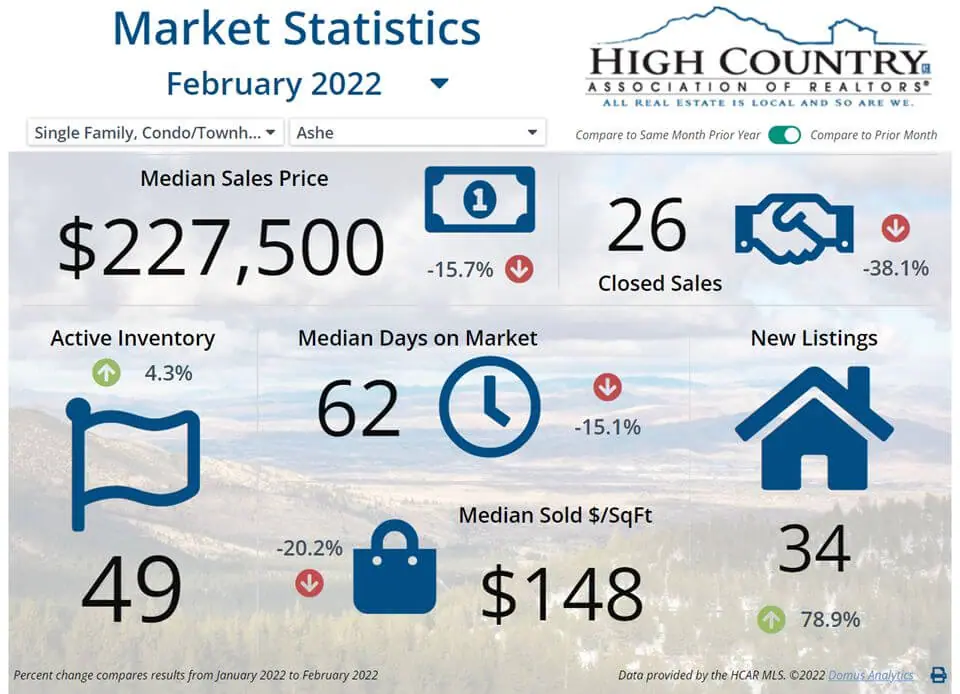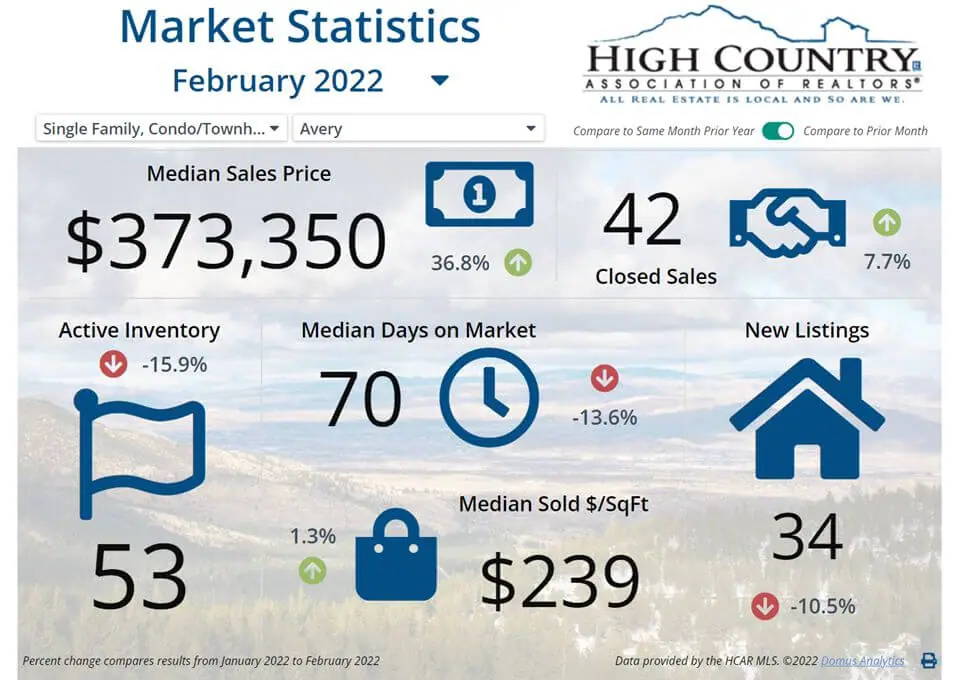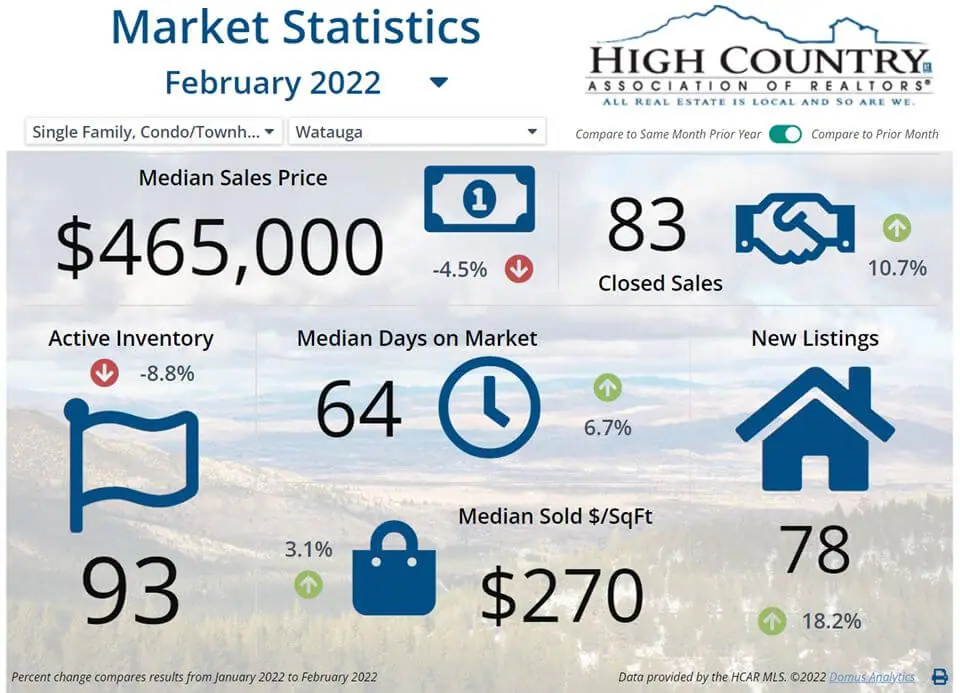 Disclaimer: Figures based on information from High Country Multiple Listing Service. Data is for informational purposes only and may not be completely accurate due to MLS reporting processes. This data reflects a specific point in time and cannot be used in perpetuity due to the fluctuating nature of markets.