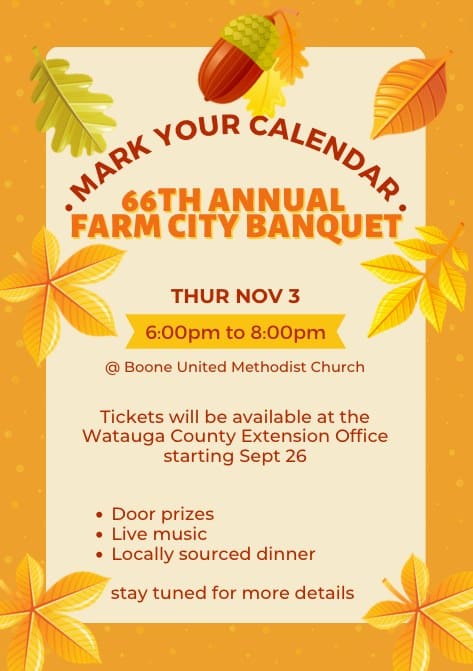 Last Updated on October 19, 2022 3:45 pm
The 66th Annual Farm City Banquet will be held on Thursday, November 3rd, at 6 p.m. at the Boone United Methodist Church located on New Market Boulevard in Boone. This event has celebrated our county's farmers and the community and town folk that support them for almost seven decades. The banquet and awards ceremony, organized annually by Cooperative Extension of Watauga County with support from a number sponsors, took a hiatus in 2020 & 2021 due to the pandemic. This was the first time since 1955 that the popular community event had not been held in person. While Cooperative Extension did recognize award winners in 2020 and held virtual events, Extension Director Dr. Jim Hamilton, is excited to bring it back, live. "It just hasn't been the same the last couple of years. While we were able to present 'socially distanced' awards to the recipients in 2020, we decided to cancel the event altogether in 2021 until we could have it back in person."
Farm City Week is celebrated nationally during the month of November. Hamilton said that "it's important for us to continue to support the relationship between our farms, families, and local businesses and to ensure that farming remains economically, socially, and environmentally sound for future generations." In the years prior to the pandemic, crowds of over 200 have flocked to Boone UMC for the annual Fall event.
This year, the program includes special guest & journalist Evan Smith, author of 'Here by the Owl' and music from Patrick and Kay Crouch, a local duet. Following a dinner supplied from local farms, awards will be presented to those in the county's farming, civic, and business community who have made significant contributions to the local agricultural economy. Commodity groups also will award their respective producers of the year, and the Watauga Soil and Water District will present the Farm Family of the Year award. The Boone Chamber of Commerce also will present the "Tuckwiller Award" to recognize achievements in Community Development in memory of the late Lake Ernest Tuckwiller, past Watauga County Farm Agent. Door prizes of baskets full of locally produced foods and goods will be drawn from ticket stubs.
The Watauga County Farm Bureau is the Platinum Sponsor this year and encourages both farm and city folk alike to join in on the family dinner catered by JP Mason and gang from Coyote Kitchen. Gold sponsors are New River Building Supply, Southern Ag, Hollar & Greene Produce, and Carolina Farm Credit. Hamilton asserted that "the sponsors for this event are so supportive and help keep costs down. We've been able to charge the same for the meal and catering for 20 years due to their generosity. We really appreciate them helping to make this event a very special Banquet for our community."
Tickets go on sale Thursday, October 6th for $10.00 per person (children 5 and under eat for free; children 6-12, $5), cash or check only, and can be purchased at the N.C. Cooperative Extension, Watauga County Center, 971 W King St., Boone. No tickets will be sold at the door and ticket sales are limited to 200. For more info, please call 828-264-3061.