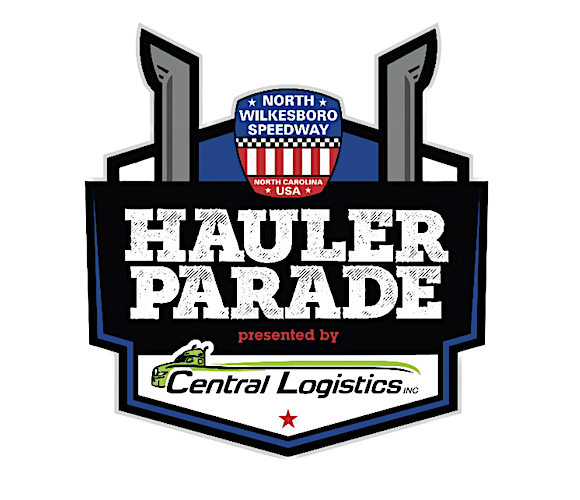 Last Updated on May 9, 2023 7:52 am
NORTH WILKESBORO, N.C. (May 8, 2023) — The excitement of the NASCAR All-Star Race at North Wilkesboro Speedway will soon roll into Wilkes County, with the Hauler Parade presented by Central Logistics, Inc., taking place Thursday, May 18, at 6 p.m. as part of Fan Fest in the Boros.
The Hauler Parade will feature an impressive fleet of NASCAR Cup Series haulers as they make their way through the streets of Wilkes County, giving fans an up-close and personal look at the vehicles that will transport their favorite drivers' race cars and equipment to the NASCAR All-Star Race at North Wilkesboro Speedway.
In conjunction with the Hauler Parade, the two towns will host Fan Fest in the Boros from 4-10 p.m. North Wilkesboro and Wilkesboro have worked in partnership to organize fantastic concerts, food vendors, family friendly activities, driver appearances and a firework show for all race fans.
The Town of Wilkesboro's activities will be hosted in and around the Carolina West Wireless Community Commons and the Heritage Square, in addition to performances on the Wilkes Communications Pavilion located at 102 West Main Street in the heart of Historic Downtown Wilkesboro.

Performance Schedule 4-10 p.m.
4 p.m. – Presley Barker
6 p.m. – Alex Key
8 p.m. – The Georgia Thunderbolts

The Town of North Wilkesboro's activities will be hosted in and around the Yadkin Valley Marketplace on CBD Loop at 842 CBD Loop, North Wilkesboro. Activities will include a pitstop challenge, virtual racing simulators, RC racing, ferris wheel, and other family friendly attractions.

4 p.m. – Speedway Children's Charities Cornhole Tournament presented by Wilkes Custom Printing
5-7:15 p.m. – Cody Ikerd and the Sidewinders
8-10 p.m. – Neon Moon: The Ultimate 90's Country Band
The 6 p.m. Hauler Parade will wind through the towns of Wilkesboro and North Wilkesboro on the way to North Wilkesboro Speedway.
The NASCAR All-Star Week is a week-long celebration that brings together the sport's biggest stars for a series of thrilling events and races. The festivities culminate in the All-Star Race, which pits the best NASCAR drivers against each other in a winner-takes-all showdown for one million dollars.
"We are excited to host the NASCAR Hauler Parade in Wilkes County," said Wilkes County Manager John Yates. "This event is a great opportunity for NASCAR fans to come out and show their support for the sport and the drivers they love."
Fans interested in attending Fan Fest, Hauler Parade, concerts, and driver appearances are welcome to park in the nearby parking lots located at the Wilkes County Courthouse in Wilkesboro and multiple public parking lots in downtown North Wilkesboro with shuttle rides provided by The WTA stopping in both Wilkesboro and North Wilkesboro.
Those in need of ADA parking may park at the Wilkes County Courthouse adjacent to the shuttle stop in Wilkesboro or in the parking lot adjacent to the Yadkin Valley Marketplace, both of which are conveniently located next to a Fan Fest shuttle stop.
The Hauler Parade is free and open to the public, and fans are encouraged to bring their cameras to capture the excitement of the event. For more information on the NASCAR Hauler Parade and NASCAR All-Star Race week, visit Wilkes County's All-Star Week resources website at www.allstarraceweek.com.
TICKETS:
NASCAR All-Star Race weekend ticket packages for all Friday/Saturday/Sunday activities, including NASCAR Cup and CRAFTSMAN Truck Series practice and qualifying sessions plus the Pit Crew Challenge; Midland, Chase Rice and Dierks Bentley concerts; NASCAR All-Star Open; NASCAR All-Star Race and Tyson 250 CRAFTSMAN Truck Series race are on sale. A full race week schedule can be accessed by clicking here.
Single-day tickets for All-Star Friday presented by Raymer Oil – featuring the All-Star Race Pit Crew Challenge on May 20, and the Tyson 250 and All-Star Race heat races on May 21, are also on sale. Tickets can be purchased online at www.northwilkesborospeedway.com. Single-day tickets are also on sale for the ASA Stars National Tour ECMD 150 on May 16, and the May 17 Solid Rock Carriers CARS Tour doubleheader featuring the Crossroads Harley-Davidson 75 and the Window World 125.
MORE INFO:
Fans can connect with North Wilkesboro Speedway and get the latest news regarding NASCAR All-Star week and North Wilkesboro Speedway by following on Twitter and Instagram or becoming a Facebook fan.