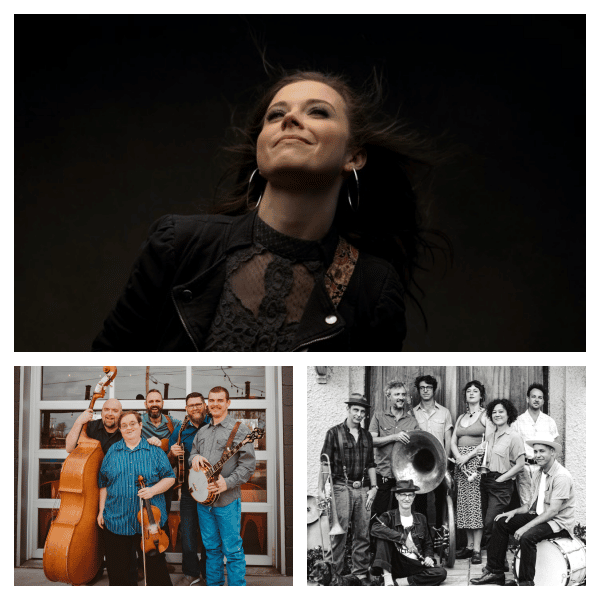 Last Updated on July 13, 2022 1:53 pm
BOONE, NC – The Appalachian Theatre of the High Country proudly announces the first
three artists and groups on their Fall 2022 concert series with live appearances scheduled
at the historic venue in downtown Boone, NC.
Tickets are now on sale for these events, including a Friday, August 19 concert by
Grammy Award-winner Michael Cleveland & Flamekeeper on Doc Watson Day, New
Orleans jazz artist Tuba Skinny on Thursday, September 15, and bluegrass singersongwriter
Sierra Hull on Thursday, September 29.
All three concerts begin promptly at 7:30 p.m.
As part of Boone's Doc Watson Day Celebration, 2020 Grammy Award-winner Michael
Cleveland & Flamekeeper perform August 19 on the stage named in honor of Watson,
the seven-time Grammy-winning legend who lived in nearby Deep Gap, NC. Vince Gill
described Cleveland as follows: "Michael plays fearless and it's intoxicating to play with
him because he makes you play fearless. He takes no prisoners, but he plays with
restraint and a soul. He plays without abandon. It's wicked to see how much music he
pulls out of a bow. He's untouchable."
Right off the streets of "The Big Easy," New Orleans artist Tuba Skinny is dedicated to
bringing the best in traditional early jazz swing to audiences around the world. After one
recent festival appearance, critics wrote, "Musically, Tuba Skinny mines a rich seam of
traditional jazz and blues from the '20s and '30s. And, while it's evident the band treasures
the sense of history evoked by these vintage tunes, the players' natural exuberance
makes the music feel irresistibly alive." The band will take stage on September 15.
The Mast Store Americana Music Series on the Doc Watson Stage of the Appalachian
Theatre continues on September 29 with bluegrass singer-songwriter, mandolinist, and
guitarist Sierra Hull. Her stellar career started with a Grand Ole Opry debut at age 10,
Carnegie Hall at 12, and her debut album, "Secrets," at age 13. She played the Kennedy
Center at 16 and the next year became the first bluegrass musician to receive a
Presidential Scholarship at the Berklee College of Music. As a 20-year-old, Hull played at
the White House.
For tickets and more information on these events, or to join the theatre's eblast list and
purchase memberships, please visit the ATHC website at www.apptheatre.org.