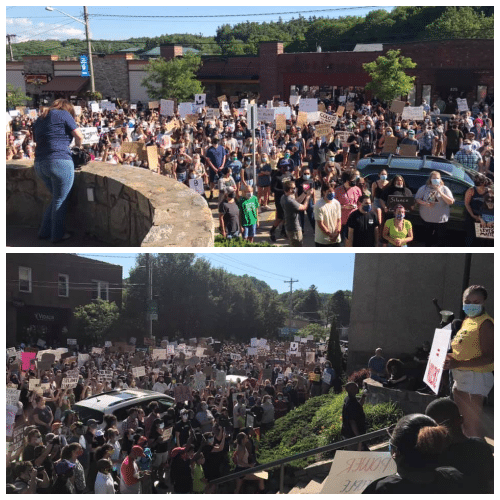 Last Updated on June 8, 2020 11:08 am
For the second Sunday in a row, a large number of protesters staged a march in Boone against racism.
An estimated 1,000 people attended the peaceful march which was organized by Raheim Andrews, who attended Watauga High and now lives in Charlotte.
Working in conjunction with the planned protest, Boone Police closed King Street from Water Street to Poplar Grove connector.
Boone Police also posted on their Facebook page, "Well done Boone! 1st Amendment rights exercised and no arrests needed. Citizens and officers treated each other with kindness and respect . We have a great town.
We are very much looking forward to growing the relations that have been started. For a police department building trust is vital and the right thing to do.
Goodnight Boone and thank you,
Boone PD"
Last Sunday's march started at College Street on the Appalachian State campus and proceeded to the Watauga County Courthouse.
Photos: Boone Police Facebook page