Last Updated on December 11, 2017 11:04 am
Elk have arrived at Grandfather Mountain, just in time for the mountain's habitat keepers to select the winning names in the 2017 Elk Naming Contest.
The elk, which arrived Thursday, Dec. 7, are officially named Doc, Merle and Watson — after world-famous bluegrass/folk icons and High Country natives Doc and Merle Watson — thanks to a submission from Sharon Webb, of Charlotte, N.C.
"In thinking about all of the famous North Carolinians who herald from our mountains, the late Doc Watson and his late son, Eddy Merle Watson, immediately came to mind," Webb said. "Their names are synonymous with Appalachian mountain bluegrass music."
The Watsons also have a history with Grandfather Mountain, as the nonprofit Grandfather Mountain Stewardship Foundation's former president, the late Jim Morton, was dear friends with the Watson family. Doc and Merle even lent a hand with Morton's construction of the mountain's famous Profile Trail.
By submitting the winning names, Webb will receive a four-person pass to Grandfather Mountain and a Behind-the-Scenes Tour, where she and her party can see the animals up close and personal — including Doc, Merle and Watson.
Webb didn't enter the contest just for the prizes, though.
"I am an avid supporter of Grandfather Mountain," said Webb, who, with her husband, Will, has a second home that sits directly adjacent to a Nature Conservancy easement on the mountain itself. "I am a nature enthusiast and an animal lover … My entire family loves to take nature walks, and we all enjoy the diverse wildlife, flora and fauna found on Grandfather Mountain.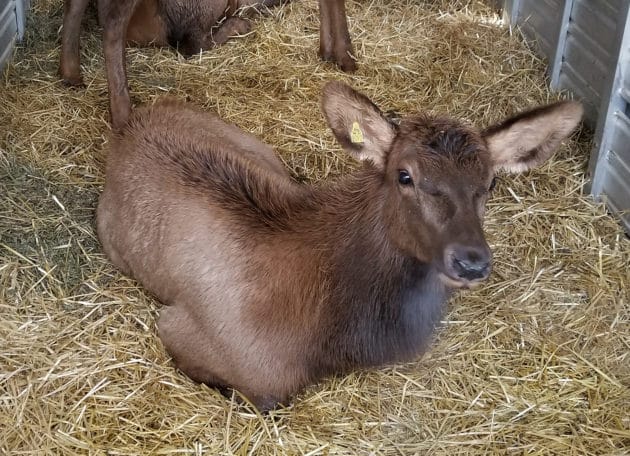 "Grandfather Mountain means community in the best sense of the word to me. It is home to so many beautiful species of plants and animals and a place where people of all ages can experience and learn from the beauty and wonder nature has to offer."  
Once Doc, Merle and Watson are fully grown, they'll bring more than a literal ton of beauty and wonder to the mountain. The trio is currently about four months old, and each is nearly twice the size of an adult white-tailed deer.
The original plan was to have them transition from a smaller shifting paddock to the main habitat, to make their arrival as calming as possible, but the trio was already picking its own tune.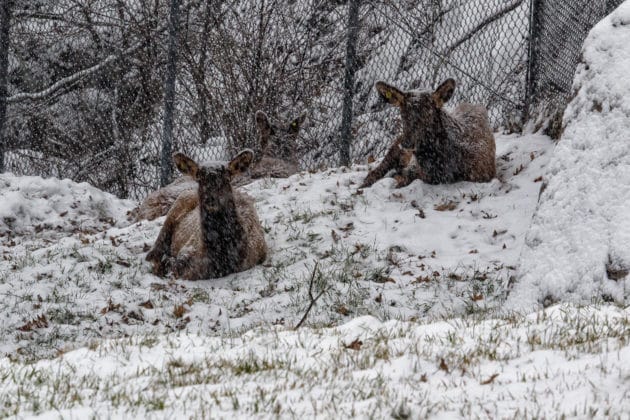 "They're actually already in the main habitat," chief habitat curator Christie Tipton said. "When they arrived on Thursday, they were so calm and relaxed that we could put them out in the main habitat, instead of the shifting paddock. So, our plans got completely switched around."
Grandfather opted to adopt three male elk — a bachelor herd — based on research and expert recommendation. While members of bachelor herds are known to live together peacefully, that's not necessarily the case with mixed herds, in which bull elk can grow aggressive during mating season.
Hailing from a private elk farm in central North Carolina, Doc, Merle and Watson are now sitting on top of the world.
"They seem to be doing really well," Tipton said. "They're all very calm and are starting to become familiar with their habitat."
The habitat has been under construction through most of 2017. After the park's resident white-tailed deer passed away earlier this year, the habitat underwent significant renovations to accommodate these new residents.
"Unlike exhibits found at some zoos, our environmental wildlife habitats are built around the animals' actual native environments, offering them ample room to roam as they please — even if it means being out of sight for some privacy," said Frank Ruggiero, Grandfather Mountain's director of marketing and communications. "The new elk habitat is gorgeous, and I'm sure Doc, Merle and Watson will enjoy their own little shady grove."
The new habitat was made possible by generous support from the A.J. Fletcher Foundation and Jim and Barbara Goodmon.
"Their financial support, encouragement and enthusiasm for the project helped make this beautiful addition to the mountain a reality," executive director Jesse Pope said. "We really can't thank all our donors enough for their love and support of the mountain this year. This would not have been possible without them."
Thanks to their efforts, visitors to Grandfather Mountain will be able to see this once indigenous creature in its native environment. At one time, the elk population was abundant in the Western North Carolina High Country, but their numbers were decimated by over-hunting and loss of habitat in the 18th and 19th centuries. Eventually, they were eradicated entirely from the region.
However, in 2001, the National Park Service began reintroducing elk into Great Smoky Mountains National Park, and they've been thriving there ever since.
"Although we don't yet have elk restored in the wild here in Northwestern North Carolina, it's likely a matter of time before herds from Great Smoky Mountains National Park or herds from Virginia or Tennessee make it here," Pope said. "We are very excited to have Doc, Merle and Watson as emissaries of their species to help tell their story! As recent as the late 1700s, elk would have roamed in the vicinity of Grandfather Mountain. Nearby towns of Banner Elk and Elk Park were named for this majestic animal."
Visitors can meet Doc, Merle and Watson just by visiting Grandfather Mountain's environmental wildlife habitats. Along with the elk, the park's habitats are home black bears, cougars, bald eagles and river otters. 
In addition to the habitats, Grandfather Mountain features mountains of activities, including the Mile High Swinging Bridge, unparalleled views of the surrounding Blue Ridge Mountains, access to 12 miles of pristine hiking trails, a Nature Museum, documentary auditorium, Fudge Shop, restaurant, gift shops, 100-plus picnic areas, nature programs and more, all included with admission.
During December, the park offers its Dollar Days promotion to area residents. From Dec. 1-31, anyone who lives or works in Alleghany, Ashe, Avery, Mitchell, Watauga or Wilkes counties will be admitted to the mountain for only $3 per person, with proof of local employment or residency.
In lieu of cash, Grandfather Mountain also will accept three cans of food from local residents for distribution to local food pantries.
Also, as a gesture of support for local tree farmers, anyone who arrives at the mountain with a tree atop their vehicle or a receipt from a local tree farm will receive $2 off each adult admission and $1 off each child admission. Christmas tree discounts may not be combined with Dollar Days discounts.
Grandfather Mountain is open from 9 a.m. to 5 p.m. every day in winter, weather permitting, except Thanksgiving and Christmas. Park opening is delayed until all roads and paths can be cleared of snow and ice, but a phone call to the Entrance Gate at (828) 733-4337 can confirm the day's conditions and set the stage for a memorable outing.
The not-for-profit Grandfather Mountain Stewardship Foundation strives to inspire conservation of the natural world by helping guests explore, understand and value the wonders of Grandfather Mountain. For more information, call (800) 468-7325, or visit www.grandfather.com to plan a trip.