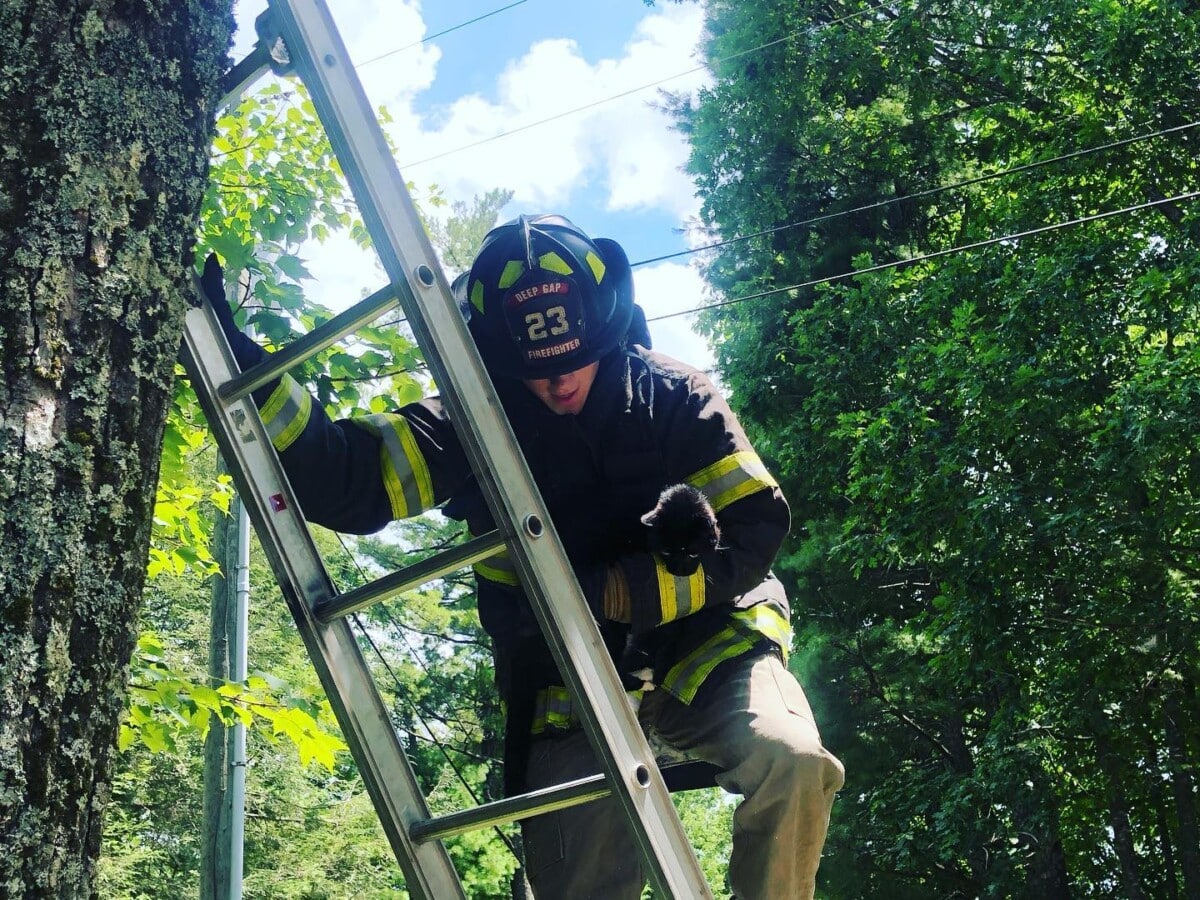 Last Updated on July 23, 2022 8:03 pm
Many members of the Deep Gap Fire Department (DGFD) experience a first on Saturday afternoon.
Below are the details from Deep Gap Fire:
After a single motor vehicle accident Saturday afternoon, Deep Gap personnel were relaxing and talking with each other at the station after a job well done. Little did they know the tones were about to drop for a call — a first for all.
"Deep Gap Fire we have a citizens assist at…," dispatch called out at approximately 2:02 p.m. on a warm and sunny Saturday afternoon.
Deep Gap personnel listened intently as dispatch called in the details, which surprised many.
Chief Seth Norris radioed dispatch to clarify what they heard and saw on the dispatch: a cat was stuck in a tree.
Personnel hopped in their vehicles and truck operator Eddie Dunn fired up engine 2301 and headed off. Personnel arrived on the scene to find a small black and white cat about 15 feet in the air clinging to a tree branch. It had been there for a few hours and the owners needed help getting it down.
Once 2301 got to the scene, personnel set up a ladder leading directly to the cat. Firefighter Moses White put on his turnout coat, helmet and gloves as the owners warned that the cat would probably scratch whoever went up.
Once the ladder was set, Moses climbed up the ladder toward the cat.
"We really like serving our community," Moses said after brushing off praise for the rescue.
Moses said the cat was tightly clinging to the tree branch but despite that, he was able to safely get the cat down and reunite it with its thankful owners.
Chief Norris then congratulated Moses on a job well done.
"In my 20 years in the fire service, I have never been dispatched to a cat stuck in the tree call. It may seem like firefighters are always out rescuing cats stuck in trees, but this was a first for me," Norris said. "I'm proud of the firefighters and first responders we have at this department and this is just another example of how they work to serve their community no matter the call."
We're always happy to help our community when they need us!
Along with the MVA and cat stuck in the tree, first responders were also dispatched to a medical call along with Watauga Medics Saturday afternoon.
One task, one team