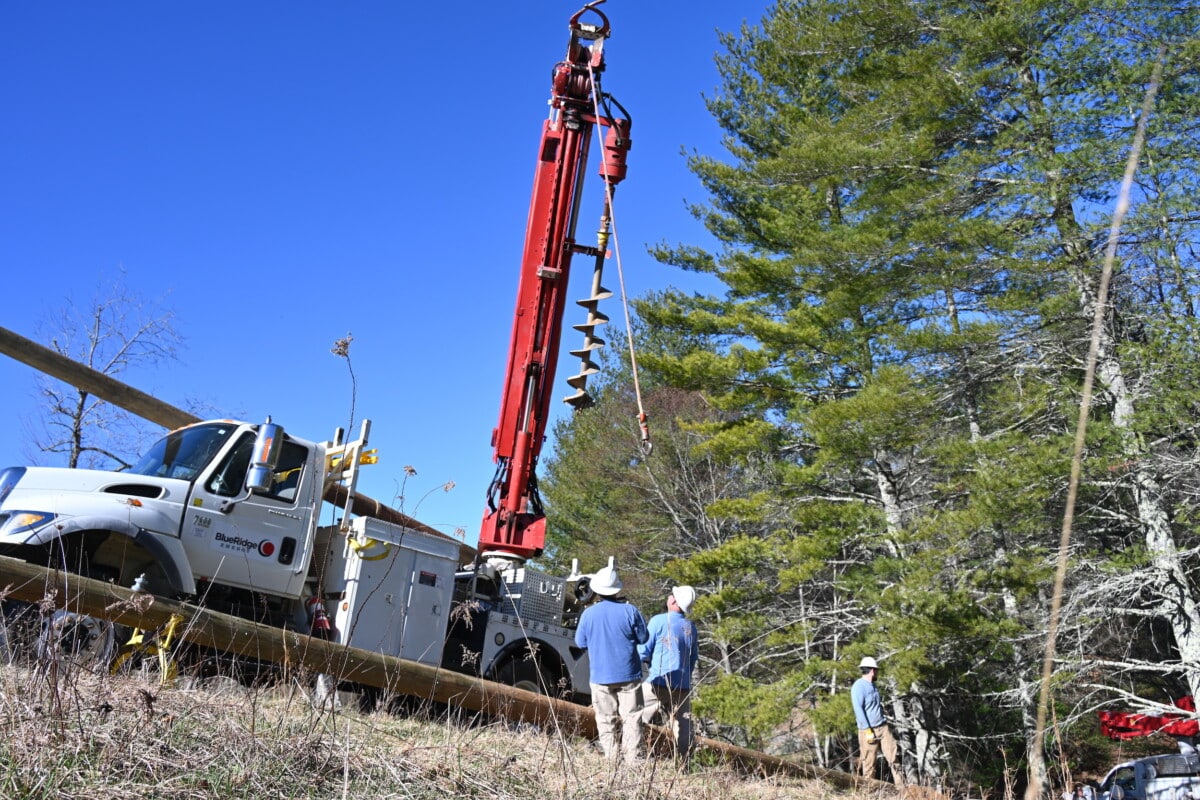 Last Updated on March 1, 2023 9:36 am
UPDATE Tuesday, Feb 28 3:50 pm – ALL power has been restored to those affected.
---
Lenoir, North Carolina (Noon – February 28, 2023) – Blue Ridge Energy line technicians continue restoring power after over 2,500 members lost power due to last night's severe windstorm that brought down trees and damaged power lines across the cooperative's entire service area.  
In Ashe County where damage was the most extensive with broken power poles and line damage in 36 different areas across the county, 1,216 members lost power beginning at 7:44 pm Monday evening. As of noon Tuesday, crews continue repair work to restore power to the remaining 25 members still without power.
In Alleghany County, seven locations were severely damaged causing outages for 170 members in the Sparta, Glade Valley and Ellis communities. Line crews are working to restore power to the remaining 15 members.
Also hard hit was Watauga County which had line damage in 20 different locations across the county that impacted 1,320 members starting at 11:27 pm Monday. Full Watauga power restoration was complete by 9:25 am Tuesday.
In Caldwell County, five areas of power lines received damage that affected 77 members in Kings Creek and Patterson beginning at 8:32 pm Monday. Caldwell outages were restored by 8 am Tuesday.
Blue Ridge Energy reminds members to report all outages by calling PowerLine at 1-800-448-2383, by using the Blue Ridge Energy mobile app, or, if signed up for outage texting members can report outages by text (for more information on outage texting, visit: www.blueridgeenergy.com/resources/electric-outage-texting). Outage updates are available on the cooperative's live outage map at www.BlueRidgeEnergy.com and on the mobile app.
The cooperative reminds the public to stay far away from downed power lines as they can still be energized and therefore dangerous, even deadly! Report downed lines by calling 1-800-451-5474. Only a trained line technician should ever go near a downed power line.
If you or someone you know depends on medical equipment powered by electricity, always have a secondary plan in case of outages in the event system damage requires extended time to repair and restore power.
Blue Ridge Energy serves some 79,000 members in Caldwell, Watauga, Ashe, and Alleghany counties as well as parts of Avery, Alexander and Wilkes counties. Learn more at www.BlueRidgeEnergy.com or on the cooperative's social media on Facebook, Twitter and Instagram.