Last Updated on September 19, 2016 4:51 pm
Colonial Pipeline issued the following update today regarding shipments of gasoline initiated late last week and in the process of being delivered now (many supplies have already been delivered) to distribution terminals throughout the system.
In an effort to minimize supply disruptions, last week Colonial Pipeline gathered gasoline from Gulf Coast refiners in order to ship supplies on its distillate line to markets throughout the affected region. As a result, following around-the-clock operations to effect this contingency plan, supplies of gasoline have been delivered and/or are in route to terminal locations in Alabama, Georgia, Tennessee, South Carolina, and North Carolina. Delivery times to mainline and stubline terminals in these markets vary.
We continue to be in regular communication with our customers, who are also working on their own individual contingency plans to minimize supply disruptions. This includes trucking and barging fuel from other markets and refineries.
Colonial Pipeline Company System Map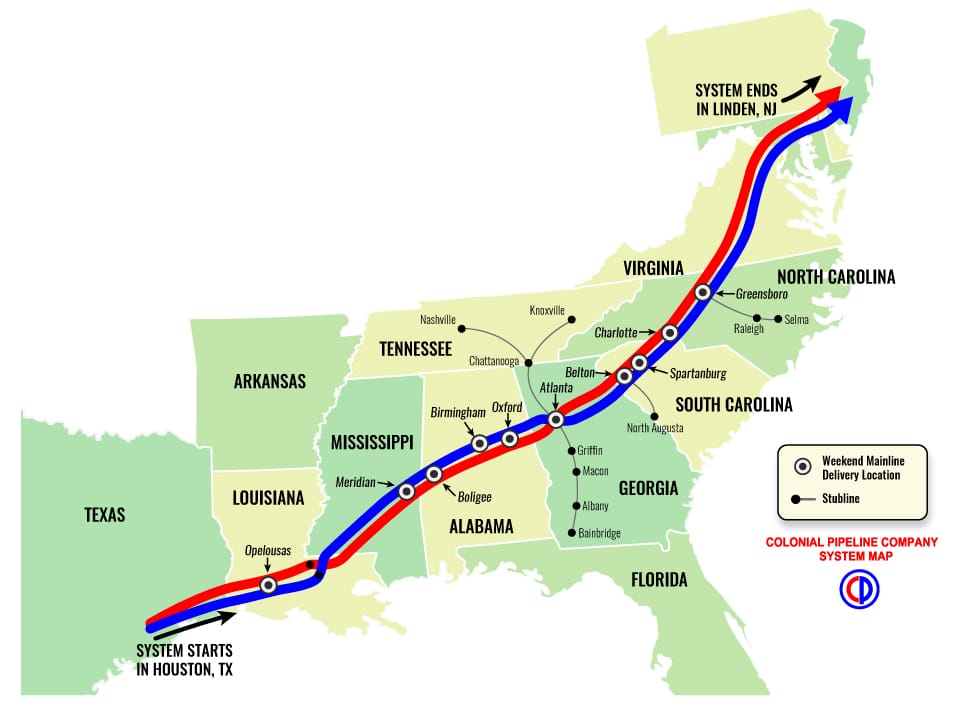 As described above, gasoline shipments on Lines 1 and 2 (Mainlines) initiated on the system starting last week were delivered this past weekend or are in route to the following markets, with local and regional fuel marketers distributing the product from their terminals to retail stations:
Boligee, Oxford and Birmingham, Alabama
Opelousas, Louisiana
Atlanta, Georgia
Meridian, Mississippi
Belton and Spartanburg, South Carolina
Greensboro and Charlotte, North Carolina
Upon arrival at the mainline terminal locations outlined above, Colonial will deliver fuel directly to local terminal customers or re-originate the fuel down lateral or stublines to additional terminals in several other markets, which are highlighted below. Fuel terminal operators will then determine distribution patterns for each respective market, where gasoline will be off-loaded into tanker trucks for delivery to retail stations.
Griffin, Macon, Albany, and Bainbridge, Georgia
Raleigh and Selma, North Carolina
Nashville, Knoxville, and Chattanooga, Tennessee
North Augusta, South Carolina
Under normal circumstances, the Colonial Pipeline system transports approximately 2.6 million barrels of refined products each day, with Line 1 accounting for half of this volume. Colonial is currently shipping significant volumes of gasoline on Line 2, the distillate mainline, to help mitigate the impact of the service interruption to Line 1. These changes have allowed all origins and delivery markets to be served along the entire system, albeit in a reduced capacity. For more information on the fuel supply chain, please click here:http://www.refinerlink.com/blog/Pipelines_Ship_Refinery_Products_to_Pump