Last Updated on February 12, 2022 7:04 pm
Lenoir, North Carolina (May 29, 2019) –Two Blue Ridge Energy line technicians have completed a volunteer project to bring electricity to a rural Bolivian village for the first time.
Eddie Stephens of Watauga District, and Jerry Gregg of Caldwell District, served as part of the Brighter World Initiative team to build power lines and infrastructure to connect the village of Laphía to the electric grid. More than 120 people in the mountainous, agricultural community in central Bolivia now have access to improved education and economic opportunities, as well as power for their homes and the local school.
The Brighter World Initiative brought together 13 expert lineworkers from seven North Carolina electric co-ops to build about five miles of power lines. Most of the work, including pulling long spans of wire and lifting heavy transformers, was done by hand, as access to trucks and machinery was limited. Local villagers worked with the team to help navigate the most challenging terrain, including crossing a 2,000-foot ravine.
Stephens had the honor of being selected as crew leader for the entire NC crew. At the completion of the 18-day project, Stephens also had the honor of flipping the switch to illuminate lightbulbs throughout the village school building for the first time. Cheers, applause and fireworks rang out from community members, local leaders and volunteers as the lights came on during this special ribbon-cutting ceremony and celebration. Blue Ridge Energy Chief Operating Officer Alan Merck also attended the ceremony.
"We're very proud that Blue Ridge Energy can continue our long history of electrification in Bolivia that began in the early 1960s," Merck said. Local Blue Ridge staff helped electrify what was then the remote Santa Cruz area of Boliva to form what is now the largest cooperative in the world: CRE (Cooperativa Rural de Electrificacion). "Helping improve the lives of others is what cooperatives like Blue Ridge are founded upon."
While there are many memories of the time in Laphia this spring, Gregg noted that "Some of the biggest challenges were working in the terrain and elevation. A span of line was a 1,200 foot pull," adding that the elevation of the Laphia village was 12,000 feet compared to elevations of 1,200 and 4,000 feet in Caldwell and Watauga counties, respectively.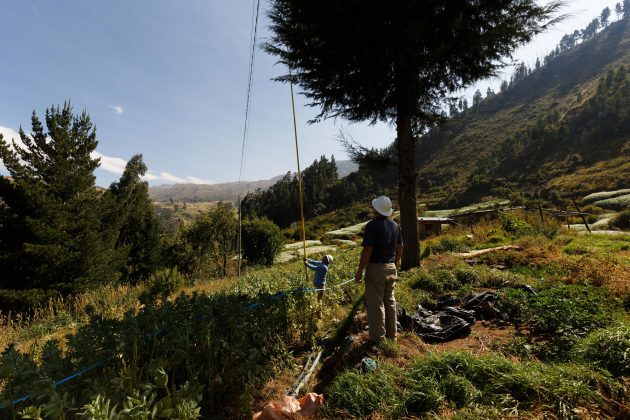 Village leaders told cooperative representatives that having electricity will create new economic and educational opportunities and a stronger community, as young people will be able to stay in the village, rather than moving to the city.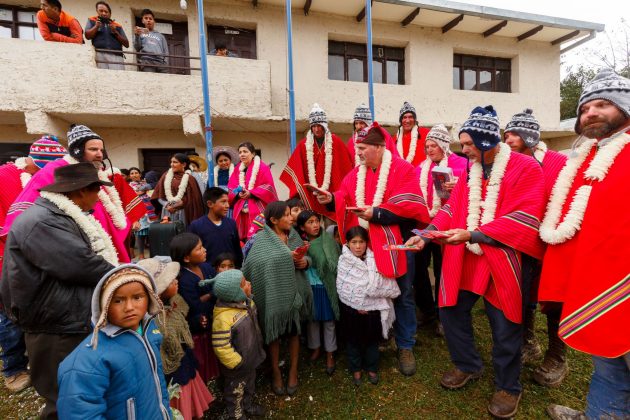 "Our cooperative was founded 83 years ago to bring much-needed electricity to our rural areas, and this project brings us back to our roots," said Blue Ridge Energy Chief Executive Officer Doug Johnson. "We commend Eddie Stephens and Jerry Gregg for traveling long distances and working in challenging conditions to make a life-changing difference for others."
More than one billion people live without electric power around the world, according to the International Energy Agency, and only 66 percent of rural Bolivians had access to electricity as of 2016.
The Brighter World Initiative was coordinated through NRECA International, a national cooperative philanthropic group that has brought electricity to more than 120 million people in 43 developing countries since 1962.
Blue Ridge Energy serves some 76,000 members in Caldwell, Watauga, Ashe and Alleghany counties as well as parts of Avery, Alexander and Wilkes counties. Learn more at www.BlueRidgeEnergy.com.