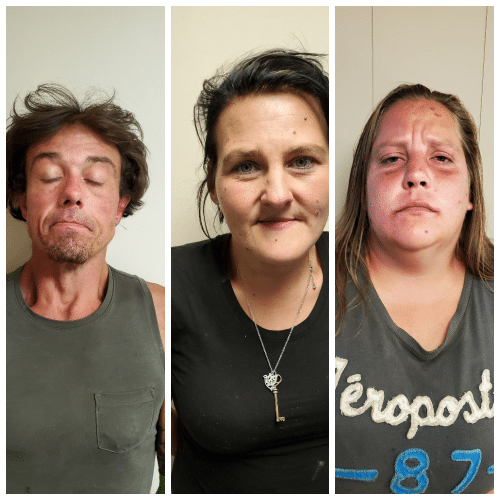 Last Updated on June 13, 2020 8:12 am
Boone, NC – On Friday, June 12, 2020, at 11:45 a.m., Boone Police Patrol Officers recovered a 2014 Peterbilt Concrete Pumping Truck, stolen from Asheville, NC in Lowe's Foods parking lot at 267 New Market Centre. An investigation was initiated to establish the identities of the person(s) involved.
At approximately 2:50 p.m., Boone Police Communications received a report of a stolen vehicle from 199 Jefferson Rd. Officers located the vehicle in question in the rear parking lot of Belk, Boone Mall. Officers canvassed the area and a perimeter was established.
At approximately 3:40 pm, officers detained Patricia Beckford nearby in connection with the incident. At 4:30 pm, officers located Anna Sue Brown and Robert Boyd White also in the nearby vicinity, after establishing their involvement and connection with the investigation.
At the conclusion of the investigation the following persons were charged:
Robert Boyd White
W/M 40 years of age
19 N Ann Street
Asheville, NC 28801
Mr. White was charged with:
One Count – Felony Probation Violation
One Count – Larceny of Motor Vehicle
Two Counts – Possession of a Stolen Motor Vehicle
Mr. White is being held under no bond for the probation violation.
---
Anna Sue Brown
W/F 40 years of age
338 Brook Hollow Rd.
Boone, NC 28607
Ms. Brown was charged with:
Two Counts – Possession of a Stolen Motor Vehicle
Ms. Brown was placed under a $15,000 bond.
---
Patricia Anne Beckford
W/F 29 years of age
339 Chimney Oak Dr.
Ms. Beckford will be charged with:
Two Counts – Possession of Stolen Motor Vehicle
Bond will be determined.
The Boone Police Department would like to formally thank the North Carolina State Bureau of Investigation, The North Carolina State Highway Patrol, Boone Fire, Watauga County Sheriff's Office, and the App State Police for their assistance. The investigation is on-going and additional charges may follow.