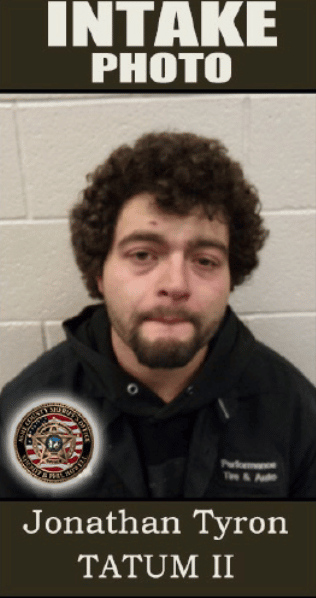 Last Updated on January 31, 2023 5:30 pm
A Boone man has been arrested by the Ashe County Sheriff's Office for trafficking methamphetamine.
Jonathon Tyrone Tatum II, age 24, was arrested on January 10th as a result of a narcotics investigation conducted by the Ashe Sheriff's Office Narcotics Division, N.C State Bureau of Investigation, Boone Police Department, and the Watauga County Sheriff's Office. 
This joint investigation started in early 2022 and continued through December 2022, leading to an arrest on January 10th, 2023, according to the Ashe Sheriff's Office.
During the investigation, several ounces of methamphetamine were purchased from Tatum, as well as Tatum trafficking 2.5 ouches of methamphetamine from Boone to Ashe County, according to the Ashe Sheriff's Office.
Tatum is currently being held in the Ashe County Detention Center under a 500,000 secured bond. 
Charges include:
Four counts of Felony Traffick in Methamphetamine
Felony Possession of Methamphetamine
Felony Deliver Methamphetamine
Felony Sell Methamphetamine
Felony Possession with the Intent to Manufacture, Sell or Deliver Methamphetamine
Felony Maintain Veh/Dwell/Place