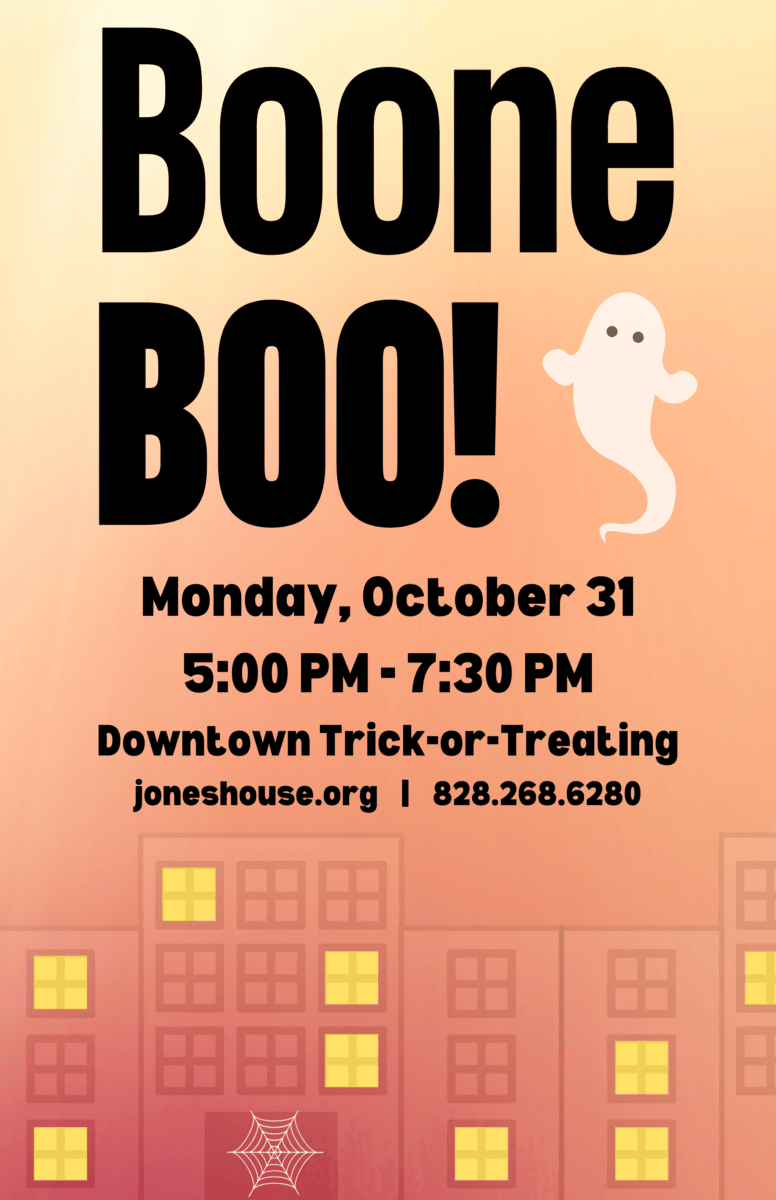 Last Updated on October 20, 2022 10:48 am
Boone BOO!, the annual Halloween celebration hosted by the Town of Boone and the Downtown Boone Development Association, will take place on Monday, October 31. From 5:00 to 7:30 p.m., the public is invited to downtown Boone for an evening of trick-or-treating and family-friendly festivities.

During the event, the central part of King Street, between Appalachian Street and Burrell/Waters Streets, will be closed to vehicle traffic to allow extra space for pedestrians to enjoy trick-or-treating and other entertainment. Downtown guests are encouraged to arrive early and to use Rivers Street as an alternate route. On the day of the event, parking will be free in downtown metered spaces and lots beginning at 3:00 p.m., and other public lots will be available after 5:00 p.m.

"This is one of those trademark events that the High Country community really rallies around," says Downtown Coordinator Paige Henderson. "Not only do our downtown businesses go all out, but many other local organizations come together to help make Boone BOO! happen."

The scene will be set with larger than life Halloween inflatables lining the sidewalks, while a curated Halloween playlist streams down King Street. Ghosts and goblins, witches and wizards, superheroes and villains, and costumed characters of all sorts will frolic down King Street, visiting dozens of participating storefronts for trick-or-treating. For children with food allergy concerns, various sites will also be handing out non-candy treats.

The DBDA will kick off a new Boone BOO! tradition, hosting a costume contest staged along King Street next to Mast General Store, starting at 5:30 p.m. A panel of judges will consist of Mayor Tim Futrelle, Boone Police Officer Kat Eller, and DBDA President Megan Mason. Winners in various age groups and categories will be awarded one of a number prize packages donated by downtown business.

"We hope to make the costume contest a recurring mainstay of the Boone BOO! celebration," says Henderson. "This will be a great chance for Halloween fanatics to show off their imagination with creative and original costumes."

In addition to the trick-or-treating and costume contest along King Street, there will be additional spooky fun for Boone BOO! throughout downtown Boone.

Immediately prior to the start of the contest, Appalachian Rhythm will reprise their annual Halloween dance performance, with crowd-pleasing Hocus Pocus themed choreography that will have everyone running (figuratively) amok.

The celebration starts early at 4:00 p.m. at the Watauga County Library, where families can enjoy spooky story time and a Halloween-themed sensory station, as well as crafts and activities with the Children's Playhouse.

First Baptist Church will be hosting a trunk-or-treat in its upper parking lot during the event, with additional treats and activities. The Kiwanis Club of Boone will once again stage tricycle races down King Street for kids 7 and under.

As usual, the Jones House will be transformed for the evening, with plenty of Halloween fun for kids of all ages. Brave visitors can choose to make their way through the spooky haunted house, while others can choose to take in the fun from the safety of the decorated lawn. Either way, there will be plenty of tricks and treats to go around.

As always, the Town of Boone and DBDA strive to create a fun, safe, and family-friendly atmosphere, and ask that all Boone BOO! participants keep this in mind, particularly in regards to behavior and costume choices. For more information about Boone BOO! and other Town of Boone events, please visit joneshouse.org or call 828-268-6280.