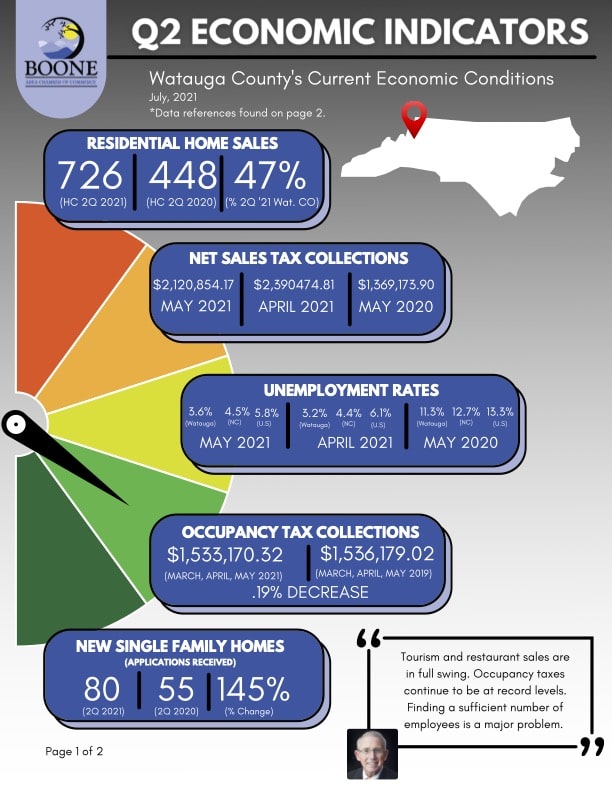 Last Updated on July 16, 2021 12:42 pm
Examination of key economic statistics to show the strength of the Watauga County & High Country Economy
BOONE, NC – Today the Boone Area Chamber of Commerce released its second Economic Indicators Report, a quarterly examination of five key statistics within the Watauga County & High Country Economy. The report features a quarterly summary of local impacts by Dr. Harry Davis, North Carolina Bankers Association Professor and long-standing regional economist.
Data was compiled for residential home sales, net sales tax calculations, unemployment, occupancy tax collections, and applications for permits of new single-family homes. These figures include the most recent data released for each category as well as historical data to help establish trends and further context toward the area's economic stability.
"We are well into our busiest time of year here in the High Country, and this data set gives us a good measuring stick to see how certain areas of our economy have recovered from the impact of COVID-19," said David Jackson, President/CEO of the Boone Area Chamber of Commerce. "Dr. Davis' comments confirm that employment complications continue to be a barrier in driving a more robust recovery, simply from the lack of available workers. We continue to see high demand for our area across many different sectors. We hope this recent data can show trends that can be helpful in predicting patterns of activity for the remainder of the calendar year."
The report was developed and data compiled with the assistance of the Watauga County Economic Development Commission, Watauga County Tourism Development Authority, High Country Association of Realtors, and the Chamber's Business Development Committee.
The next report in this series is due in October, once all relevant data has been reported by state and local agencies.