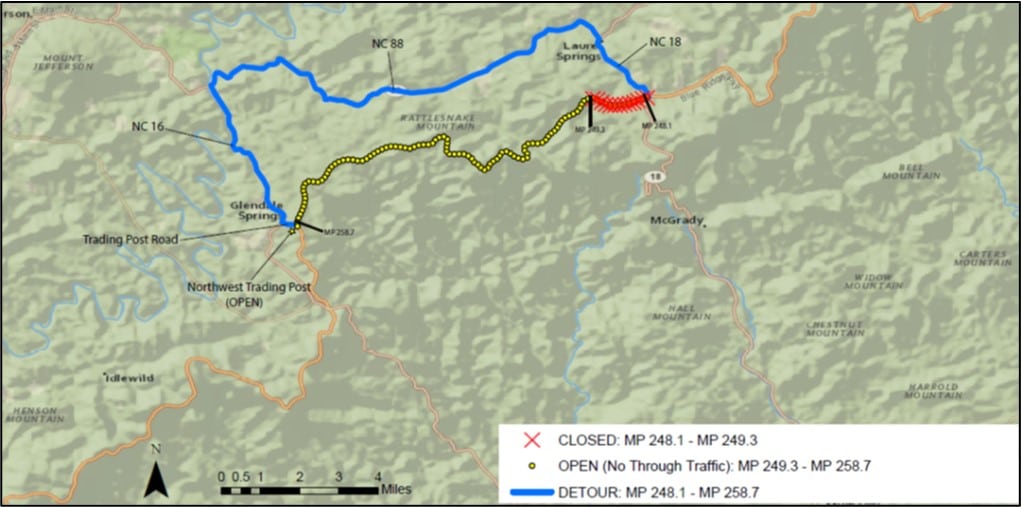 Last Updated on June 3, 2022 10:51 am
(Laurel Springs, NC) – Work has begun on a $29 million project to replace the Laurel Fork Bridge at milepost 248.8 in Ashe County, NC. A full park closure to all uses in the immediate vicinity of the bridge is expected to be in place the week of June 6, 2022. Work is expected to take over two years to complete, with a target completion date of November 2024.
A full closure to all uses including vehicles, pedestrians and cyclists will be in place between milepost 248.1 and 249.3. A signed detour will direct travelers around the closure between milepost 248.1 and 258.7, routing park visitors around the project site via route(s) NC 18, NC 88, NC 16 and Trading Post Road at Glendale Springs, NC. Both lanes at the project site, from Milepost 248.1 to 249.3, will be closed to all activity (cars, bicycles, and hikers) to ensure the safety of Parkway visitors and staff. Access to the Parkway between milepost 258.7 and 249.3 will remain available.
Access to Doughton Park and the Bluffs Restaurant will remain open from both directions. However, visitors approaching Doughton Park and the Bluffs Restaurant from south of the bridge closure should follow the detour and resume their approach at milepost 248.1. Access to the Northwest Trading Post at MP 258.7 will remain open from the south. Visitors approaching the Northwest Trading Post from the north should follow the detour for access. In addition, Mountains to Sea Trail users should anticipate an approximately 200-yard closure at the base of the bridge, at which point trail users should follow the fence line around the project site.

The historic bridge is approaching the end of its lifecycle. It was constructed in 1939 and is 546-feet long and 28-feet wide. It is a five-span bridge with a steel girder and concrete floor beam structure supported by concrete and stone masonry abutments which are set in the steep slope of a ravine, and concrete piers which are cast onto a wide concrete footing.
Funding for this project comes from the Great American Outdoors Act (GAOA) National Parks and Public Lands Legacy Restoration Fund. GAOA is part of a concerted effort to address the extensive maintenance backlog in national parks. Supported by revenue from energy development, the fund provides up to $1.3 billion per year for five years to make significant enhancements in national parks to ensure their preservation and provide opportunities for recreation, education, and enjoyment for current and future visitors.
Parkway road status information is available at https://www.nps.gov/blri/planyourvisit/roadclosures.htm.