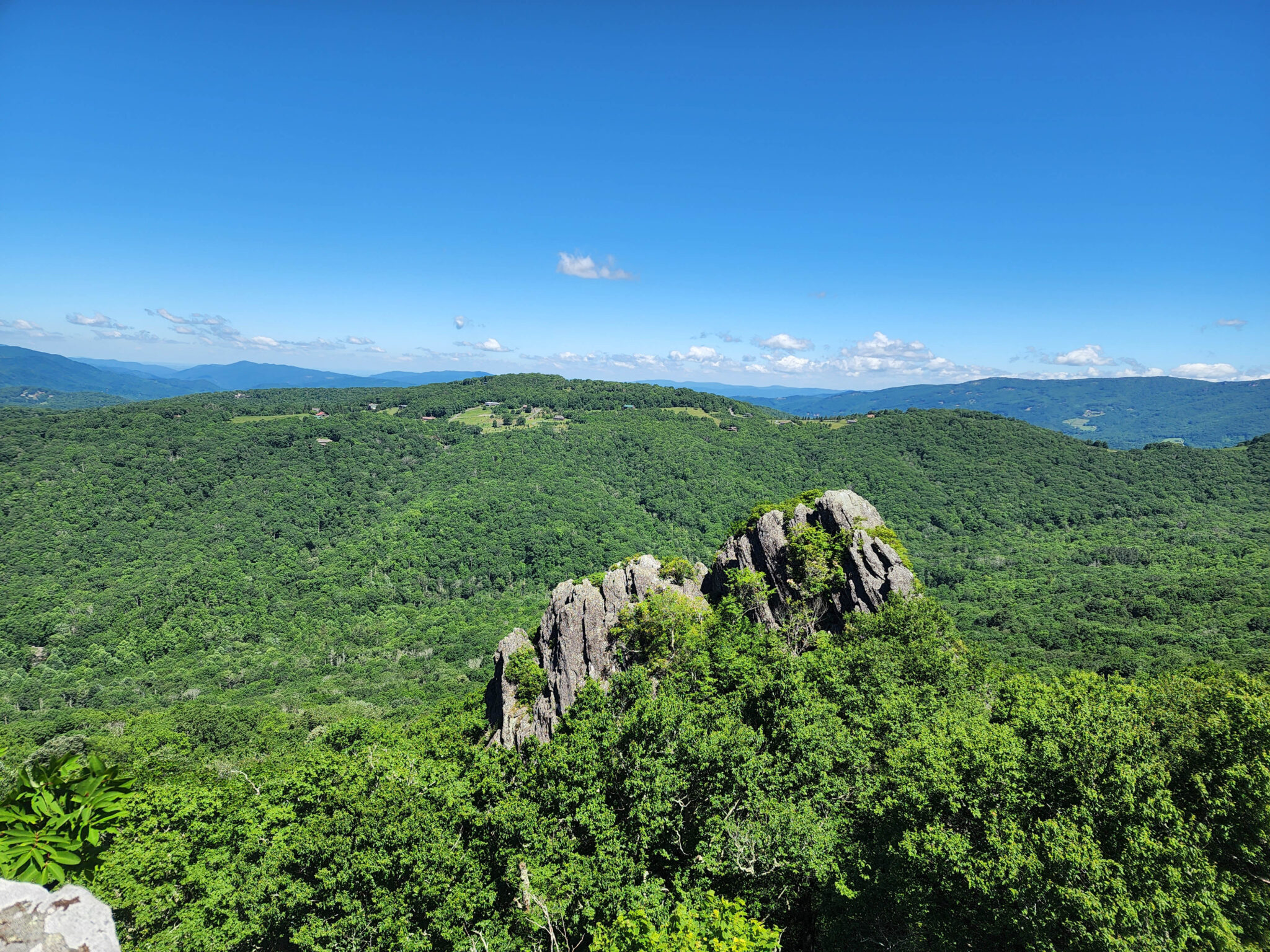 Last Updated on September 26, 2023 2:25 pm
Avery and Watauga Counties, NC – Blue Ridge Conservancy (BRC) and Camp Lutherock (NovusWay Ministries), a Lutheran camp and conference center, recently settled a lawsuit with WFG Sugar Pointe, LLC, a developer who encroached and trespassed on a conservation easement in Avery County. A conservation easement is one way BRC protects land, and is a voluntary, legal agreement that permanently limits uses of the land in order to protect its conservation values. In this case, the developer cut down protected trees on Camp Lutherock's property to create a view for a lot they sold. This is the first time BRC has sued to defend a conservation easement, and sets a precedent for the enforceability of conservation easements.
NovusWay Ministries granted the conservation easement to BRC on its Camp Lutherock property in 2015, which marked the beginning of a great partnership between the two organizations. The Camp Lutherock conservation easement is a 518-acre ecological treasure that protects the headwaters of the North Toe River, including almost ten miles of its tributaries. The property is part of the Lutherock Natural Area, as designated by the NC Natural Heritage Program, and includes rare natural communities. Notable species include the Weller's salamander, Pygmy salamander, northern bittercress, and natural communities include high elevation seep, rocky summit, and a globally rare variant of the northern hardwood forest, which was impacted by the encroachment. A population of Southern Appalachian brook trout, the only native trout to Western North Carolina, is also found on the property.
After noting the violation during an annual easement monitoring visit in 2020, BRC reached out to the lot owner where the tree cutting occurred, discovering in the process that the developer who sold the lot was the responsible party. BRC then hired a certified arborist to assess the value of the trees cut on the conservation easement. An attorney was also retained to represent BRC and Novusway, Inc. and, for several months, BRC's attorney communicated with the developer's attorney to attempt to settle. When no agreement could be reached, BRC's Board of Trustees approved filing a lawsuit in Watauga County, and NovusWay Ministries agreed to join BRC as a plaintiff. The defendants attempted to have the case dismissed based on the statute of limitations, but the judge denied the motion and agreed that the statute of limitations started when the encroachment was discovered in 2020. Ultimately an acceptable monetary settlement agreement was reached before the case went to trial. As for the area impacted by the encroachment, the arborist determined that the forest is already naturally regenerating and healing itself.
"BRC's perpetual stewardship obligation begins when we accept a conservation easement, and we take that responsibility very seriously," says BRC Stewardship Director Ben Lucas. "We have a duty to uphold the terms of our easements and maintain the public's trust in the organization, and we will take whatever action necessary to defend our easements."
This was the first lawsuit BRC has ever filed to defend a conservation easement, and the organization was well positioned to do so thanks to its Stewardship and Legal Defense Fund and Terrafirma RRG LLC, a conservation lands insurance company. Terrafirma was formed in 2011 to help land trusts defend their conserved lands from legal challenges, and approved BRC's claim and paid all legal expenses in excess of the deductible. 
"I am proud of Blue Ridge Conservancy for standing up to this developer and pursuing legal action. It is a clear example of how BRC is maturing as a land trust," says Executive Director Charlie Brady. "BRC will never back down from the promise we made to our conservation easement partners to protect their property, especially from the unscrupulous actions of trespassers. We are unwavering in the defense of our conservation easements. The public can be assured we will always stand firm and do the right thing."
BRC has been an Accredited land trust for the past ten years, adhering to the rigorous standards set out by The Land Trust Accreditation Commission. The Commission is an independent program of the Land Trust Alliance and conducts an extensive review of BRC's policies and programs. BRC, a 501(c)(3) nonprofit land trust, partners with landowners and local communities to permanently protect natural resources with agricultural, cultural, recreational, ecological, and scenic value in northwest North Carolina.
NovusWay Ministries, an independent non-profit entity, is a ministry of the North Carolina, South Carolina, Southeastern, and Florida/Bahamas Synods of the Evangelical Lutheran Church in America. In addition to Camp Lutherock, NovusWay also owns and operates Camp Lutheridge in Arden, North Carolina, Camp Luther Springs outside of Gainesville, Florida and Camp Lutheranch in Tallapoosa, Georgia. NovusWay offers year-round programs and summer camps for people of all ages and facilities for use by private groups. More information on the organization can be found at www.novusway.org.