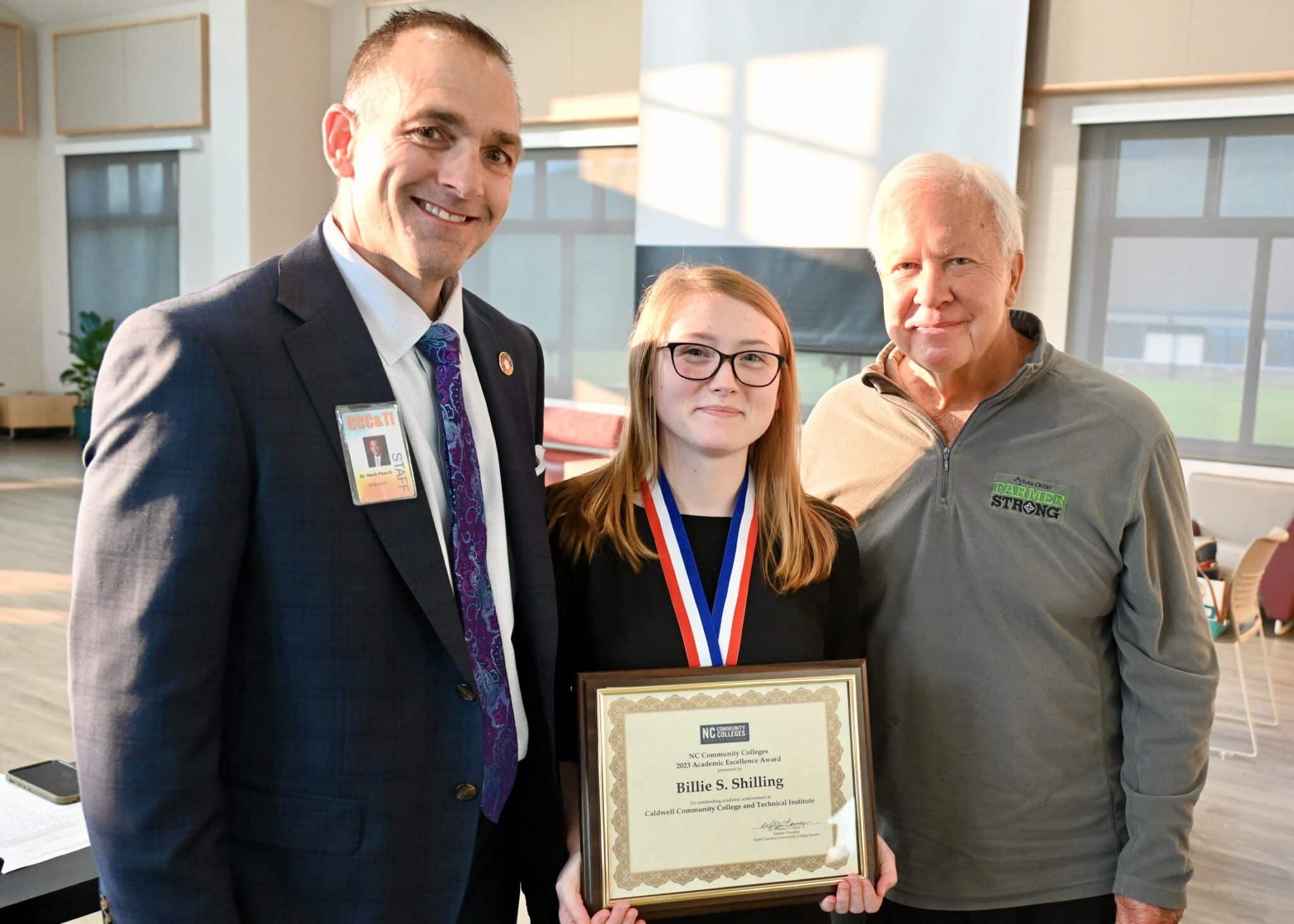 Last Updated on May 24, 2023 12:31 pm
Billie Shilling began working as a housekeeper at the Hampton Inn and Suites in Boone while in high school. Her manager saw tremendous potential and encouraged her to further her career by enrolling in Caldwell Community College and Technical Institute's Hospitality Management program on the Watauga Campus.
Shilling, a first-generation college student, enrolled at CCC&TI in Fall 2020. As she learned new skills, both on the job and in the classroom, she worked her way up to the Operational Supervisor position while attending school full-time. Her success in the classroom has not only helped her professionally, it also recently earned her the highest annual honor given to a CCC&TI student.
Shilling was recognized as the 2023 Academic Excellence Award winner at the May 17 Board of Trustees meeting on the Watauga Campus. CCC&TI President Dr. Mark Poarch presented her with a medal, an award plaque and a letter of congratulations from N.C. Community College System Interim President Dr. William Carver. She is one of 58 students statewide to receive the award from each of North Carolina's community colleges.
"I owe a lot of my success to the support and encouragement of my family, and to the professors who have helped guide my learning experience at CCC&TI," Shilling said. "Within the first semester of starting my hospitality classes, I was learning things that I could apply to my career and had the opportunity to earn certifications through those courses."
Shilling was chosen for the award based on her 4.0 grade point average and an inspiring nomination from Tara Brossa, the manager who suggested Shilling go back to school and one of her CCC&TI instructors. In the nomination, Brossa praised her work ethic and servant heart.
"She is an excellent representative of our Hospitality Management program and an encouragement to those she works with to pursue their degree while working," Brossa said. "She proves with each passing semester that it can be done and done with excellence. Billie is also a first-generation college student and has set the example for her friends and family with her dedication to her career and education."
Shilling plans to graduate with an Associate in Applied Science degree in Hospitality Management in December. Though she hasn't made specific plans yet, she would like to continue working toward a bachelor's degree and advancing in her career.