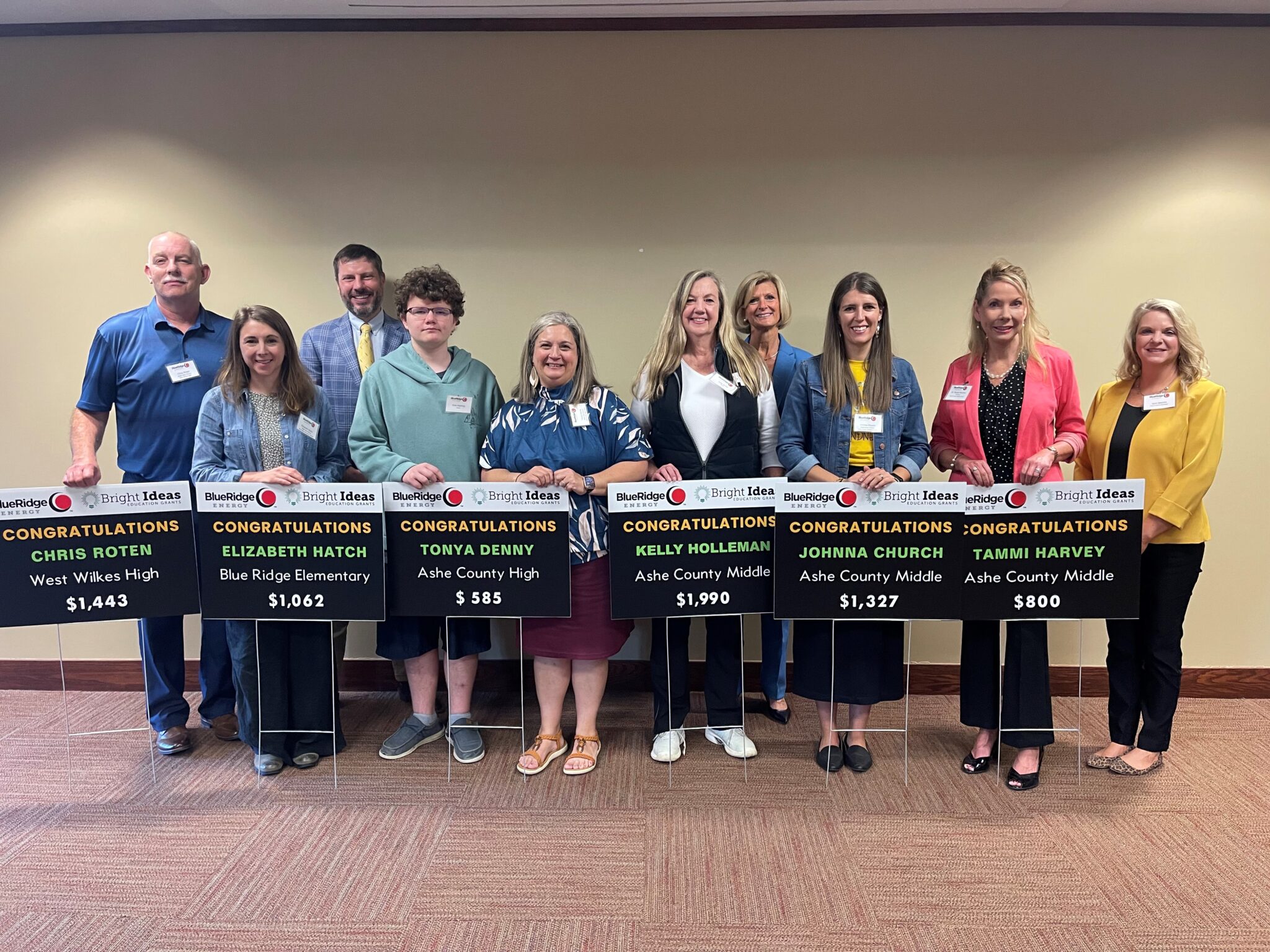 Last Updated on November 20, 2023 12:45 pm
West Jefferson, North Carolina (November 20, 2023) – Exciting, hands-on learning projects are coming to six local Ashe and Wilkes County classrooms thanks to $7,207 in Bright Ideas grants awarded recently by Blue Ridge Energy to local educators during a special luncheon celebration honoring winning teachers and their schools.
Bright Ideas is an academic grants program sponsored annually by Blue Ridge Energy. Bright Ideas grants help further traditional academic learning by funding innovative scholastic projects that go beyond available school funding.
To date, Blue Ridge Energy has awarded more than $619,000 in Bright Ideas classroom grants impacting over 114,000 local students and teachers. This year, the cooperative is funding winning grants totaling $25,578 to 21 classrooms in Caldwell, Watauga, Ashe, Alleghany, Wilkes, and Avery counties.
Ashe and Wilkes County grant-winning teachers are:
Kelly Holleman of Ashe County Middle for "It's More than Just Hot Air!" The $1,990 grant provides a unique science academic experience with a hot air balloon event. Students will learn the physics and mechanics of flight and the incredible amount of math and science that goes into properly operating a hot air balloon.
Tonya Denny of Ashe County High for "Knights of the Board." The grant for $585 will purchase three chess tables to use during free time. The tables will allow multiple simultaneous games and provide a dedicated area for practice, lessons, and informal competitive play.
Johnna Church of Ashe County Middle for "Giving Birth to a Brighter Future." This $1,327 grant will purchase books on the Renaissance period and costumes to aid in the social studies classroom.
Elizabeth Hatch of Blue Ridge Elementary for "Paper Making in the Art Room." The $1,062 grant will expose young artists to a new, engaging art form through paper making. Students will create their materials for drawing and painting.
Chris Roten of West Wilkes High for "If These Walls Could Talk…" This $1,443 grant will purchase materials to build demonstration units for window frames, door frames, wall layouts, and floors for the carpentry and construction students.
Tammi Harvey of Ashe County Middle for "Unleashing Potential One Mind at a Time: Bibliotherapy Program." This $800 grant will help build a reference library that can refer students to books that can help them think about their current situation and see it from a different perspective.
"Blue Ridge Energy supports our schools and teachers to build brighter futures for our communities," said Tasha Rountree, director of community relations for Blue Ridge Energy. "I'm proud that Blue Ridge can help by funding creative classroom projects that bring innovative learning experiences to our students."
Blue Ridge Energy is part of several North Carolina electric cooperatives providing Bright Ideas grants. Together, they have provided more than $15 million for over 14,200 classroom projects impacting over 2.5 million students in North Carolina.
Blue Ridge Energy is a member-owned electric cooperative serving some 78,000 members in Caldwell, Watauga, Ashe, Alleghany, Avery, Alexander, and Wilkes counties. To learn more about the Bright Ideas grants program, visit www.BlueRidgeEnergy.com or contact your local Blue Ridge Energy office.
Ashe Bright Ideas Photo:
(l-r): Chris Roten, West Wilkes High; Elizabeth Hatch, Blue Ridge Elementary; James Young, Blue Ridge Energy Board of Directors; Cole Hartzog, Ashe County High Student; Tonya Denny, Ashe County High; Judy Smith, Ashe County Middle; Cindy Price, Blue Ridge Energy Board of Directors; Johnna Church, Ashe County Middle; and Dr. Susan Mochen, Ashe County Middle Principal; and April Blevins, Ashe District Manager
(Not pictured): Kelly Holleman, Ashe County Middle