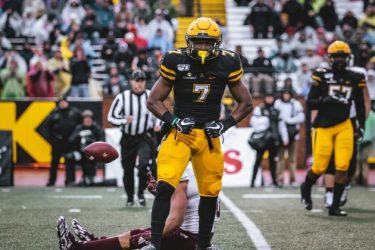 Last Updated on November 30, 2019 9:46 am
BOONE, N.C. — App State's Senior Day streak continued thanks to a second-half surge on a rainy afternoon at The Rock.

Darrynton Evans' three touchdown runs after halftime allowed the 24th-ranked Mountaineers to break free from a close game and claim a 35-13 victory against Sun Belt foe Texas State on Saturday. Senior linebacker Noel Cook made a key interception against the Bobcats for the second straight year, and his third-quarter pick followed a pass deflection from senior defensive tackle E.J. Scott, who recorded two sacks.

Evans rushed for 154 yards and Zac Thomas threw two touchdown passes to lead the offense for App State, which won on Senior Day at Kidd Brewer Stadium for the 22nd straight year. Seventeen players were honored before the game, and the fifth-year quintet of Akeem Davis-Gaither, Desmond Franklin, Victor Johnson, Collin Reed and Josh Thomas improved their career records to 51-12 overall, 35-5 against Sun Belt programs and 26-4 at home.

In addition to being No. 24 in the College Football Playoff rankings, the league-leading Mountaineers (10-1, 6-1 Sun Belt) are No. 22 in the Amway Coaches Poll and No. 23 in the AP Top 25.

Texas State (3-8, 2-5) used a 48-yard field goal to cut its second-half deficit to 14-13 before Evans scored on runs of 13 and 10 yards in the final six minutes of the third quarter. He added a 13-yard touchdown run with 6:26 remaining as App State finished with a 468-208 advantage in total offense.

The Bobcats regained possession trailing by just one midway through the third period, but Scott deflected the first-down throw, and Cook intercepted the ball at the Texas State 39 before returning it 10 yards.

Four plays later, Evans raced into the end zone to help push the Mountaineers ahead 21-13. Scott's first career sack and a tossing tackle from D'Marco Jackson forced another Texas State punt, and Evans capped a six-play, 67-yard drive with a touchdown on the final play of the third quarter.

App State took the lead for good on its first drive, with Zac Thomas completing a third-and-7 throw to Malik Williams for 28 yards and then hitting Corey Sutton in stride for a 45-yard touchdown.

Texas State converted a 48-yard field goal early in the second quarter, and the Mountaineers increased their advantage to 14-3 on Thomas' 19-yard touchdown pass to Keishawn Watson with one minute remaining before halftime. Evans' 47-yard run set up the pass to Watson, a graduate transfer who scored for the first time in an App State uniform.

The Bobcats did manage to answer before the break, as Tyler Vitt threw a 53-yard touchdown pass to Javen Banks with three seconds left in the half, and they briefly drew closer after halftime.

The running of Evans and defensive work from several seniors made sure that App State secured a win in its last regular-season home game.