Last Updated on February 28, 2017 5:53 pm
BOONE, N.C. – As an enhanced commitment to the student-athlete and fan experience, Appalachian State athletics will construct new video displays in Kidd Brewer Stadium and the Holmes Convocation Center this August.  The football display will be three times the size of the current video board and the largest of its kind among the Group of Five conferences.
Appalachian State Director of Athletics Doug Gillin formally announced on Tuesday that these projects are the first to be funded by A Mountaineer Impact, A Drive For Excellence initiative launched on Tuesday morning. Both boards will be ready for the 2017-2018 seasons.
Kidd Brewer Stadium's display will be the largest in the Group of Five at approximately 2,500 square feet to feature 13HD technology, the same technology featured in football venues for Duke University, University of South Carolina and professional football's Carolina Panthers. Kidd Brewer Stadium will also be receiving new ribbon displays and a custom audio system integrated with the video system.  For basketball and volleyball in the Holmes Center, App State will be one of only three universities to receive centerhung displays with a convex curvature in their arena.  App State has partnered with Daktronics on both new displays.
"These projects will play a key role in enhancing the game-day experience at our venues as well as raising the production level of all our university events in these venues," Gillin said. "Our fans have been asking for elevated video and audio in our venues. We are excited to continue to provide a first-class atmosphere for our student-athletes and those who enjoy the many events at our university. We made a significant investment to implement this technology and are pleased to have the opportunity to work with Daktronics. Appalachian State Athletics, our students, student-athletes and fans will enjoy a one-of-a-kind atmosphere."
"We are thankful to the several key donors who have stepped up in support of this project," said Brian Tracy, Senior Associate Athletic Director. "In addition, the success of the Go Fight Win Campaign last September was instrumental in this video board project. We are excited about this project and the Mountaineer Impact initiative which will enhance App State Athletics for many years to come. Individuals wishing to get involved should contact our athletic development office today to learn how they can get involved."
The board in Kidd Brewer Stadium will measure 50 feet high by 90 feet wide for the overall scoreboard with the new LED display will measuring more than 37 feet high by 67 feet wide. The display will include more than two million LEDs and will feature a 13HD pixel layout for crisp, clear imagery with wide angle visibility and industry-leading environmental protection. The ribbon displays will be installed along the seating fascia on each sideline measuring 3 feet high and nearly stretching from end zone to end zone at 222 feet long for additional opportunities to provide statistics and graphics to fans as well as to highlight sponsors. 
Integrated into the video and scoring system at Kidd Brewer Stadium, Daktronics will be providing a custom audio system to bring booming sound and clear, intelligible speech to audiences at every event. The system combines loudspeakers in targeted clusters with front-end audio processing components and amplifiers to create a complete audio experience.
Made up of nine displays, the centerhung in the Convocation Center will feature more than 1,200 square feet of displays and more than 2.1 million LEDs. The four main displays will each measure approximately 11.5 feet high by 17.5 feet wide and feature 6-millimeter line spacing to deliver exceptional image clarity and contrast to every seat in the arena.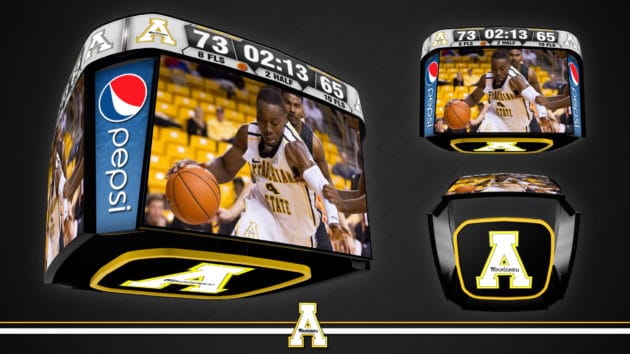 The centerhung display configuration includes four corner panels between the main displays and an upper ring display circling the top of the system. The arena is also receiving four LED scorer's tables along the sidelines. These display provide the opportunity to highlight sponsors throughout events as well as to provide supplemental content and statistics to the main displays.
The main video displays in each venue are capable of variable content zoning which allows them to show one large image or to be divided into multiple windows to show any variety of live video, instant replays, up-to-the-minute statistics, graphics and animations, and sponsorship messages.
A Mountaineer Impact, A Drive for Excellence initiative is a vision of the Appalachian State Athletics department to provide resources for identified funding needs of over $60 million.  Comprehensive in nature, the initiative is designed to impact every Mountaineer student-athlete and sports program. A Mountaineer Impact, A Drive for Excellence will construct and enhance athletic facilities, provide critical scholarship support, impact the overall athletic experience for student-athletes and fans, while strengthening campus and community.  To make a gift in support of A Mountaineer Impact today, contact the Athletic Development office at 828-262-3108 or visit www.appstatesports.com.