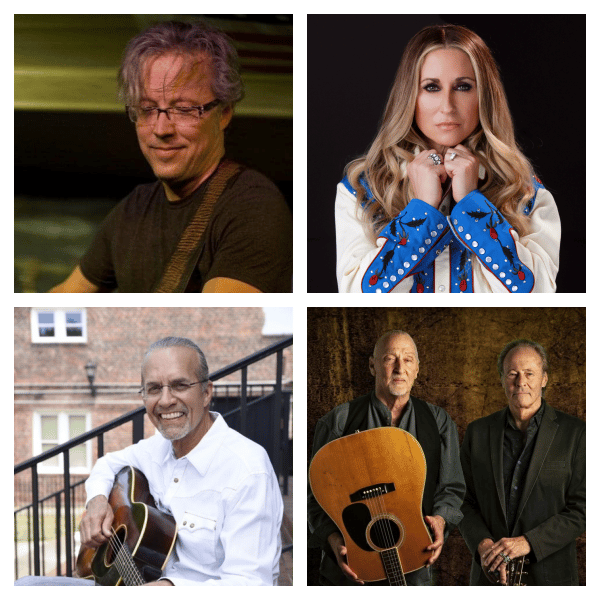 Last Updated on August 23, 2022 2:19 pm
Forty songwriters are coming to Boone the first full week of September, the 5th through the 10th, for the first Antlers & Acorns, The Boone Songwriters Festival. Shari Smith, the creator and director of the festival says that the festival is named for "the things left behind, the antlers and the acorns. These songwriters have written some of the most memorable songs in our lives. They've left them behind for us to use to make memories, cry to, celebrate with, dance to at weddings and in the kitchen for no reason at all."
The festival is designed to allow visitors to Boone to explore all week, to go fiy fishing with hitmaker Radney Foster, hike with Caleb Caudle, Eric Erdman, and Chris Buhalis, kayal with Matt King and Heidi Newfield, (Trick Pony), and tube down the New River with Damn the Banjos, a supergroup of legendary Nashville sidemen. Each night there is a headliner event at The Appalachian Theatre.
Tuesday, a Tribute to Guy Clark, a concert by Guy's friends and the documentary about his life, Without Getting Killed or Caught. Wednesday, Kyle Petty, Damn the Banjos, and Radney Foster. Thursday, A Tribute to North Carolina Songwriters hosted by Mark Bumgarner followed by a show by Matt King and Heidi Newfield. Friday, Caleb Caudle and John Paul White, (The Civil Wars). Saturday, Voices, a songwriter-in-the-round show with Lisa Carver, Eric Erdman, Jaimee Harris, Carrie Welling, and Chad Wilson followed by Mary Gauthier.
On both Friday and Saturday, songwriters will be all over Boone in various venues. These shows are free including Lunch on the Lawn at The Jones House each day. Two ticketed shows each day will be on the Rooftop of The Horton Hotel, members of Firefall and Poco will perform.
This is to be the first festival of many to come. Smith is already planning next year adding venues and talent to bring to Boone.
For a full schedule of events go to: http://www.workingtitlefarm.com/music-venues/
To purchase tickets for the shows at The Appalachian Theatre and the Rooftop of The Horton Hotel go to: http://www.workingtitlefarm.com/individual-ticket-sales-antlers-acorns/
And: http://www.workingtitlefarm.com/concerts-on-the-horton-rooftop/ (Note: very few tickets are left for the rooftop concerts)