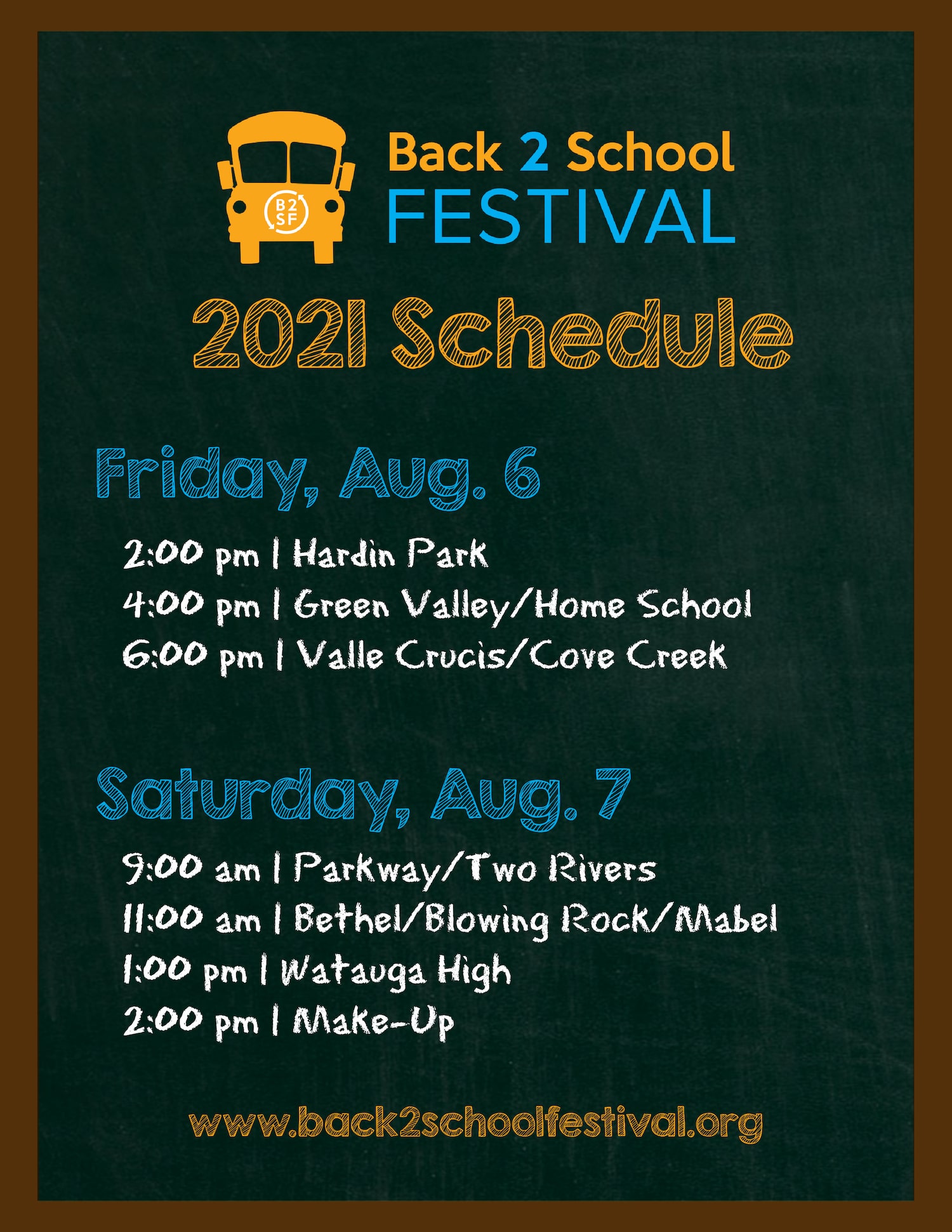 Last Updated on August 5, 2021 7:27 pm
[Boone, North Carolina] – The 2021 Back 2 School Festival will be held in-person on August 6 and 7 this year at Watauga High School, with each school in Watauga County being assigned a specific time for students and their families to pick up school supplies.
The schedule for the festival is as follows:
Friday, August 6:
2:00 PM – Hardin Park
4:00 PM – Green Valley and home school students
6:00 PM – Valle Crucis and Cove Creek Elementary
Saturday, August 7:
9:00 AM – Parkway and Two Rivers
11:00 AM – Bethel, Blowing Rock, and Mabel 1:00 PM – Watauga High
2:00 PM – Make-up session
Last year, the festival had a record attendance of over 1,400 students, providing school supplies and shoes to children of all ages whose families may be struggling to purchase these supplies on their own.
"We want to make sure every Watauga County student starts the school year off on the right foot" said Festival Coordinator Kendra Sink. "Last year was our biggest and most challenging festival ever due to COVID-19, but we're looking forward to hosting everyone in person again this year, just with a little bit more distancing."
The festival is collecting supplies through its annual Pack the Bus campaign, with school buses parked at First National Bank on Blowing Rock Rd. and Peak Insurance at New Market Center from July 4 – July 30. Donations may be left on the buses during regular business hours. Organizers are also actively seeking sponsors and volunteers to help fund and staff the two-day event – you can learn more about how to get involved at www.back2schoolfestival.org.
The Back 2 School Festival was created in 2013 as a collaboration between Quiet Givers, the Hospitality House, and the Children's Council to provide school supplies free of charge for any Watauga County student whose family is struggling to meet the high cost of back to school shopping. It was incorporated as its own 501(c)(3) non-profit organization in 2018.