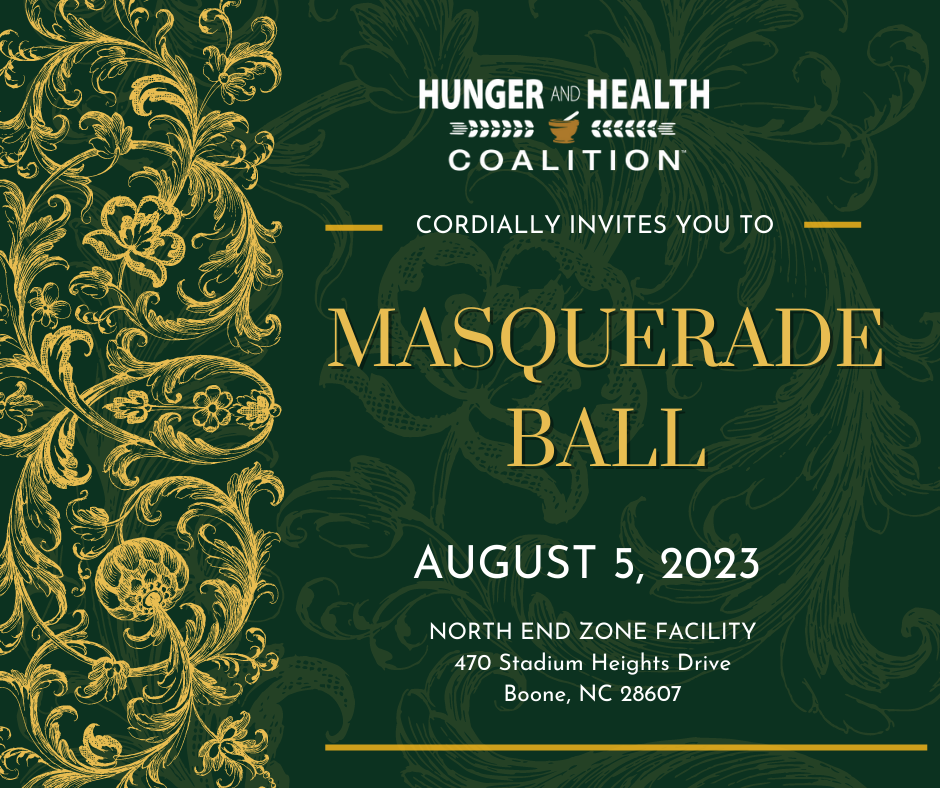 Last Updated on July 7, 2023 1:34 pm
The Hunger and Health Coalition invites the community to a night of extravagance at the 9th Annual Masquerade Ball on Saturday, August 5th.
The event takes place from 6:00 until 10 p.m. at the North End Zone at Appalachian State University located at 470 Stadium Heights Drive in Boone. As the largest fundraiser for the Hunger and Health Coalition, Executive Director Jenn Bass says "this is one of the events that our community really looks forward to, but this year we are putting a little spin on it".
This year, attendants of the event can expect a more lavish party, with live music, a delicious meal prepared by one of Appalachian State's premier chefs, silent auction and hours of dancing. "Now more than ever, our community needs our help. With rising inflation still, remnants of COVID, our neighbors continue to be hit hardest by the rising cost of everything" Bass explains. "The twist on the event is an effort to help bring in more funds to offset cost of our organization spending more on food and medications for the HHC's clients."
"Masquerade Ball is always an amazing time to come together, have fun, dance the night away but also reflect the real reason we are here, to uplift our community" Director of Finance Melissa Picket explains. "Appalachian State is such a wonderful partner of ours, and the space is gorgeous, we can't wait for our guest to enjoy such a magical night together."
People can expect a party atmosphere with live music from Fantasy Band. They'll be playing hits from all decades and are expected to bring everyone out on the dance floor. The meal, which is included in the ticket price, will be phenomenal and prepared by Chef Tony of Appalachian State. Drinks will be served all night with views of the Appalachian State Football under the stars. The event request attendants to arrive in formal attire.
According to Bass, in years past the event has helped to raise anywhere from $30,000 to $40,000. Because of rising costs hitting our community so hard, Bass is hopeful they will raise closer to $60,000.
"Of course, the Masquerade is always a time to come together with friends and loved ones to celebrate and have a wonderful night together, but it is also a reminder of how crucial our services are to the High Country." Bass says.
Currently the HHC sees on average 1,000 individuals per month which does not include those in their household. Last year the agency gave out close to 250,000 pounds of produce alone while dispensing more than 14,000 medications.
"Every month our numbers increase" explains Pickett, "we need the communities help now more than ever."
The 9th Annual Masquerade Ball will be held on August 5th,at the North End Zone from 6-10 pm. Ticket prices are $100 for one ticket, $180 if you purchase two. There are also ways to highlight your organization through sponsorships. Tickets can be purchased on HHC's website under the Events tab or by going to https://www.hungerandhealthcoalition.com/events-1.