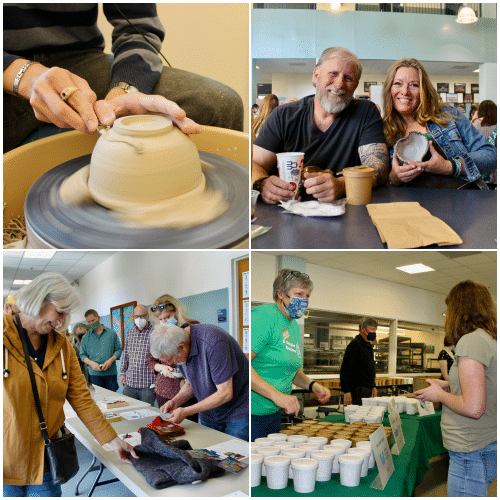 Last Updated on March 3, 2023 9:04 am
Boone,NC- Spring is in the air! Well not technically but Spring is right around the corner. For locals in Boone this can only mean one thing, the return of Empty Bowls! Since 2001 Empty Bowls has been one of the High Country's most anticipated events.
"Last year the line was wrapped around the building, I was shocked to see so many people waiting in line in anticipation for the event" says Acting Executive Director for the Hunger and Health Coalition Jenn Bass. "It makes sense though! This is one of the most beloved events that checks so many boxes, for families looking for a fun event, for art lovers, for food lovers, I don't blame them!"
In 2022 more than 150 community members went to Empty Bowls held at Watauga High School. This year, the Hunger and Health Coalition is hoping to see over 200 attendants. "We are back to pre pandemic Empty Bowls which means attendants will be able to sit back and enjoy their delicious soup hot in the beautiful bowl they were able to hand pick," Bass says.
"We are proud to host the 21st annual Empty Bowls again at WHS! I'm grateful to be a part of this event along with our staff, students and all of our generous bowls donors, volunteers and participants who make Empty Bowls possible each year – joining together to help meet needs in our own community." says Dacia Treathway, teacher for Visual Arts at Watauga High School.
Dacia Treathway has been instrumental in the success of Empty Bowls over the years, recently Sam Brown has helped to work with local artists and volunteers to ensure the event continues to run smoothly.
"I am excited and honored to take on the responsibility of working with bowl donors and students this year to prepare for Empty Bowls! Communicating with volunteers has been a highlight of my teaching experience here at WHS and I welcome anyone who wants to create a ceramic bowl or collaborate for the event to reach out in the future." says Sam Brown of Watauga High School.
The event will be held at Watauga High School on March 18th. Doors open at 4:30pm and will close at 6pm. For a $25 ticket, visitors can pick out a handmade bowl and bid on silent auction items from local artists. This year attendants will be able to take their handmade bowl and enjoy soups from over 15 local restaurants including Stickboy Kitchen and FARM Cafe. Bread and desserts will also be available as well as drinks such as sweet tea and lemonade.
All proceeds go directly to our local Hunger & Health Coalition to aid their mission in food security for the High Country community.
Tickets can be purchased on the day of the event or using the following link: https://www.aplos.com/aws/events/empty_bowls. 
For questions regarding silent auction or for artists please contact Dacia Treathway at tretheweyd@wataugaschools.org or Sam Brown at browns@wataugaschools.org.