Last Updated on November 24, 2014 6:48 pm
Winter weather, which could impact travel, appears likely to return to the High Country this week.
WataugaRoads.com weather partners Brad Panovich of NBC Charlotte and the National Weather Service have outlined what could happen below. Check back for updates on Tuesday and Wednesday to see further developments.
Graphic: Brad Panovich – NBC Charlotte
Snowfall amounts expected over the area later tonight into Wednesday. Graphic: NWS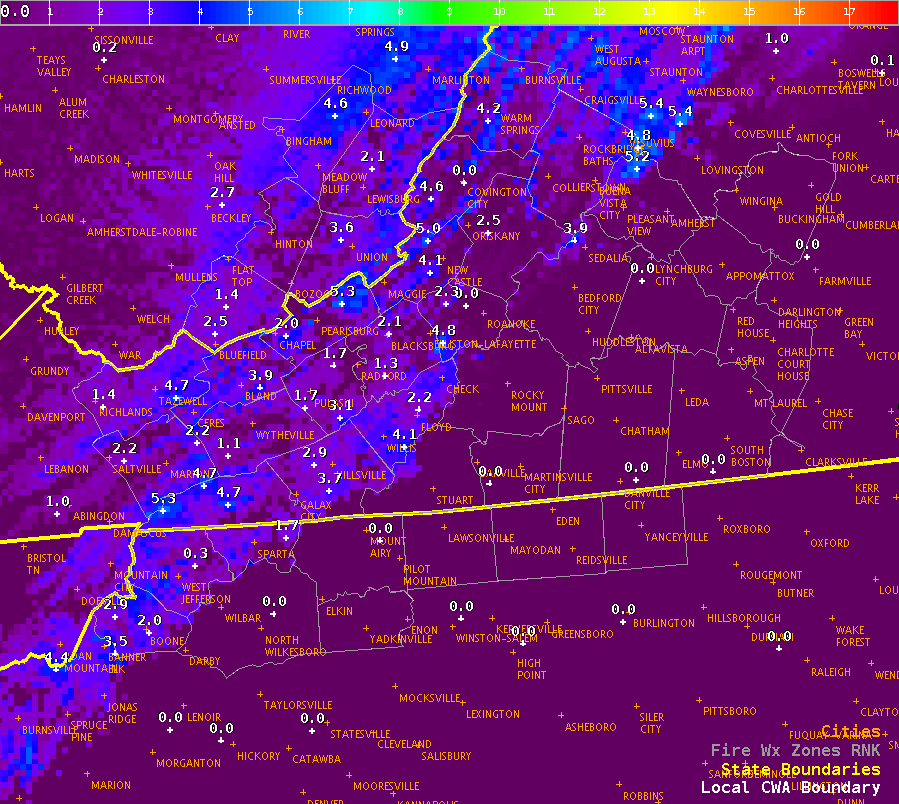 …WINTER STORM WARNING IN EFFECT FROM 9 PM THIS EVENING TO 4 PM
EST WEDNESDAY ABOVE 3000 FEET…
…WINTER WEATHER ADVISORY IN EFFECT FROM 9 PM THIS EVENING TO
4 PM EST WEDNESDAY BELOW 3000 FEET…
THE NATIONAL WEATHER SERVICE IN BLACKSBURG HAS ISSUED A WINTER
STORM WARNING ABOVE 3000 FEET FOR HEAVY SNOW…WHICH IS IN EFFECT
FROM 9 PM THIS EVENING TO 4 PM EST WEDNESDAY. A WINTER WEATHER
ADVISORY BELOW 3000 FEET HAS ALSO BEEN ISSUED.
* LOCATIONS…HIGH COUNTRY OF NORTHWEST NORTH CAROLINA AND GRAYSON
COUNTY IN VIRGINIA.
* HAZARD TYPES…WET SNOW.
* ACCUMULATIONS…4 TO 7 INCHES ACROSS THE HIGHER ELEVATIONS WITH
1 TO 4 INCHES ELSEWHERE.
* TIMING…MOSTLY AFTER MIDNIGHT INTO EARLY WEDNESDAY AFTERNOON.
* IMPACTS…SLICK AND SNOW COVERED ROADS BY EARLY WEDNESDAY.
* TEMPERATURES…FALLING TO AROUND FREEZING LATE TONIGHT AND
REMAINING IN THE 30S ON WEDNESDAY.
PRECAUTIONARY/PREPAREDNESS ACTIONS…
A WINTER STORM WARNING FOR HEAVY SNOW MEANS SEVERE WINTER WEATHER
CONDITIONS ARE EXPECTED OR OCCURRING. SIGNIFICANT AMOUNTS OF SNOW
ARE FORECAST THAT WILL MAKE TRAVEL DANGEROUS. ONLY TRAVEL IN AN
EMERGENCY. IF YOU MUST TRAVEL…KEEP AN EXTRA FLASHLIGHT…FOOD…
AND WATER IN YOUR VEHICLE IN CASE OF AN EMERGENCY.
A WINTER WEATHER ADVISORY MEANS THAT PERIODS OF SNOW…SLEET…OR
FREEZING RAIN WILL CAUSE TRAVEL DIFFICULTIES. BE PREPARED FOR
SLIPPERY ROADS AND LIMITED VISIBILITIES…AND USE CAUTION WHILE
DRIVING.
National Weather Service briefing