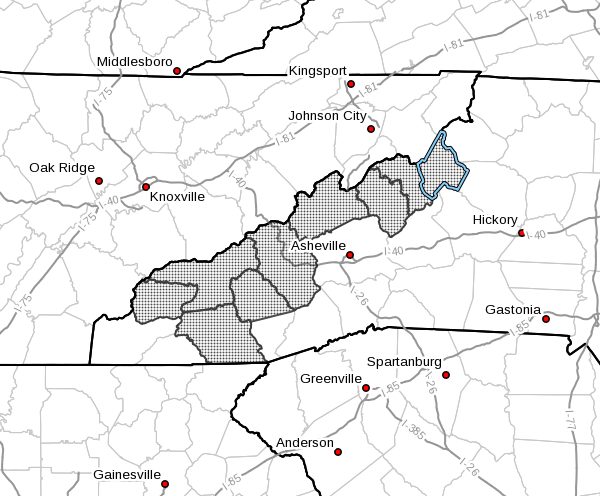 Last Updated on January 15, 2021 3:05 pm
…ACCUMULATING SNOWFALL ACROSS THE HIGHER NORTH CAROLINA MOUNTAIN ELEVATIONS… .A strong and cold upper level low will slowly cross the Carolinas and northeast Georgia tonight through Saturday night. Large scale lift will combine with increasing deep layered moisture to produce scattered rounds of snow across the North Carolina mountains, mainly at elevations above 3500 feet. This snow will create slick roadways and potentially hazardous driving conditions. Winds will also become quite gusty at these elevations Saturday night.
NCZ033-048>052-058-059-062-160900-
/O.NEW.KGSP.WW.Y.0004.210116T0600Z-210117T1200Z/
Avery-Madison-Yancey-Mitchell-Swain-Haywood-Graham-
Northern Jackson-Macon-
Including the cities of Banner Elk, Newland, Luck, Waynesville,
Tuckasegee, Rainbow Springs, Kyle, and Highlands
244 PM EST Fri Jan 15 2021
…WINTER WEATHER ADVISORY IN EFFECT FROM 1 AM SATURDAY TO 7 AM
EST SUNDAY ABOVE 3500 FEET…
WHAT…Snow expected. Total snow accumulations of up to 3 inches.
WHERE…Portions of western North Carolina.
WHEN…From 1 AM Saturday to 7 AM EST Sunday.
IMPACTS…Plan on slippery road conditions.
ADDITIONAL DETAILS…Winds will increase and gust 30 to 40 mph
mainly Saturday evening.
PRECAUTIONARY/PREPAREDNESS ACTIONS…
A Winter Weather Advisory for snow means that periods of snow
will cause primarily travel difficulties. Be prepared for snow
covered roads and limited visibilities, and use caution while
driving.
Please report snow and ice accumulations by calling the National
Weather Service toll free at…1…800…2 6 7…8 1 0 1. Leave a
message with your observation and the specific location where it
occurred. You can also post your report to National Weather
Service Greenville Spartanburg Facebook or tweet your report
using hashtag nwsgsp.
Stay tuned to NOAA Weather Radio or your favorite source of
weather information for the latest updates. Additional details
can be found at www.weather.gov/gsp. The latest state road
conditions can be obtained by calling 5 1 1.