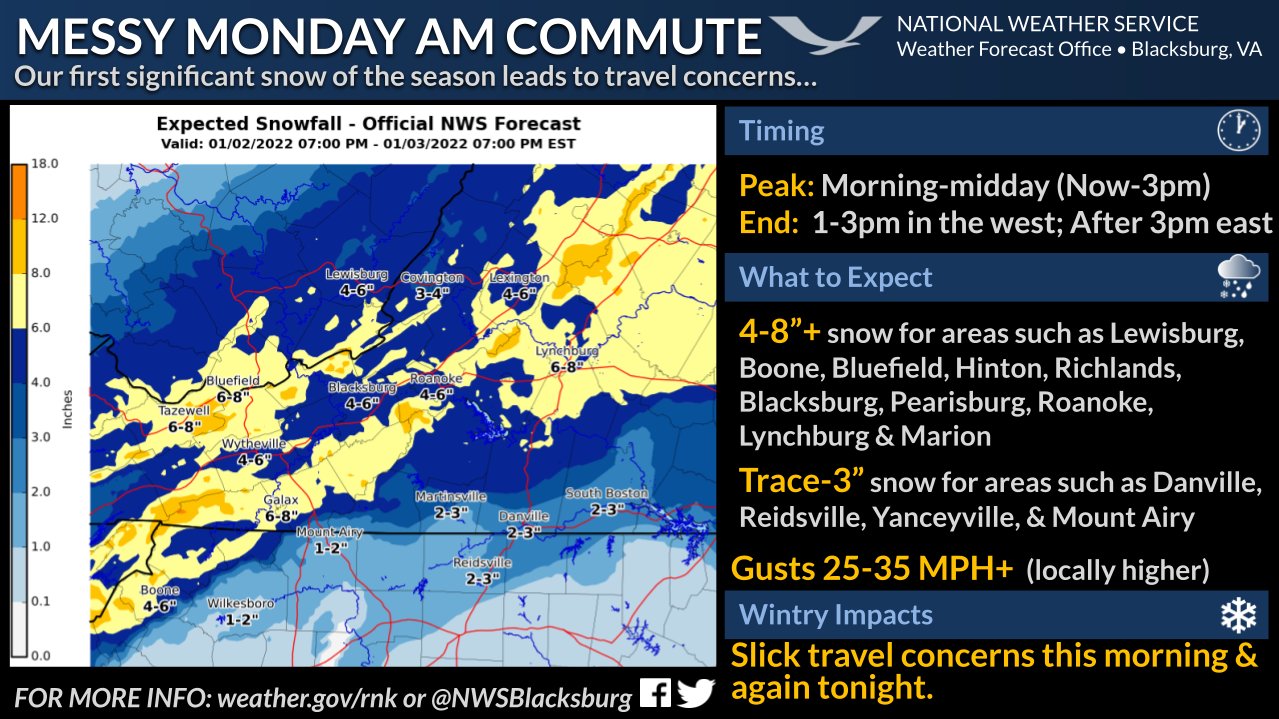 Last Updated on January 3, 2022 9:11 am
URGENT – WINTER WEATHER MESSAGE
National Weather Service Blacksburg VA
334 AM EST Mon Jan 3 2022
NCZ001-002-018-VAZ007-009>020-WVZ042>044-507-508-031645-
/O.CON.KRNK.WS.W.0001.000000T0000Z-220103T1700Z/
Ashe-Alleghany NC-Watauga-Tazewell-Smyth-Bland-Giles-Wythe-
Pulaski-Montgomery-Grayson-Carroll-Floyd-Craig-Alleghany VA-Bath-
Mercer-Summers-Monroe-Eastern Greenbrier-Western Greenbrier-
Including the cities of West Jefferson, Sparta, Boone, Tazewell,
Marion, Bland, Pearisburg, Wytheville, Radford, Pulaski,
Blacksburg, Independence, Whitetop, Troutdale, Volney, Galax,
Floyd, New Castle, Clifton Forge, Covington, Hot Springs,
Bluefield, Hinton, Hix, Union, Lewisburg, White Sulphur Springs,
Quinwood, Duo, and Rainelle
334 AM EST Mon Jan 3 2022
…WINTER STORM WARNING REMAINS IN EFFECT UNTIL NOON EST TODAY…
WHAT…Heavy snow. Snow accumulations of 4 to 8 inches, locally
higher along the ridges. Winds gusting as high as 40 mph.
WHERE…Portions of southwest and west central Virginia,
northwest North Carolina and southeast West Virginia.
WHEN…Until noon EST today.
IMPACTS…Travel could be difficult. The hazardous conditions
will impact the morning commute.
ADDITIONAL DETAILS…The gusty winds and wet snow could cause
limbs to snap, especially along the higher elevations. This
could result in scattered power outages. Any melted or wet
snow on untreated roads and sidewalks will refreeze after
sunset Monday night.
PRECAUTIONARY/PREPAREDNESS ACTIONS…
If you must travel, keep an extra flashlight, food, and water in
your vehicle in case of an emergency.
Please report snow accumulations via email at
rnk.skywarn@noaa.gov or by calling the National Weather Service
toll free at…1…866…2 1 5…4 3 2 4. Leave a message with
your observation and the specific location where it occurred. You
can also post your report to National Weather Service Blacksburg
Facebook page and on Twitter.
The latest road conditions for the state you are calling from can
be obtained by calling 5 1 1.