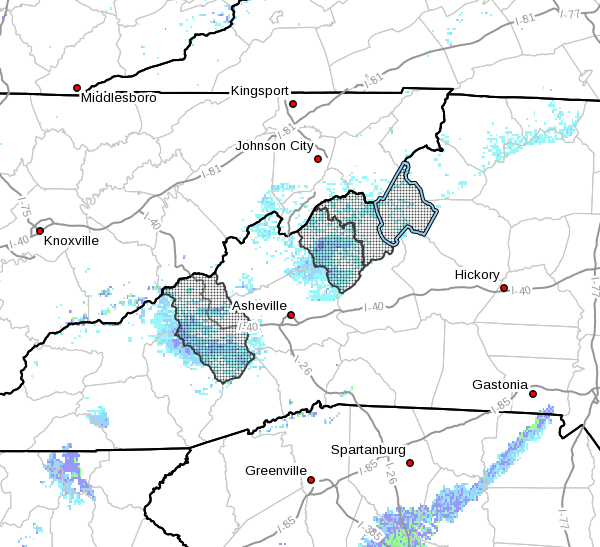 Last Updated on February 11, 2023 4:48 am
NCZ033-049-050-052-111715-
/O.UPG.KGSP.WS.A.0001.230212T0000Z-230213T0500Z/
/O.NEW.KGSP.WS.W.0002.230212T0000Z-230213T0500Z/
Avery-Yancey-Mitchell-Haywood-
Including the cities of Ingalls, Banner Elk, Newland, Swiss,
Burnsville, Celo, Micaville, Ramseytown, Busick, Spruce Pine,
Poplar, Waynesville, Waterville, Canton, Cruso, and Cove Creek
415 AM EST Sat Feb 11 2023
…WINTER STORM WARNING IN EFFECT FROM 7 PM THIS EVENING TO
MIDNIGHT EST SUNDAY NIGHT…
* WHAT…Heavy mixed precipitation expected. Total snow
accumulations of 2 to 11 inches and ice accumulations of
around one tenth of an inch. Winds gusting as high as 40 mph.
* WHERE…Avery, Yancey, Mitchell and Haywood Counties.
* WHEN…From 7 PM this evening to midnight EST Sunday night.
* IMPACTS…Travel could be very difficult to impossible. Gusty
winds could combine with the wintry precipitation to knock down
some trees and power lines.
* ADDITIONAL DETAILS…There is still some uncertainty regarding
the expected temperatures. A small change could lead to more
freezing rain or sleet and less snow.
PRECAUTIONARY/PREPAREDNESS ACTIONS…
A Winter Storm Warning means significant amounts of snow, sleet,
and ice are expected or occurring. Strong winds are also
possible. This will make travel very hazardous or impossible.
Only travel in an emergency. If you must travel, keep a
flashlight, food, and water in your vehicle in case of an
emergency. Prepare for possible power outages.
Please report snow and ice accumulations by calling the National
Weather Service toll free at…1…800…2 6 7…8 1 0 1. Leave a
message with your observation and the specific location where it
occurred. You can also post your report to National Weather
Service Greenville Spartanburg Facebook or tweet your report
using hashtag nwsgsp.
Stay tuned to NOAA Weather Radio or your favorite source of
weather information for the latest updates. Additional details
can be found at www.weather.gov/gsp. The latest state road
conditions can be obtained by calling 5 1 1.