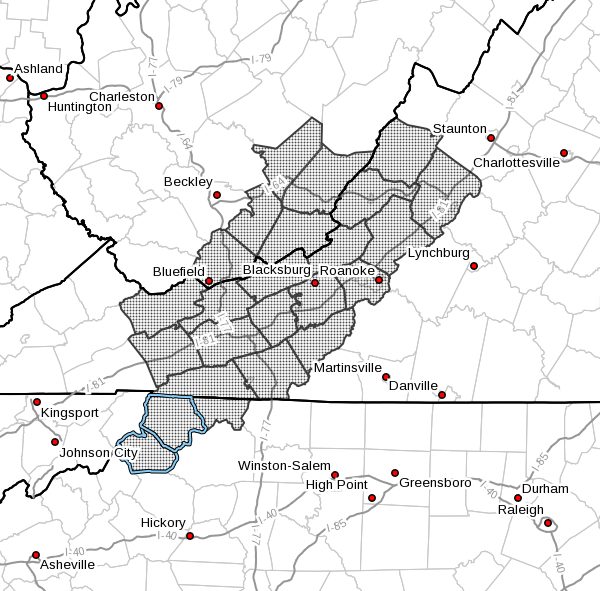 Last Updated on December 25, 2020 3:24 pm
NCZ001-002-018-VAZ007-009>020-022>024-WVZ042>044-507-508-260430-
/O.CAN.KRNK.WW.Y.0014.000000T0000Z-201225T2100Z/
/O.NEW.KRNK.WC.Y.0002.201225T2017Z-201226T1400Z/
Ashe-Alleghany NC-Watauga-Tazewell-Smyth-Bland-Giles-Wythe-
Pulaski-Montgomery-Grayson-Carroll-Floyd-Craig-Alleghany VA-Bath-
Roanoke-Botetourt-Rockbridge-Mercer-Summers-Monroe-
Eastern Greenbrier-Western Greenbrier-
Including the cities of West Jefferson, Sparta, Boone, Tazewell,
Marion, Bland, Pearisburg, Wytheville, Radford, Pulaski,
Blacksburg, Independence, Whitetop, Troutdale, Volney, Galax,
Floyd, New Castle, Clifton Forge, Covington, Hot Springs, Roanoke,
Salem, Fincastle, Lexington, Buena Vista, Bluefield, Hinton, Hix,
Union, Lewisburg, White Sulphur Springs, Quinwood, Duo, and
Rainelle
317 PM EST Fri Dec 25 2020
…WIND CHILL ADVISORY IN EFFECT UNTIL 9 AM EST SATURDAY…
…WINTER WEATHER ADVISORY IS CANCELLED…
WHAT…Very cold wind chills, light snow and black ice. Wind
chills ranging from 5 above to 5 below zero. Elevations above
3000 feet could see chills values as low as 15 below zero.
Additional light snow accumulations are possible. Untreated and
less traveled roadways may have patches of black ice.
WHERE…Portions of southwest and west central Virginia,
northwest North Carolina and southeast West Virginia.
WHEN…Until 9 AM EST Saturday.
IMPACTS…The cold wind chills could result in hypothermia if
precautions are not taken.
PRECAUTIONARY/PREPAREDNESS ACTIONS…
Use caution while traveling outside. Wear appropriate clothing, a
hat, and gloves.