Last Updated on October 16, 2013 11:15 am
Motorist, and more importantly truckers, will notice a new sign on a local road that has seen more than its fair share of accidents and tie ups. The sign at the bottom of Wilsons Ridge facing Bamboo Road tells truck drivers that tractor-trailers are prohibited.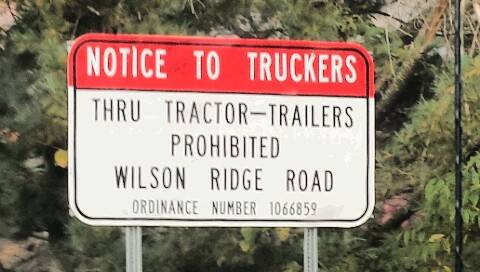 The NCDOT Traffic Engineering Department that serves Watauga County received an inquiry around the first of June asking for a sign to be placed. After looking into the request DOT discovered that around 2-3 incidents a month were occurring involving tractor & trailers.
Wilson's Ridge Road and highway 194 from Valle Crucis to Matney have long been problem areas for tractor & trailers getting stuck. It's widely believed that GPS is mostly to blame for leading trucks across both routes.
*Updated Tuesday October 23*
New signs have also been placed on Highway 194 from Valle Crucis to Matney