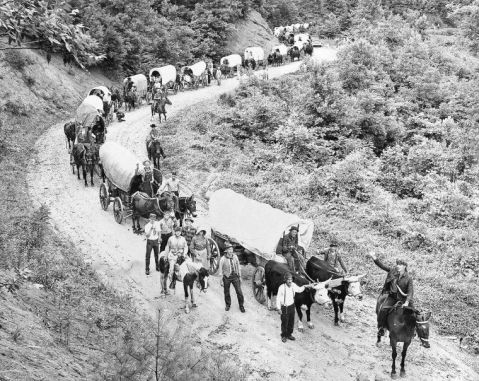 Last Updated on June 27, 2021 9:29 am
On June 27, 1963, more than 150 people in mostly 19th century garb and nearly 25 wagons pulled by livestock departed from a Wilkes County farm for a three-day, 35-mile journey to Boone.
Designed to recall a 1773 trip that famed frontiersman Daniel Boone took through the area, the "reenactment" was more a reflection of the 1960s than it was of 1663, the year the Carolina Charter was granted. The Daniel Boone Wagon Train as it was called was first intended to commemorate the Charter's 300th anniversary. In fact, it seems that organizers drew more upon Wagon Train, a popular TV show of the time.
Likely more spectacle than history, the journey actually ended up being relatively difficult, mostly because of bad weather, uncooperative animals and a number of unfortunate accidents. Despite that fact, the Wagon Train became an annual event and grew in size for much of the rest of the decade.
The Wagon Train was cancelled in 1974 due to increasing rowdiness, and saw a brief revival in the 1980s.
For more about North Carolina's history, arts and culture, visit Cultural Resources online. 
The wagon train during its first trip in 1963. Image from the Wilkes Journal-Patriot.