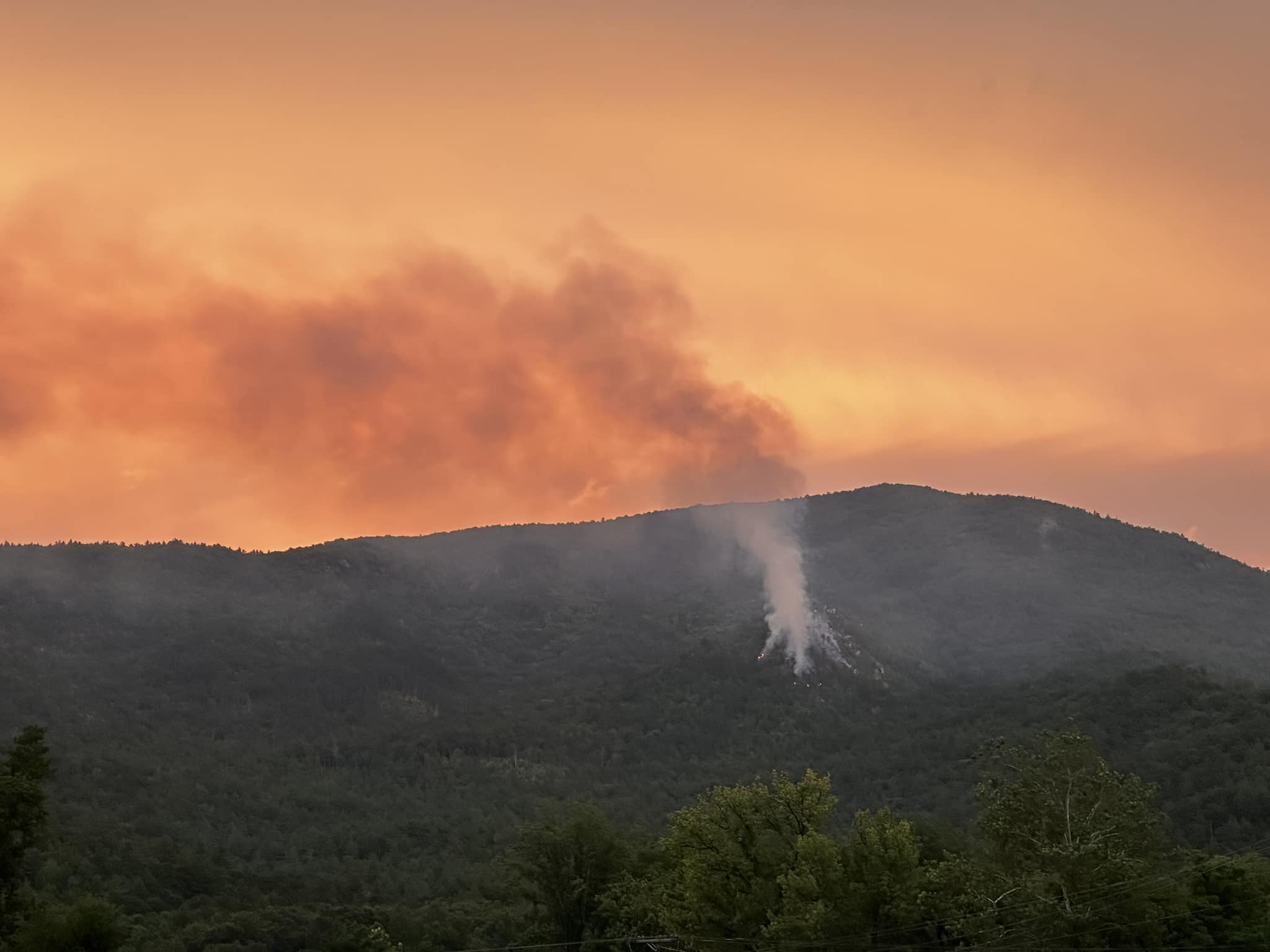 Last Updated on July 29, 2023 4:06 pm
Nebo, NC – July 29, 2023 – The Dobson Knob #2 Fire was reported Friday evening, July 28, 2023 and is burning in McDowell County on the north side of Dobson Knob near the North Cove Community, north of Marion, NC and west of the Linville Gorge Wilderness Area. The fire is estimated at 6 acres with no current containment. By reviewing lightning strike data, fire managers and local emergency managers were able to determine a lightning strike earlier in the day Friday as the likely ignition source.
Last night, firefighters arrived on scene to size up the fire and determine resources at risk. The fire is burning in a rocky, remote area that has a history of wildfires. Initial firefighting efforts focused on protecting private property and any nearby structures. Currently the fire is burning on US Forest Service lands and a small portion of private property. No structures are at immediate risk.
Firefighters are working today to scout and improve firelines used in the Dobson Knob Fire (2017) and the Bald Knob Fire (2015). Due to humid conditions, limited fire growth is expected this weekend. However, winds generated by passing afternoon thunderstorms could change fire intensity. The fire area has a large amount of down, dead trees that are fueling hot spots.
In order to protect public and firefighter safety, trail closures are in place for the Mountains to Sea Trail from the north fork of the Catawba River to Dobson Knob Road (FSRD #106) on the west side of Linville Gorge. Communities in the North Cove, Woodlawn, and Linville Falls Communities may experience smoke. Smoke is expected to be heaviest overnight and in the morning as it settles in low lying areas. Travelers along 221N should use caution.
25 firefighters from the U.S. Forest Service, North Carolina Forest Service, McDowell County Emergency Management, and the North Cove Volunteer Fire Department are responding.
---
The Dobson Knob #2 Fire at dusk on Friday, July 28 as seen from Highway 221 north of the Woodlawn community. Photo Credit: Hunter Campbell, USFS