Last Updated on November 26, 2013 6:44 am
Watauga County continues to deal with a major power outage that occurred in the early morning hours. Over 5,200 members in the Blue Ridge Electric service area continue to be without as of 6:43am.
At 6:20am an official with New River Light & Power told WataugaRoads.com that a transmission circuit broke on Blue Ridge Electric's transmission effecting NRLP customers. Approximately 500 customers still out on the south west side of the NRLP service area (Oak Grove Substation) hopefully will be back on within the hour.
6:49am from http://bremco.maps.sienatech.com/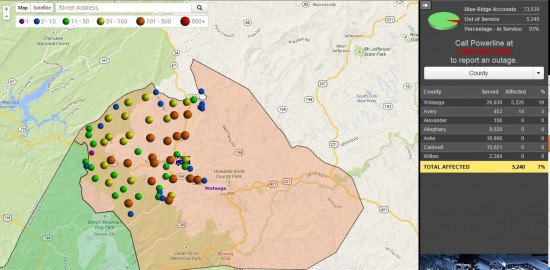 7:25am – according to Blue Ridge Electric there was enough icy weather to cause damage to a transmission line late night. Starting at 3:20am 5,235 members were affected. Linemen have nearly all restored as of 7 am BRE is still in high alert due to severe weather predicted today and tonight.
7:40am – Power restoration is nearly complete after icy weather and high winds overnight affected a transmission line, causing an outage to 5,235 members beginning at 3:20 a.m.
Crews worked through the early morning hours to repair damage to the transmission line serving western Watauga County. All but 20 members are restored with power as of 7 a.m.
Blue Ridge Electric remains on high alert status as severe weather is predicted today and through this evening. Members should report all outages over the cooperative's PowerLine: 1-800-448-2383.
Members may also check outage status at any time from the cooperative's online outage map at www.BlueRidgeEMC.com. Information is also available on the cooperative's social media sites: www.facebook.com/blueridgeemc and www.twitter.com/blueridgeemc.
The public is also warned of the danger of downed power lines, which could still be energized and therefore dangerous or even deadly. Only a trained line technician should ever go near a downed power line. Please report any downed power line to Blue Ridge Electric as quickly as possible.
Blue Ridge Electric serves some 74,000 members in Caldwell, Watauga, Ashe, Alleghany, Wilkes, Avery and Alexander counties. For more information, visit www.BlueRidgeEMC.com.