Last Updated on December 28, 2015 8:13 pm
There is no doubt that December 2015 has been warm, or as WataugaRoads.com/WataugaOnline.com phrased in a recent article  "December hot".  With three full days left in the year, this month could become the warmest for Boone since weather records have been kept dating back to 1929. Colder conditions are on the way by the later part of this week.
Six temperature records have been recorded during the month, with two of those becoming new record highs. So why is it so warm? Ricky Matthews, Meteorologist at News 5 WCYB in Johnson City, TN explains:
The reason for all of this? Part of it can be blamed on El Niño. A blocking high off the coast has also delayed any cold spells from reaching our area. It's acted as basically a giant wall, keeping the cold air at bay and keeping us in a southerly flow. A eastern US ridge has been present for much of December keeping us way above average. In the western US, they've seen a lot of cooler air due to a persistent trough. Note the lines and follow them to see where our air has been coming from. For most of December, it's been from the SW from the moist Gulf of Mexico.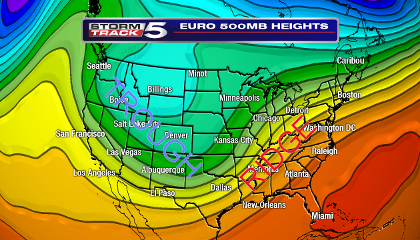 In December 2015 there were more than 2,600 record high temperatures recorded, and less than 150 record lows as of December 23. Graphic: CNN