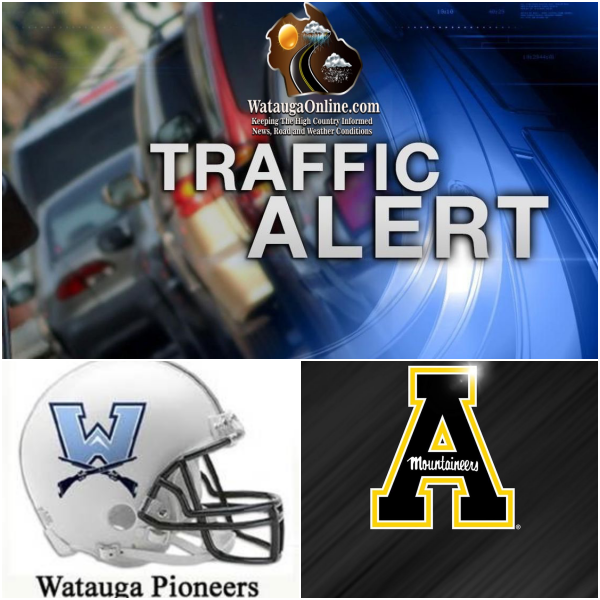 Last Updated on October 25, 2023 6:13 pm
Motorists should allow extra travel time this weekend, as two local football games and surrounding events take place.
On Friday, the annual App State Homecoming parade takes place at 6 p.m., with a new route on Rivers Street on App State's campus. The parade will start in front of John E. Thomas Hall and make its way up Stadium Drive. Streets on the parade route will be closed to traffic shortly before the parade begins. 
Also on Friday, Watauga High football looks to end the regular season at 10-0 as they host Ashe County. Kickoff is 7:30 pm
On Saturday, several App State Homecoming events will take place at different locations around campus. One of which will be a complimentary Homecoming breakfast at Leon Levine Hall of Health Sciences on State Farm Road from 9 to 11 a.m.
And the sold out game between Southern Miss and App State kicks off at 3:30 pm.
More information about the App State events can be found at this link.  
Boone Police have also announced a Traffic Control Plan for the App State game.
Near the end of the game, BPD will monitor traffic at the following intersections.
Blowing Rock Road @ Walgreens.
Blowing Rock Road @ Watauga Village Drive.
Blowing Rock Road @ Boone Heights.
Blowing Rock Road @ Postal Street.
Blowing Rock Road @ Shadowline Drive.
Blowing Rock Road @ Boone Mall.
Blowing Rock Road @ 105.
West King Street @ College Street.
West King Street @ Hardin Street.
East King Street @ 105 Extension.
The traffic signals will be on flash or controlled by an officer.