Last Updated on February 17, 2023 9:27 am
6:50pm – Near stationary rain over the southern half of the county has lead the National Weather Service to issue Flood Warnings for both Watauga (until midnight) and Avery (until 9:15pm) tonight.
Cove Creek Fire Department was dispatched to a lightning strike in the Valle Cay development, a fire department member tells WatauagOnline.com that they could not verify that the home for sure was hit, but the home owner was advised to have a electrician check the home to be sure no damage was done.
Unofficial rain at the WataugaOnline.com home base in Valle Crucis is measuring 2.54inches.
There are reported power outages at this hour, with 67 Blue Ridge EMC members in the dark. A small bank washed into the roadway on Broadstone Road in Valle Crucis, blocking one lane of traffic for a time.
A head on wreck occurred in the 1200 block of Poplar Grove Road, on the ASU campus side, it was not known as of this update if weather played a factor.
Radar view at 6:43pm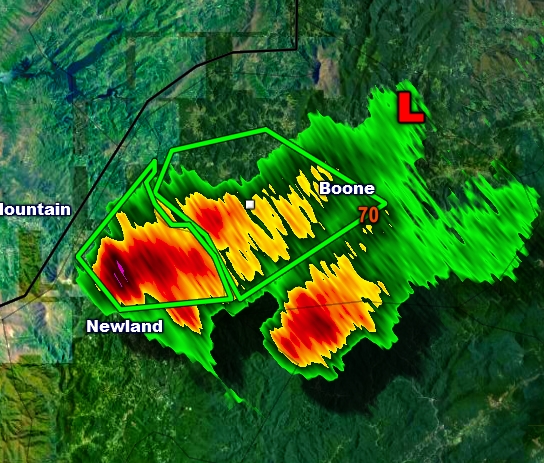 Power outage map 6:55pm.