Last Updated on October 2, 2022 5:47 pm
5am – light snow and 32 degrees in Boone, with wind gusts between 20-30mph. No reported issues on the major roads yet. Sleet being reported in other parts of the county.
Watauga County Schools are closed for students and teachers. Ashe and Avery were out anyway for the holiday.
5:23am – getting first report of snow starting to stick to the road on 105 on Rock Crusher Hill
Roads in downtown Banner Elk look snow covered at 5:30am See more at http://wataugaroads.com/cams/
At 5:30 am – it's 33 degrees with heavy sleet in Fleetwood per an incoming facebook report.
Due to bad weather AppalCART will be closed per their twitter feed
5:42am – "421 Vilas to 105 bypass ok. 105 bypass starting to get bad. 105 into Boone slush." per incoming facebook report
5:48am – Per Watauga County dispatch "officers reporting 421 S towards Deep Gap pretty slick. DOT is out."
5:58am – Blowing Rock Officers reported a large bus size rock slide in construction zone. Not impacting traffic significantly according to Watauga County dispatch
6am "buckeye, 321N, and 421 from skateworld to boone starting to get a little slush on them. freezing rain and sleet at the industrial park. starting to get slick in parking areas." per incoming facebook report
Downtown Boone at 6:11am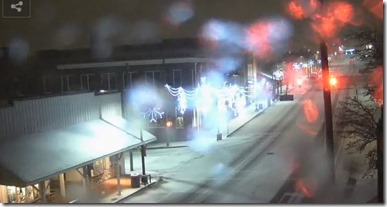 6:21am – Waters and King St. slick per incoming report from twitter
downtown Boone at 6:23am – http://wataugaroads.com/cams/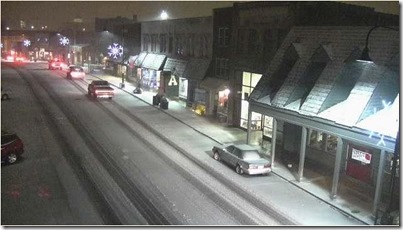 Minor power outages in Blue Ridge Electric member area – 35 at 6:25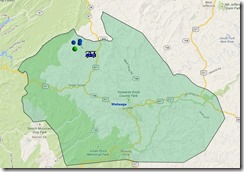 6:47am from Blue Ridge Electric "Just learned that a tree fell on a line, bringing down 3 spans of line off N Fork Rd in Watauga County that affected power to 75 members. Seven linemen have repairs so that half those are restored and are working to get the remainder back on as quickly and safely as possible."
Winter Storm Warning remains in effect until 6pm – http://wataugaroads.com/weather-forecast/
6:54am – "321 to blowing rock is clear .BR to Boone patchy snow" per incoming facebook report
6:45am from an incoming report – "421 in from Deep Gap is slippery but tracked in the right lane until University Nissan and then the road clears. Bamboo at 421 to Wilson's Ridge is wet. Wilson's Ridge is wet with some slushy spots from the crest to Deerfield. Deerfield to Bamboo is wet. Bamboo to Samaritan's Purse is wet. After Samaritan's Purse it looks like the salt trucks have not gone."
Power outages in Bamboo were restored last night ow.ly/red92 , New outages this morning ow.ly/red93
7:19am – Watauga County dispatch reports that "The rock slide in Blowing Rock is more hazardous than first thought. Rocks threatening to slide are going to force closure of Valley Blvd."
ALERT: Road closure today on 321 in Blowing Rock at Cliff Dwellers due to rock slide. Detour along US 321 Bus. Call 828-964-3260 for info.
7:44am – Car over embankment hwy 421 at the Stateline Zionville SHP on scene
8am – roads in the area are either partially covered with snow with the travel lanes open or slightly covered totally. Roads are passable with no reported major problems as of right now. Falling snow along with blowing snow and falling temps are going to be the issue as the day goes along.
8am – delays near Chetola in Blowing Rock due to wreck with tractor trailer and salt truck
8:20am Audio Update
8:51am via twitter "421 towards mountain city from vanderpool is terrible. Be safe everyone!" "Road up to App Ski Mtn looks like a parking lot – be careful."
At 9:12 AM, Bethel [Watauga Co, NC] PUBLIC reports SNOW of 4.00 INCH #RNKmesonet.agron.iastate.edu/lsr/#RNK/20131…
9:25am incoming report "Aho and Friendship Church Road near the Parkway are covered in black ice"
9:30am from http://wataugaroads.com/cams/
Boone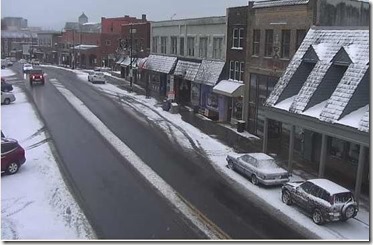 105 Foscoe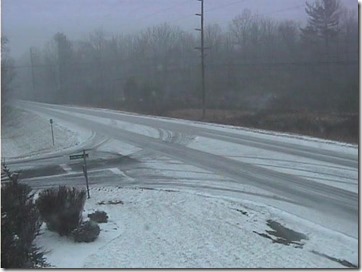 Banner Elk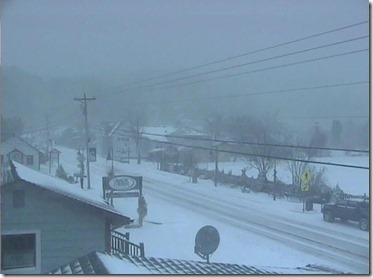 Niley Cook Road around 9:30am from Curly Stumb "Niley Cook Road has a thin coat of ice on the pavement. 4WD vehicles ascending OK, but having difficulty on the curves going downhill."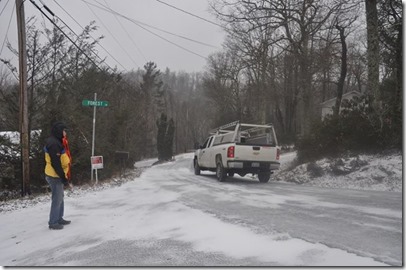 As first reported early this morning a rock slide in Blowing Rock has forced part of it to be closed, the detour is through downtown Blowing Rock – http://wataugaroads.com/321-blowing-rock-closed-due-rockslide-nov-27-2013/
9:53am incoming report from facebook "Roads around Boone are frightful! Poplar Grove Rd between 105 and downtown is an absolute mess. Lots of slipping and sliding even with 4WD."
321 in Blowing Rock is back open – 11am
There are reports that 221 near Linville Caverns is closed due to a rock slide if your route takes you in that direction
Valle Crucis at noon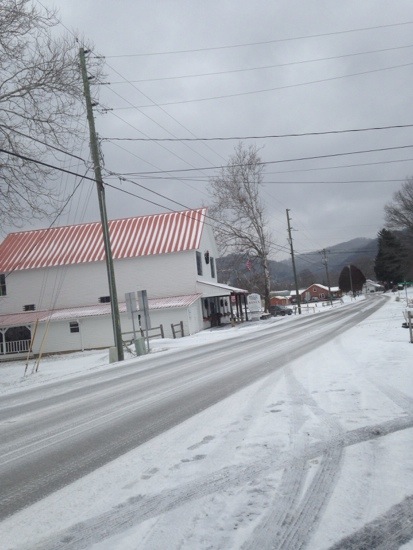 Valle Crucis 12:30pm. Photo: Kelly Church
1:11pm – 321, 421 & 105 are clear for the most part. You will find parts that may still be snow covered and slick due to continued snow falling and blowing snow. But no major problems are being reported at this time. Winter Storm Warning remains in effect until midnight
3pm – falling and blowing snow is once again causing many area roads to become snow covered. Still no reports of any major trouble areas, but temps are only 24 degrees in Boone with wind chill of 7 above.
5:56pm – possible delays on 105 near 2nd Shull's Mill entrance due to multi-car wreck
6:06pm – 105 at Shull's Mill Road is blocked due to multi-car wreck
7:09pm – 105 at Shull's Mill is back open