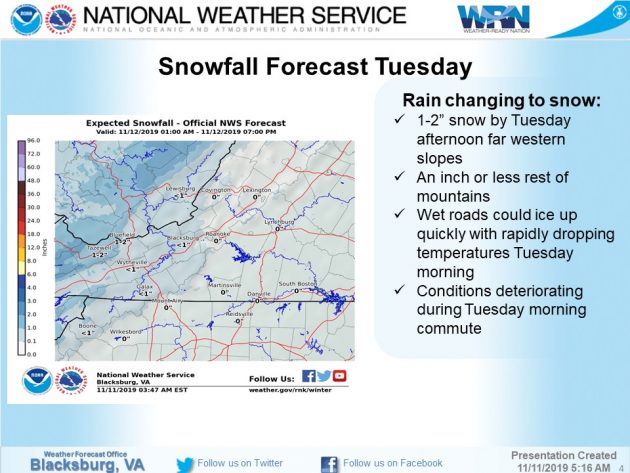 Last Updated on November 30, 2019 9:59 am
The coldest conditions of the season are expected for the High Country, and the region, this week.
Rain changes to snow late tonight in the mountains as a cold front moves in. Highest snow amounts are expected to the north of the High Country but up to an inch is possible in the highest local elevations, according to the National Weather Service (NWS)
The other primary concern will be high winds sending wind chills into the single digits, if not below zero in some locations. The combination of low temperatures could lead to any wet roads freezing before the wind could dry them out, NWS advises.
Northwest winds of 15 to 25 mph are forecast with gusts up to 40 mph for Tuesday. Lows Tuesday night drop into the teens with continued gusty winds sending wind chills below zero.
Wednesday's highs are forecast to rebound into the 30s with northeast winds around 10 mph in the morning before becoming light. Forecast highs are in the 40s for the remainder of the week and through the weekend.