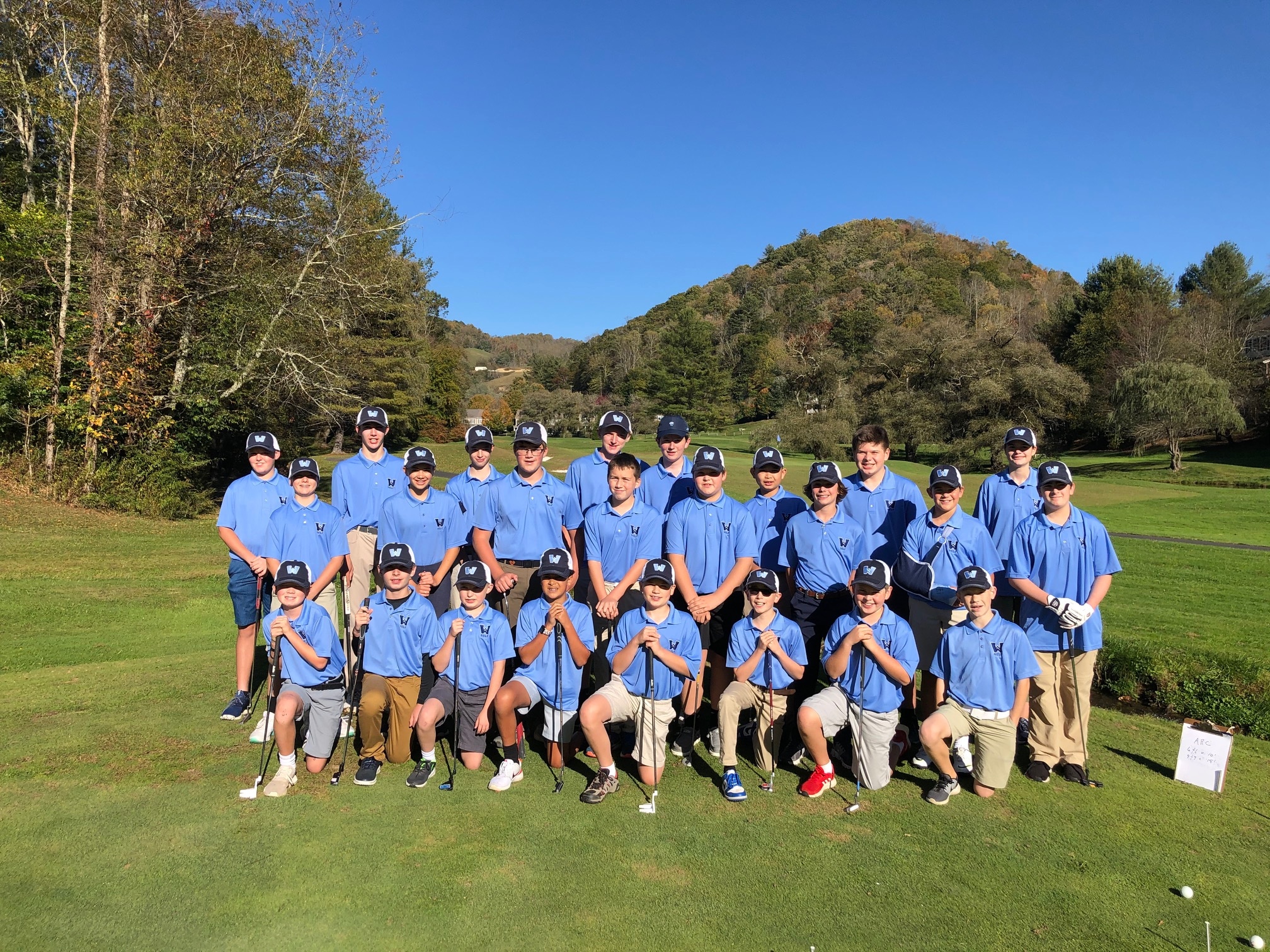 Last Updated on October 29, 2021 8:22 am
BOONE — The newly-minted Watauga County Schools Middle School Golf team has wrapped up its inaugural season with a perfect 6-0 record. The team competed in the Blue Ridge Middle School Athletic Conference that includes five schools from Ashe and Wilkes counties.
Dr. Stephen Martin, who coached the team alongside his primary role as Watauga's Assistant Superintendent, said the team's first season generated a great deal of interest from students and parents from the start.
"Our initial information meeting that we held in August quickly filled up with over 30 golfers and their parents showing an interest in joining the team," Martin said. "Assistant Coach Jeff Trexler and I were excited with the interest, and we committed to finding a way for every student to participate on the team. We had 32 golfers that were a part of the team this year."
Martin said that, in order to facilitate practices and matches for 32 golfers, the coaches enlisted the help of parents, sponsors and local golf courses. Kim Simmons, a teacher at Hardin Park, also joined the coaching staff alongside Martin and Trexler. Each week golfers had a day at the Mountaineer Driving Range and a day at a local course.
Martin said the team had received tremendous support from the local golf community.
"Our local golf courses including Boone, Willow Valley, Lenoir and Sugar Mountain were quick to partner with our team and allow time for the golfers to practice the skills they were learning on the range," Martin said. "We are very thankful to these courses as well as the Mountaineer Driving Range for allowing us to use their facilities."
Martin said the co-ed team consisted of golfers with a wide range of abilities and skills.
"There were golfers on the team who could shoot par on nine holes, while at the same time, others had never swung a golf club. We worked to provide differentiated practices that would help the skilled players improve while providing basic instruction for the new golfers," Martin said. "I am very appreciative of Coach Trexler and Coach Simmons for their help. We also had parents who helped with every practice and event so this was definitely a shared experience for everyone."
Martin said the team was able to provide equipment thanks to donations from parents, area golfers, grants, and further anonymous donations that helped provide golf clubs, golf balls, tees, golf shoes, uniforms and practice clothes.
The golf team was also sponsored by SkyLine/SkyBest, Beech Mountain Men's Golf Association, Willie Brooks BBQ and Ron Cutlip Golf Course Architect.
Team Picture 10-18-21: Pictured is the Watauga County Schools Middle School Golf Team. Front (Left to Right): Evan Cutlip, Chase McInturff, Ben Tester, Dawson Hunt, Drew Marcum, Connor Cowart, Sam Marsh, Oliver Lewis. Back (Left to Right): Dylan Taylor, Jake Warren, Elliot Holcomb, Dovie Lynch, Leo McEvoy, Eli Davis, Christopher Moore, Noah Gordon II, William Garrett, Jacob Ray, Paul Chaleunsack, Kilby Hartley, Jaxson Marsh, Jack Garrett, Emma Lewis, Ethan Bookwalter. Not pictured are: Jack Bridgeman, Luke Flores, Beattie Hendley, Justice Hendley, Gracie Jackson, Thad Martin, Landon Presnell