Last Updated on October 2, 2022 5:47 pm
On November 19, 2013, Narcotics Detectives from the Watauga County Sheriff's Office and Boone Police Department initiated one of the largest methamphetamine clean-up responses, if not the largest, in North Carolina history.
Through a joint investigation by Narcotics Officers from both agencies, detectives learned of an isolated location which has been used, on multiple occasions, for the manufacture of methamphetamine.
On Tuesday morning, after receiving a search warrant signed by a Superior Court Judge, detectives walked wooded property off of NC 105 S and located a small wooden shack which contained multiple "Shake and Bake" meth labs. The property is owned by Watauga County and neighbors the old High School property.
After a full day of searching the property, detectives located and seized a total of 181 "Shake and Bake Meth Labs" and 289 packages of pseudoephedrine.
According to the State Bureau of Investigation, the methamphetamine manufacturing site was one of the largest seen in NC, if not the largest in the state. The total amount of pseudoephedrine seized is equivalent to almost 1 lb of methamphetamine being manufactured. The estimated street value on 1lb of methamphetamine is approximately $50,000.
Due to the size of the multiple meth labs, along with lab trash, and chemicals, an independent clean-up crew was contracted rather than a typical response by the State Bureau of Investigation. AEO, Advanced Environmental Options, a hazardous waste disposal/emergency response team, who services both NC and SC, assisted with the clean-up of the contaminated meth site.
Approximately 200 lbs of hazardous waste and contaminants were taken from the site location. According to the response team from AEO, it was the largest meth site the company has seen in North or South Carolina. The total time spent to clean up the site was three days: Tuesday – search and seizure of the meth labs and precursors, Wednesday – hazardous waste removal, and Thursday – site cleanup.
Sheriff Len Hagaman also wished to specifically thank County Manager Deron Geouque for cementing a coordinated effort between law enforcement and the Watauga County Solid Waste Staff and Transfer Station Maintenance for their expertise and heavy equipment operations in the thorough clean up and mitigation of the site.
Hagaman stated (I) "also wanted to thank Chief Dana Crawford, the Command Staff, and Narcotics Officers of the Boone Police for this team effort and further stated, I think Chief Crawford would agree that meth is probably the ugliest and most addictive drug that has come down the pike in 40 years." "Methamphetamine is a cancer eating away at our state. Meth impacts families, communities and the environment and it's crucial we bring this problem under control."
Both the Boone Police Narcotics Officers and Watauga County Sheriff's Office Special Operations Deputies agree that, "Methamphetamine (meth) is a major concern for North Carolina and Watauga County citizens, and local law enforcement because it is known to induce violent, erratic behavior in users. That behavior puts the community and law enforcement at risk.
Meth laboratories contain extremely dangerous substances and pose significant health hazards to those who come in contact with these sites, including the general public and law enforcement agents who are often the first responders to a clandestine lab scene. These sites are so toxic that experts are required to be called upon to properly dispose of the chemicals found according to EPA specifications.
In the joint operation, detectives have identified multiple suspects who are persons of interest in the investigation. The investigation is on-going and arrests are expected.
Photos: Watauga County Sheriffs Office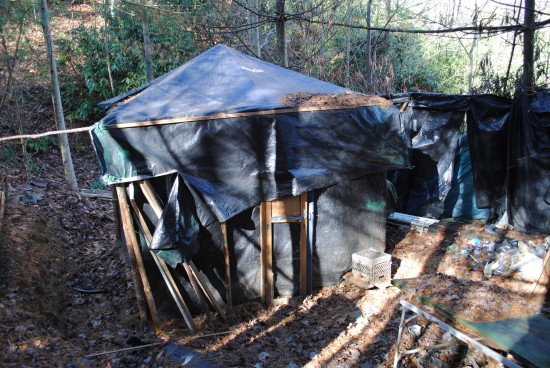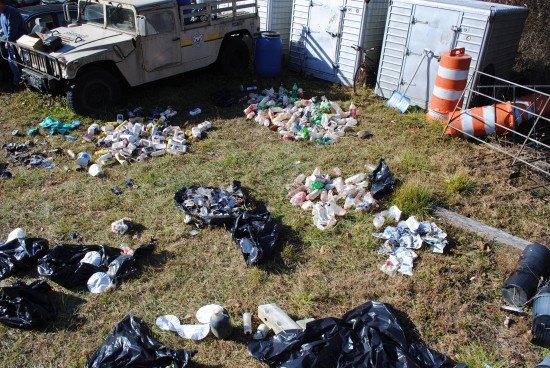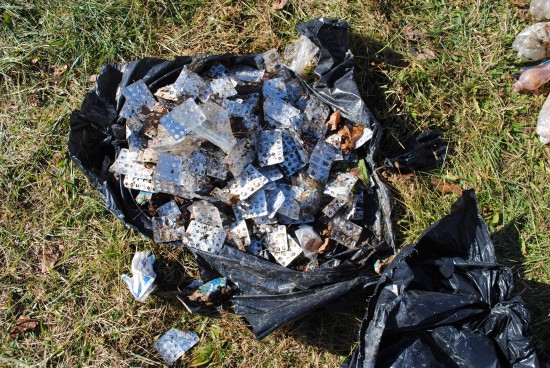 Here are more pictures – pre demolition of METH HUT. These were taken by Watauga County Manager Deron Geouque, on Wednesday, November 20, 2013 at approximately 9:30am.
Watauga County Sheriff Len Hagman adds "Note how well the hut was camouflaged even with the leaves off of the trees."