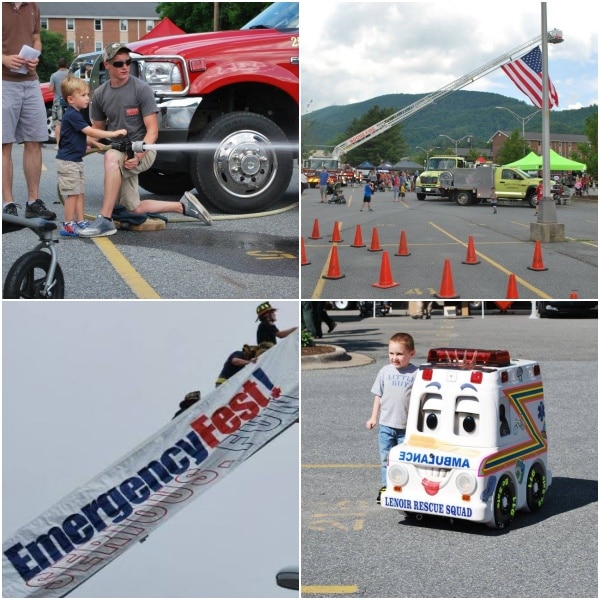 Last Updated on May 5, 2022 10:14 am
The annual Watauga County Emergency Fest returns this year, after missing two years due to the pandemic. The 2022 event will take place Saturday May 21 from 10am to 2pm at the Peacock Lot (formerly known as the Raley Lot) on the ASU campus.
Presented by the Watauga County Firefighters Association and area emergency services organizations and New River Tire, Emergency Fest goal is to bring awareness to the community of the capabilities of emergency services in the High Country. Departments included in the event are: Police, Fire, Rescue, HAZMAT, Red Cross, Ski Patrol, MADD, NRLP, NC Forestry, State Disaster Response, and Medical Services.
The event is open to the general public and there is no charge to attend.
Emergency Fest offers something for all ages:
Local area Fire trucks, police cars, ambulances, rescue vehicles, forestry vehicles, helicopters, Wilkes bomb squad, Watauga chapter of the Red Cross, New River Power Company and many more!
Learn about fire extinguishers, use a fire hose, sit in a helicopter, learn about child car seat safety, the proper way to put out a campfire and more!
The Wilkes Bomb Squad will demonstrate bomb disposal.
Several area agencies will demonstrate vehicle extrication.
Compete in our Scavenger Hunt to learn about all the Emergency Services and win prizes!
Bounce Houses!
Popcorn and cotton candy with donations going to the Firefighters Burned Children Fund.
For more information see Watauga County Emergency Fest facebook page.
Come support your local Emergency Service Personnel and Volunteers and have a lot of fun in the process!
Video from past Emergency Fest: Kenneth Reece/WataugaOnline.com