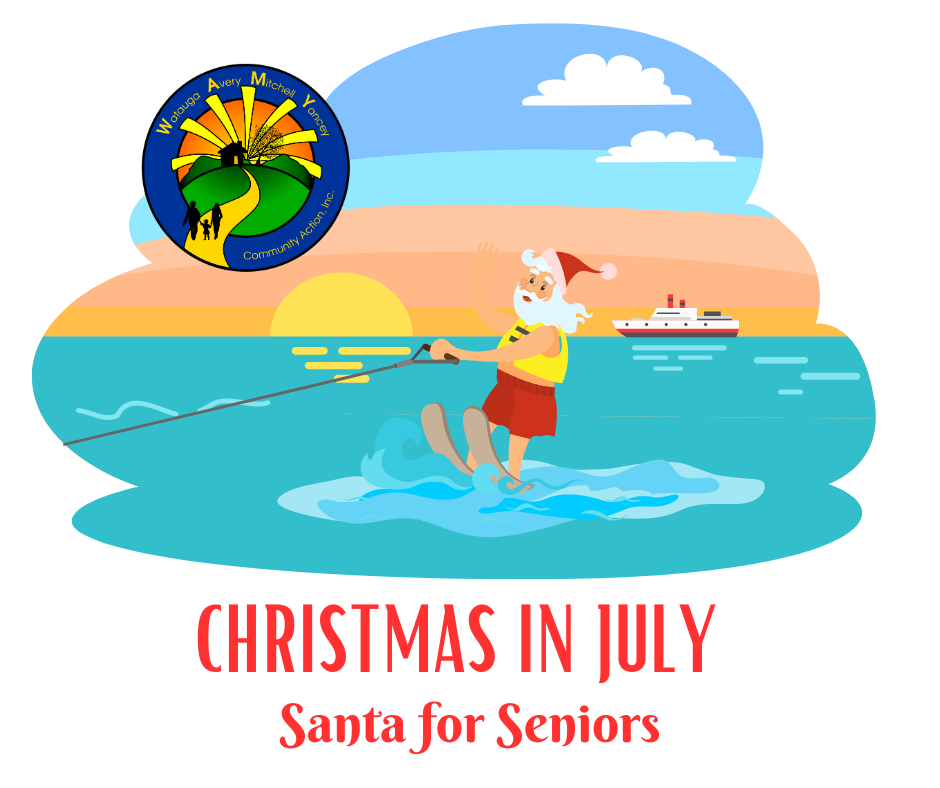 Last Updated on June 28, 2023 5:45 pm
Boone, NC – WAMY Community Action, a non-profit organization serving Watauga, Avery, Mitchell, and Yancey counties, is excited to launch its annual "Santa for Seniors" holiday gift collection drive. The initiative, also known as "Christmas in July," aims to spread cheer and bring joy to over 1,400 senior citizens who are homebound, in hospice care, or assisted living during the holiday season.

"While Santa is away enjoying his summer vacation, we need your help to ensure that our seniors have a memorable and festive holiday season," said Director of Development Allison Jennings. "We invite everyone to be a part of this initiative by donating new blankets, lip balm, lotion, puzzle books, and socks. Your contributions will make a significant difference in the lives of those who may feel lonely or isolated during the holidays."

In addition to spreading holiday cheer, the Santa for Seniors program also helps provide practical gifts that will benefit seniors throughout the winter months. Donations can be dropped off at the Boone WAMY office located at 225 Birch Street, Suite 2. Please call ahead for an appointment with one of Santa's elves at 828-406-0593. Donations can also be dropped off in Avery, Mitchell or Yancey County by calling ahead.

"WAMY Community Action is proud to continue this cherished tradition of Santa for Seniors, which has brought comfort and joy to our community's most vulnerable population for many years," said Jennings. "This initiative reflects our mission to empower and support individuals of all ages and backgrounds, especially those who may be isolated or facing challenges. We hope that this program will bring some brightness and cheer to our seniors' lives during the holiday season."

For more information about the Santa for Seniors program or to make a monetary donation, please visit the WAMY Community Action website. If your business or organization would like to be a collection site, please contact Allison Jennings at 828-264-2421 ext. 107 or allison@wamycommunityaction.org.

About W.A.M.Y. Community Action
Established in 1964, W.A.M.Y. (Watauga, Avery, Mitchell, Yancey) is a Community Action Agency and was the first human-service non-profit to come to the High Country's four-county area. W.A.M.Y.'s mission is to partner with families and communities to provide the disadvantaged with the support they need to become self-sufficient. W.A.M.Y. conducts a community needs assessment every three years and programs are designed according to the needs of the community. Currently W.A.M.Y. has four programs- Youth Development, Food & Nutrition, Housing & Energy, and Total Family Development. To learn more or donate visit wamycommunityaction.org.
About Community Action Agencies
A Community Action Agency (CAA) is a local organization with the mission of reducing poverty through locally designed and delivered programs and services, targeted to the specific needs of the community. CAAs exist in virtually every county in the U.S., numbering more than 1,000 nationwide. Most are private nonprofits, but some are units of local government. They are state-designated but locally controlled, governed by a tripartite board that represents the low-income community, local elected officials, and private and public community stakeholders.