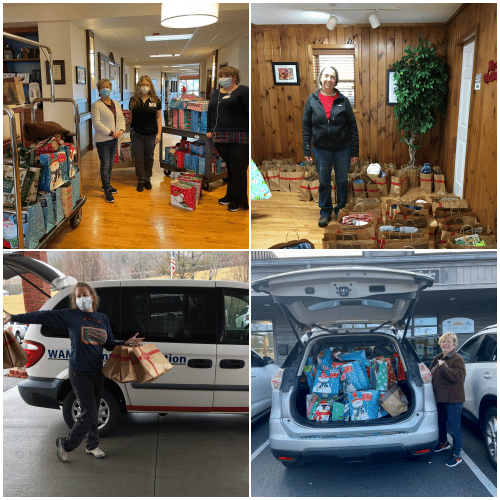 Last Updated on January 24, 2023 7:06 pm
January 2023- December '22 marked W.A.M.Y. Community Action's fourth "Santa for Seniors" gift drive. With support from local businesses, organizations, and individuals, WAMY distributed 1,431 holiday gift bags to senior citizens staying in assisted living facilities, living in hospice care or homebound. Presents were delivered in-person by local volunteers and included items such as blankets, puzzle books, lotion, lip balm, candies, and treats. WAMY serves individuals in Watauga, Avery, Mitchell, and Yancey counties.
"During the Holiday season, senior citizens who are shut-in and cannot leave their home are often overlooked", said WAMY's Director of Development Allison Jennings. "In 2019, WAMY launched its first-ever "Santa for Seniors" project. The goal was to make sure our shut-in senior neighbors received a gift of holiday cheer. Since 2019, more than 3,500 gifts have been delivered," says Jennings.
Thanks to many sponsors, including The High Country Council of Governments and Agency on Aging, Boone Walmart, Mast General Store, Savored Moments Travel, Adam Galleher Memorial Fund, Bank of America, Crossnore Presbyterian Church, Baird's Creek Presbyterian Church, Pineola Presbyterian Church, Spruce Pine UMC, Linville Land Harbor, Mountain Air Community, Town of Boone Police Department, Watauga County Sherriff's Office, Skyline/Skybest, Peak Insurance, Go Postal of Boone and many individual donors, WAMY's "Santa for Seniors" project continues to be a success.
"WAMY is already preparing for 2023 and we are grateful for continued community partnerships and supporters. Without local assistance and volunteers, spreading joy to our senior neighbors would not be possible. We look forward to a new year of helping people and changing lives," says Jennings.
About W.A.M.Y. Community Action
Established in 1964, W.A.M.Y. (Watauga, Avery, Mitchell, Yancey) is a Community Action Agency and was the first human-service non-profit to come to the High Country's four-county area. WAMY's mission is to partner with families and communities to provide the disadvantaged the support they need to become self-sufficient. WAMY conducts a community needs assessment every three years and programs are designed according to the needs of the community. Currently WAMY has four programs- Youth Development, Food & Nutrition, Housing & Energy, and Total Family Development. To learn more or donate visit wamycommunityaction.org.