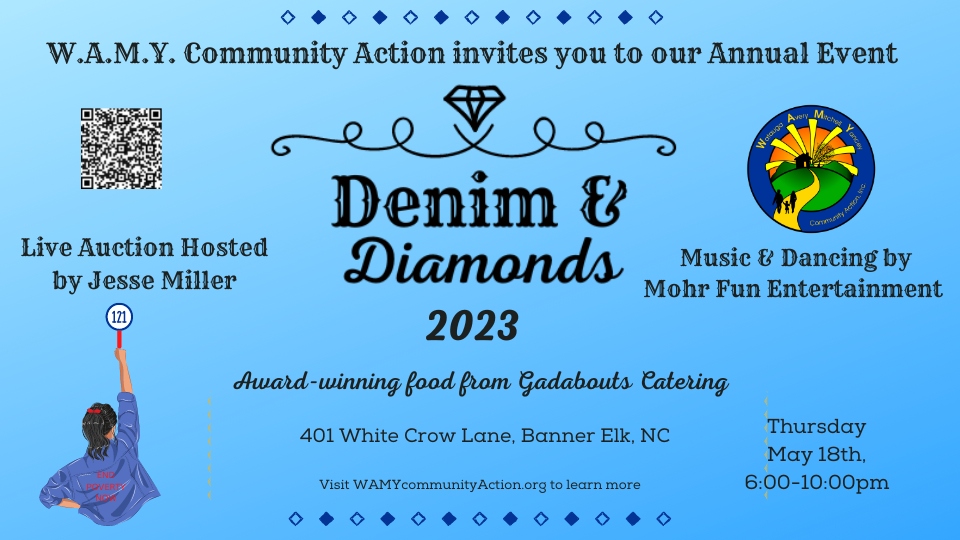 Last Updated on April 19, 2023 1:42 pm
WAMY Community Action is hosting its annual Denim & Diamonds Charity Event & Auction on Thursday, May 18th, 6:00-10:00pm at the White Crow Farm in Banner Elk, NC. Proceeds from the event will help fund WAMY's poverty-fighting programs in Watauga, Avery, Mitchell, and Yancey counties.
At 5:45pm, guests can hop on the complimentary shuttle services at Mast General Store Annex in Valle Crucis, provided by Wilcox Travel. Enjoy your escorted, scenic ride to the beautiful White Crow Farm located 4200 feet above sea level with 37 acres of sweeping mountain views.
This fun-filled evening will begin with social time 6:00-7:30. Gadabouts Catering will be serving up some delicious food including their famous shrimp & grits, roast prime rib carving station, a mashed potato bar and much more. Guests will have an opportunity to browse the auction items on display and enjoy the incredible scenery. The live auction, hosted by local renowned auctioneer Jesse Miller, kicks off around 7:30. The silent and live auctions will include several great get-away packages, exciting group trips, date nights, restaurant certificates and family fun items. You'll want to come prepared to bid on your favorite packages! There will be plenty to choose from.
Don't forget your dancing shoes because we will boogie the night away with Karl Mohr DJ services and Mohr Fun Entertainment. Attire for the evening is business casual with denim and "diamonds" recommended.  Check out more event highlights and information at https://charityauction.bid/WAMYDenimAndDiamonds2023 in the coming weeks.  
Denim & Diamonds 2023 promises to be an incredibly special evening raising money to help fight poverty in the High Country. Proceeds from this event will help offer summer camp scholarships for children, repair and preserve affordable housing in our community and much more. Please join the fun on Thursday, May 18th by purchasing tickets at WAMYcommunityAction.org. Auction item donations are still being accepted and sponsorship opportunities are available.
To learn more visit WAMYcommunityAction.org or contact Allison Jennings at allison@wamycommunityaction.org or 828-406-0593 or 828-264-2421 ext. 107.
About W.A.M.Y. Community Action
Established in 1964, W.A.M.Y. (Watauga, Avery, Mitchell, Yancey) is a Community Action Agency and was the first human-service non-profit to come to the High Country's four-county area. WAMY's mission is to partner with families and communities to provide the disadvantaged the support they need to become self-sufficient. WAMY conducts a community needs assessment every three years and programs are designed according to the needs of the community. Currently WAMY has four programs- Youth Development, Food & Nutrition, Housing & Energy, and Total Family Development. To learn more or donate visit wamycommunityaction.org.
About Community Action Agencies
A Community Action Agency (CAA) is a local organization with the mission of reducing poverty through locally designed and delivered programs and services, targeted to the specific needs of the community. CAAs exist in virtually every county in the U.S., numbering more than 1,000 nationwide. Most are private nonprofits, but some are units of local government. They are state-designated but locally controlled, governed by a tripartite board that represents the low-income community, local elected officials, and private and public community stakeholders.