Last Updated on August 19, 2018 5:19 pm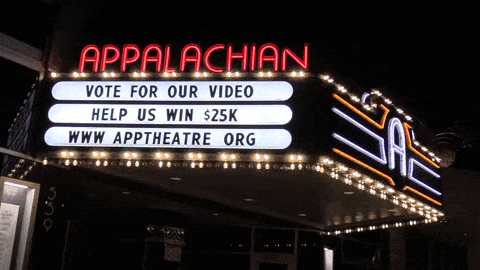 BOONE, NC — A video produced by the Appalachian Theatre of the High Country, Inc. (ATHC) is in the running for a $25,000 award from First Horizon Foundation, the charitable foundation of Capital Bank and First Tennessee Bank, as part of their "25 Years of Giving" video contest.
The competition celebrates the Foundation's 25th anniversary of supporting the communities in which they are based. For the past quarter-century, the foundation has distributed more than $80 million to meet community needs. The video contest will invest an additional $250,000 to winning organizations with a top prize of $25,000.
Five hundred nonprofit organizations submitted videos of up to 60 seconds in length illustrating how a grant has helped or could help the community. Only the top 25 videos, as determined by public voting, will be reviewed by a panel of celebrity judges who will select the winning videos.
The Appalachian Theatre video was submitted in the arts and culture giving area, which promotes excellence and enrichment in the arts. It features theatre stakeholders, user groups, and community leaders explaining the economic and cultural return on investments in the historic venue.
"Public voting is crucial to our video making it to the final round," said Laura Kratt, the theatre's Executive Director. "We're asking arts supporters, audience patrons, and the community at large to log on, register, and vote for the Appalachian Theatre!"
To vote, please visit APPTHEATRE.ORG from now to August 31st and it will direct you to the theatre's video. You only need to register once but can vote on a daily basis. "As they say in Chicago, vote early and often!" said Kratt of the role the community can play in advancing their video to the final round.
The mission of the Appalachian Theatre of the High Country is, "to provide a quality venue for a variety of artistic genres; to contribute to the region by promoting and strengthening the area's unique cultural identity and creative history; to enhance business in downtown Boone and the High Country; to provide a cultural hub for the area; and to find new life for a historic building while maintaining its financial sustainability and maximizing its economic impact."
Additional information about the Appalachian Theatre and their ongoing capital campaign may be found on the theatre's new website, https://www.apptheatre.org.