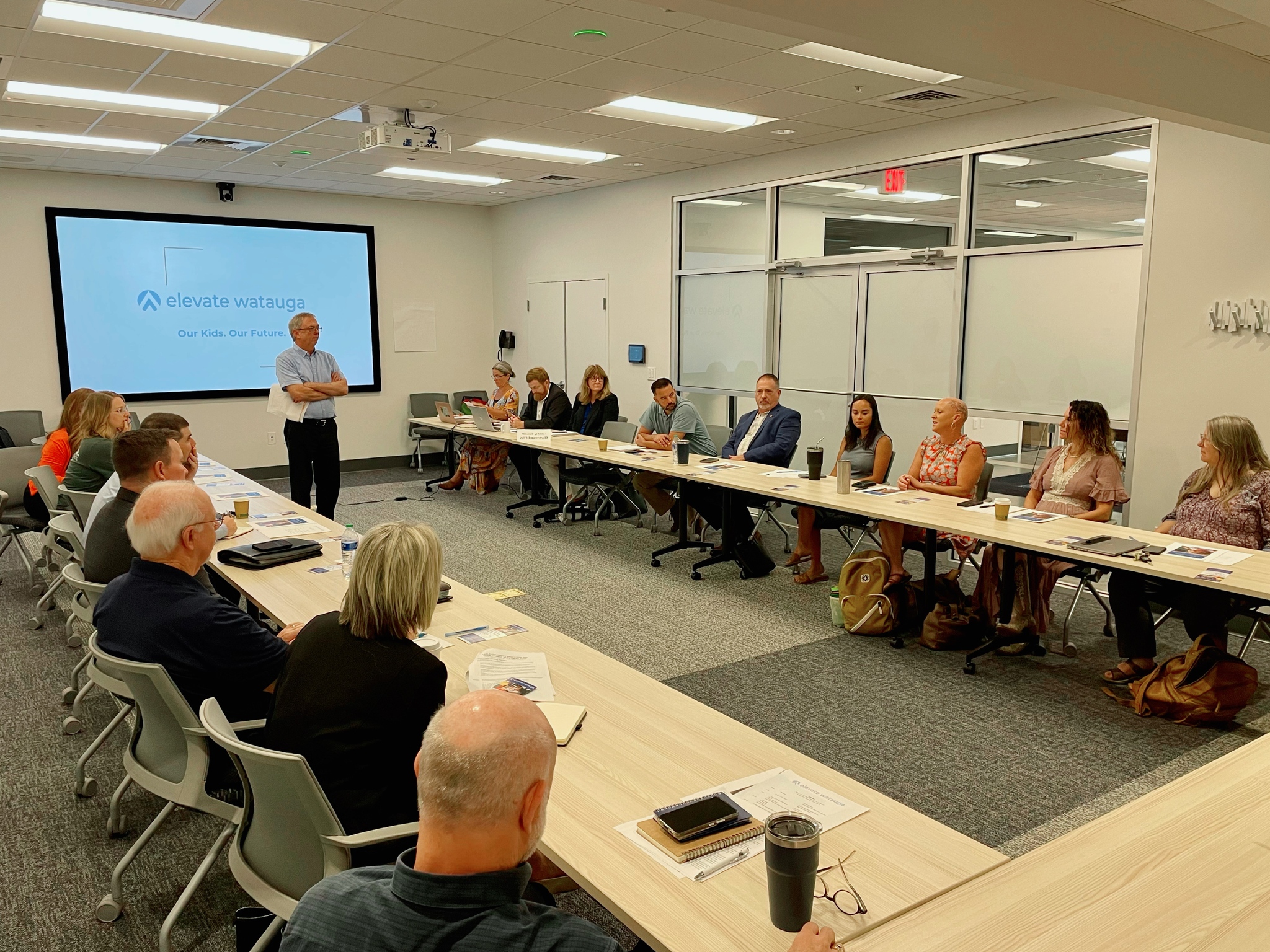 Last Updated on July 27, 2023 1:12 pm
BOONE, NC – A 60-minute candid Q&A with NC House District 93 Representative Ray Pickett served as the main attraction at the July meeting of the Watauga Economic Development Commission. The meeting was held at the Boone Area Chamber of Commerce's new office in the Greenway Commons office building.
Representative Pickett provided a brief update on the continuing State budget process, though he stated that current negotiations sat mostly between House Speaker Tim Moore and Senate Pro Tempore Phil Burger. He expects a budget to be adopted by September.
While taking questions from members of the Watauga EDC and over a dozen members of the public, Pickett discussed his top economic development priorities, which include work force development, work force housing, and child day care. He spoke about ongoing efforts to improve child day care availability in Ashe County and said he is committed to early childhood development as a core issue in his legislative agenda.
Pickett affirmed that state-wide resources for early childcare and affordable housing are being negotiated and will likely be included in the State budget. He discussed a current project through Buncombe County/Buncombe County Schools that a House colleague brought to his attention, where affordable rental housing is being developed for teachers. Pickett is working to arrange a visit for members of his district to visit Buncombe County to learn more about the project.
Pickett also discussed current growth trends for the University of North Carolina system and stated that most of Appalachian State University's future growth will take place on its new Hickory campus.
"The goal of the Watauga EDC is to foster a spirit of being proactive in issues that concern our County and its citizens. An example of this would be our support for workforce housing," said Pete Gherini, Chair of the Watauga EDC. "Having Rep Pickett join us helps our group move forward towards solving some of these situations. Representative Pickett encouraged us all to reach out to him for help in providing ongoing solutions."
"I appreciate Representative Pickett updating us on the state budget", said Joe Furman, Director of Economic Development for the Boone Area Chamber of Commerce. "It was encouraging to learn that the EDC's priorities and his legislative priorities are in perfect alignment."
To start the meeting, Town of Boone Mayor Tim Futrelle welcomed members and guests, and updated all on the Town's recent accomplishments and economic development priorities. Current projects that were mentioned include Howard Street improvements, amending the Unified Development Ordinance, and the Town's process for developing a new comprehensive plan. Futrelle said the Town's future priorities include continuing conversations with Watauga EDC, Boone TDA, housing groups, and others, while also seeking to create opportunities for industry and more high paying jobs for the area.
The Watauga EDC's next meeting will be held Thursday, August 17th, from 1-2:30PM at the Old Cove Creek School, located at 207 Dale Adams Road in Sugar Grove. Bob and Gray Shipley of Shipley Farms Beef, a family business that has operated in Watauga County for over 150-years, will present about their operation along with opportunities for support of farmers and the area's agriculture industry.
For additional information, please contact Joe Furman by email at joe@boonechamber.com or by phone at 828-264-3082.