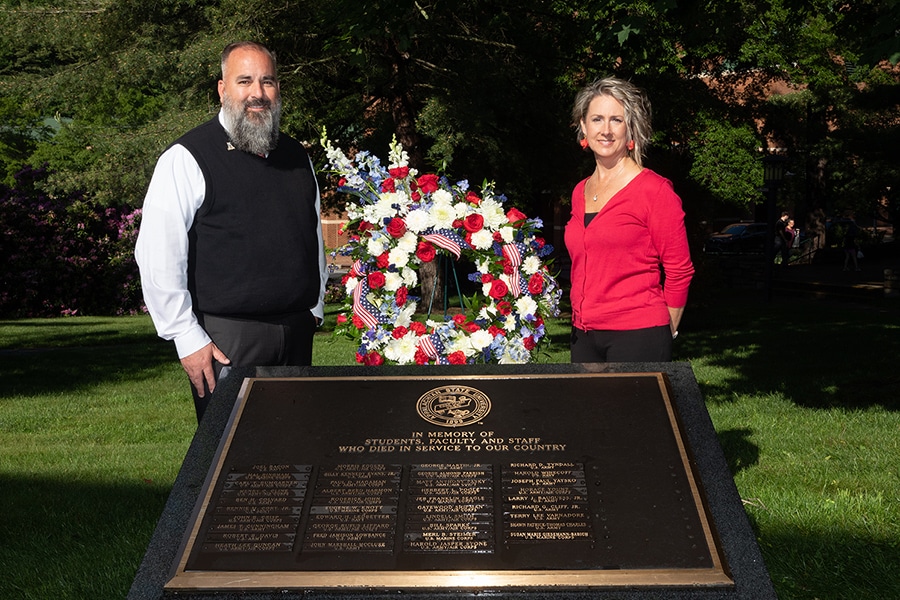 Last Updated on May 31, 2022 10:41 am
BOONE, N.C. — Each Memorial Day, Appalachian State University commemorates those who died while serving in the U.S. military with a wreath laying at the campus Veterans Memorial, located next to the B.B. Dougherty Administration Building.
This year, Chancellor Sheri Everts selected Mike Waters, an Air Force veteran and a 20-year employee of App State, to place a wreath at the memorial, which honors App State students, faculty and staff who died while in service. Waters is a lead consultant for Copier and Printing Services in App State's Information Technology Support Services.
"This gives me a chance to continue to educate all generations on the understanding of remembrance for those who paid the ultimate price for our freedoms," Waters said. "I am no hero, but I am proud to honor those who are. Having the opportunity to recognize those sacrifices that secured our freedoms, I am thankful to have been selected."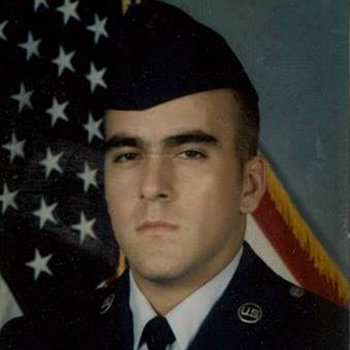 Waters, a Boone native, served as a communications-computer systems operator with the United States Air Force, and he achieved the rank of senior airman. His military service stretched from 1993 to 2000 — what he refers to as the "between war" years. Coming from a family of United States Navy veterans, Waters departed from tradition by joining the Air Force, but it was important to him and his family that he chose to serve in the military.
"The call to join and be selfless in my service to those who count on us to defend their freedom — especially my family — drove me to serve," he said. "Serving allowed me to develop another family."
Waters started his time in the military at Keesler Air Force Base in Mississippi and entered technical school. After completing school, his first assignment was a three-year tour in Okinawa, Japan, a place holding a special meaning in his heart.
"In Okinawa, I met three airmen who became my 'brothers,' and that bond is unbreakable today," Waters noted. "However, Okinawa has an even deeper connection for my family — my grandfather served in Okinawa during World War II. I was able to walk the ground that he walked. I saw places he saw. That was an amazing experience."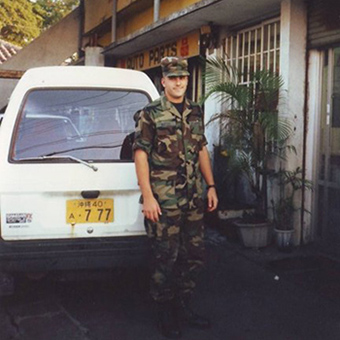 After serving in Okinawa, Waters was stationed at Malmstrom Air Force Base in Great Falls, Montana, before being deployed for a tour in the Middle East — visiting the United Arab Emirates, Saudi Arabia and Qatar. Due to a family illness, Waters made the difficult decision to shorten his military career to come home and help his family, but he began a new chapter at App State.
"I started a 20-plus year career here with New River Light and Power; now I am a lead consultant for our Copier Services program in IT," he said. "It has been an adventure."
Becoming a part of the App State family has supported Waters in continuing his connections to the military. He remains active on campus with the Military Affairs Committee and Student Veteran Resource Center and volunteers with App State's Office of Community-Engaged Leadership.
"Being involved in these great campus organizations has allowed me to work with students and help them grow into the next generation of leaders in society," Waters said. "Working with student veterans has allowed me to continue to connect with my military heritage and help develop the support network that military families come to rely on throughout their service."